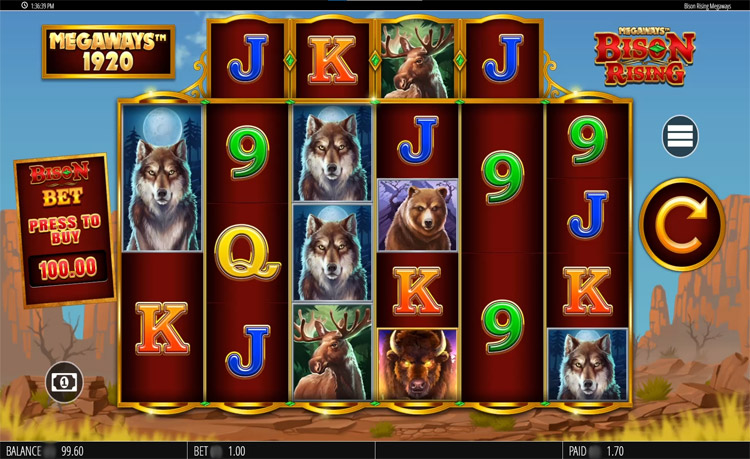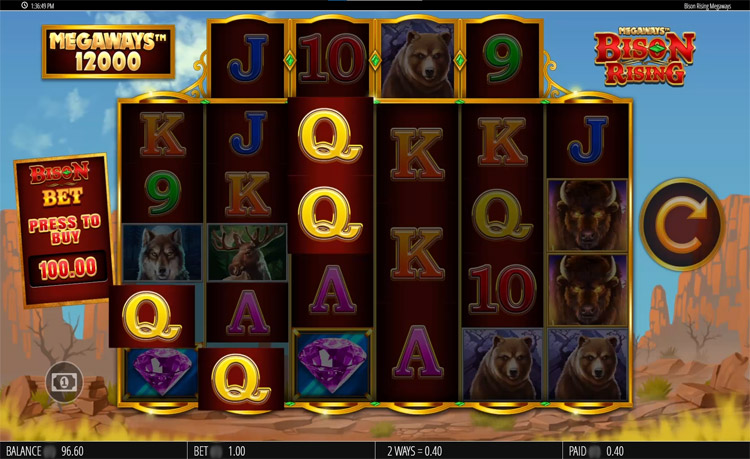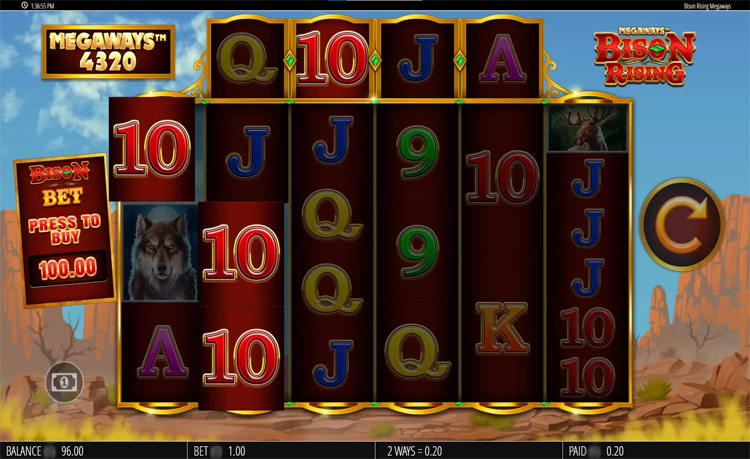 Bison Rising Megaways Slot Description
The Bison Rising Megaways slot online is a perfect addition to the Megaways slot genre. Inspired by the original frontier title, Bison Rising Megaways of course uses the much-loved Megaways mechanic to give its players 117,649 different ways to win with every spin they make. This is achieved by the Bison Rising Megaways slot machine's cascading symbols, and alongside this the Bison Rising Megaways slot game also uses an innovative Buffalo Bet feature to keep things thrilling spin after spin. Just as the mighty buffalo is the behemoth of the frontier, the Bison Rising Megaways game supersizes slots fun!
How to Play Bison Rising Megaways Slot Machine
To play Bison Rising Megaways you first need to set your wager. This is done by pressing the 'total bet' button then selecting one of the available options. Then all that you do is press 'spin!' (unless of course you're enjoying Bison Rising Megaways free play). As this is a Megaways slot, winning combinations are made up of 2-6 matching symbols starting from the leftmost reel. When you achieve a winning combination these symbols will explode and vacate the reels allowing new symbols to cascade down. This can cause a chain reaction that can have you on the edge of your seat!
There's a variety of symbols to be on the lookout for and while the payouts may seem low at first, you have to remember you can win multiple times in a single spin, and there may be multipliers in play too! Firstly there's the playing card symbols 9-J, and Q-A, these can pay a maximum of 1x and 1.5x your stake respectively. 
Next there's the frontier animals starting with the stag who can give you up to 2x your stake. The wolf awards up to 2.5x while the bear awards up to 5x. Lastly, there's the buffalo which can award a whopping 50x your stake. 
In terms of special symbols the Bison Rising Megaways slot has 3. The wild symbol is a buffalo with the word 'wild' written across it, while the scatter is a purple gem. Lastly there's a mystery symbol which looks like a desert sunset. 
Bison Rising Megaways Free Spins?
There are a variety of options when it comes to Bison Rising Megaways free spins. All options are achieved by landing 4 or more scatters in a single spin in any reel position. Players get to choose the type of free spins bonus round they want to play. They can pick 15 free spins with a 1x multiplier, 10 free spins with a 5x multiplier, or 5 free spins with an unlimited multiplier which begins at 10. Or, they can let fate decide by choosing 'mystery choice'. 
More Bison Rising Megaways Features
Megaways
As mentioned Bison Rising Megaways is a Megaways slot game, but what does this mean? Well, Megaways is a type of slot game mechanic in which there are 117,649 different ways to win - largely thanks to cascading symbols but we'll talk about those later. Megaways slots have 6 reels which can reveal up to 7 symbols. Wins are made for 2 or more matching symbols across an active payline.
Cascading Symbols
Megaways slots use cascading symbols, this is similar to a tumbling reel feature used by other games. When you land a winning combination the combination will be highlighted and removed from the reels and new symbols will cascade down from the space above the reels to replace them and this is the only way that wilds can be landed. This can create a chain reaction of winning combinations and all of your wins will be added up and credited to you when no more combinations can be made.
Bison Rising Megaways FAQ
Who developed Bison Rising Megaways?
Bison Rising Megaways has been created and developed by Blueprint Gaming.
What's the volatility of the Bison Rising Megaways slot machine?
The Bison Rising Megaways slot machine is played at medium volatility.
How many free spins can I win playing Bison Rising Megaways?
You can win up to 15 free spins in a single bonus round of Bison Rising Megaways.
What's the RTP of the Bison Rising Megaways slot?
The Bison Rising Megaways slot has a theoretical RTP of 96.5%
What's the jackpot of the Bison Rising Megaways slot?
The maximum payout of the Bison Rising Megaways slot game is 10,000x your stake amount.
How many reels does the Bison Rising slot use?
The Bison Rising slot game has 6 reels. 
Our Bison Rising Megaways Slot Review
We know there's lots of Megaways slots popping up at the moment, but we definitely think you won't want to miss Bison Rising Megaways. As free spins fans we love that you can pick the kind of free spins round that you want to play, and of course, who doesn't love the excitement of a killer chain reaction? We think that Bison Rising Megaways is a great example of the Megaways genre and is a perfect jumping off point for players new to this type of slot.