Musicians are often viewed as international sex symbols, so it's no surprise that many of them rank high on people's lists when it comes to celebrity crushes. But which singers do Brits crush on the most?
To find out, the experts at online slots site Spin Genie UK have dived into Google search data from over the last 12 months to see which solo artists, bands and band members top the charts for searches such as "hot", "sexy" and "calendar". 
The UK's Sexiest Male Solo Artists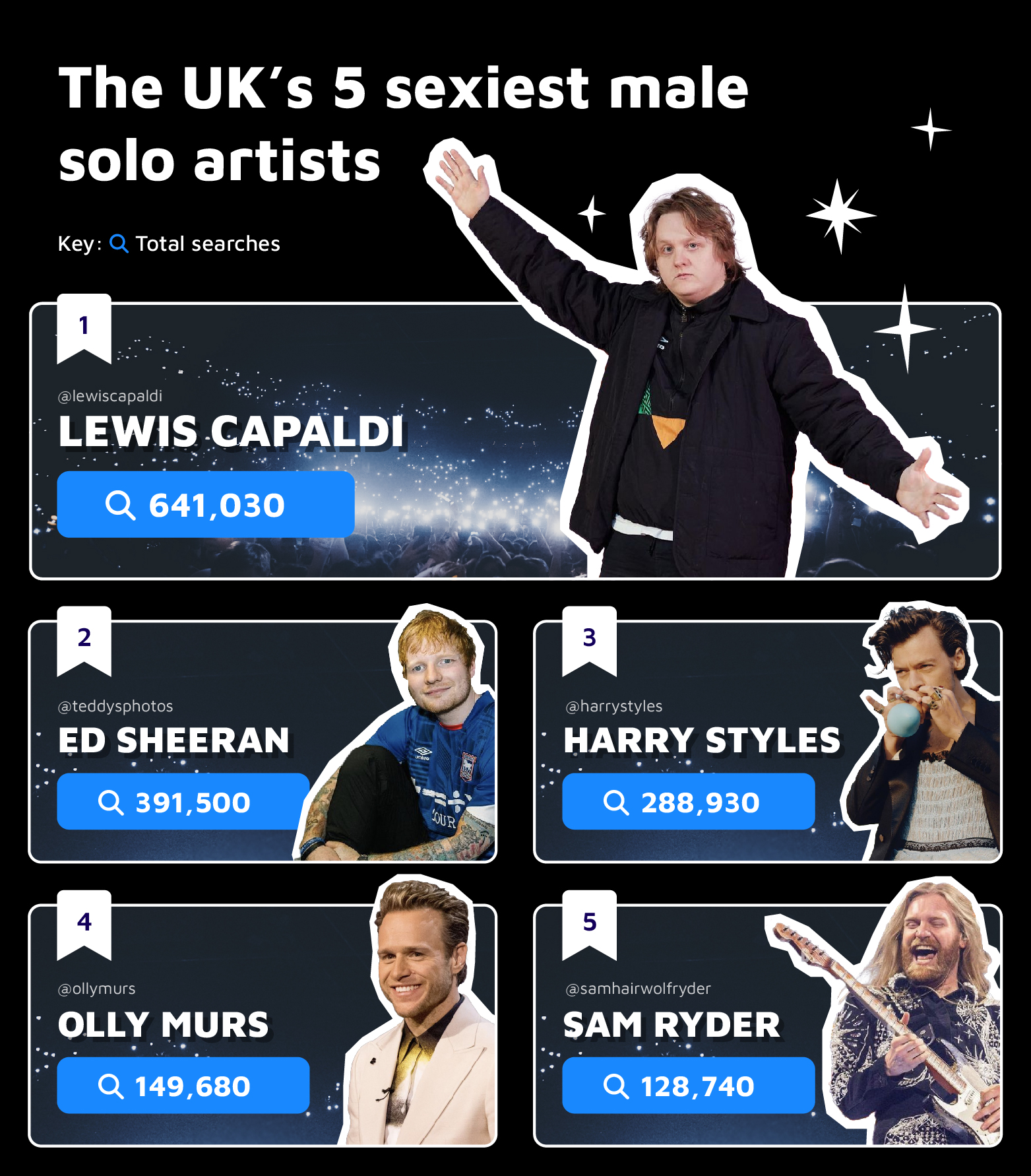 1. Lewis Capaldi

-

641,030 total searches
The two-time Brit Award-winning Scottish singer-songwriter Lewis Capaldi can be crowned the UK's sexiest solo artist, racking up a whopping 641,030 total searches over the last 12 months. 
His debut album was the UK's best-selling album of both 2019 and 2020, and his single "Someone You Loved" topped the UK charts for a record seven weeks.

2. Ed Sheeran

-

391,500 total searches
Up next is another singer-songwriter, one of the world's best-selling solo artists as well as the most followed artist on Spotify, Ed Sheeran. The chart-topping musician has received more than 391,000 searches over the last year. 
He has recently released his seventh studio effort, inspired by the composer Elgar, and a bonus version with tracks recorded in the living rooms of 14 very lucky fans.
3. Harry Styles

-

288,930 total searches
The third singer-songwriter to grace the list, with 288,930 searches, is Harry Styles, a founding member of one of the best-selling boy bands of all time, One Direction.
Now with an incredibly successful solo career, Styles already has 3 Grammys and 6 Brit Awards under his belt and has established himself as a fashion icon as the first man to appear solo on the cover of Vogue.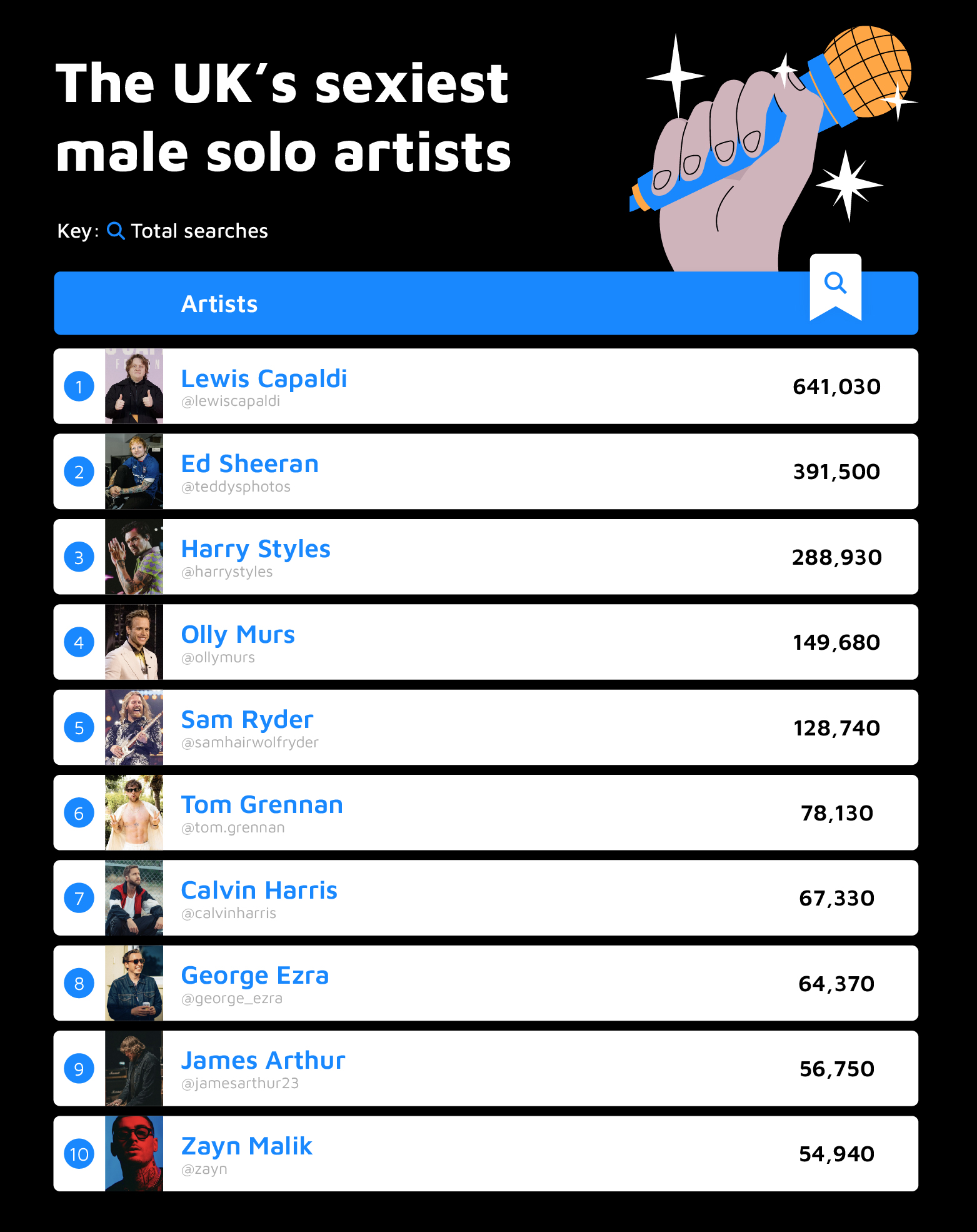 The UK's Sexiest Female Solo Artists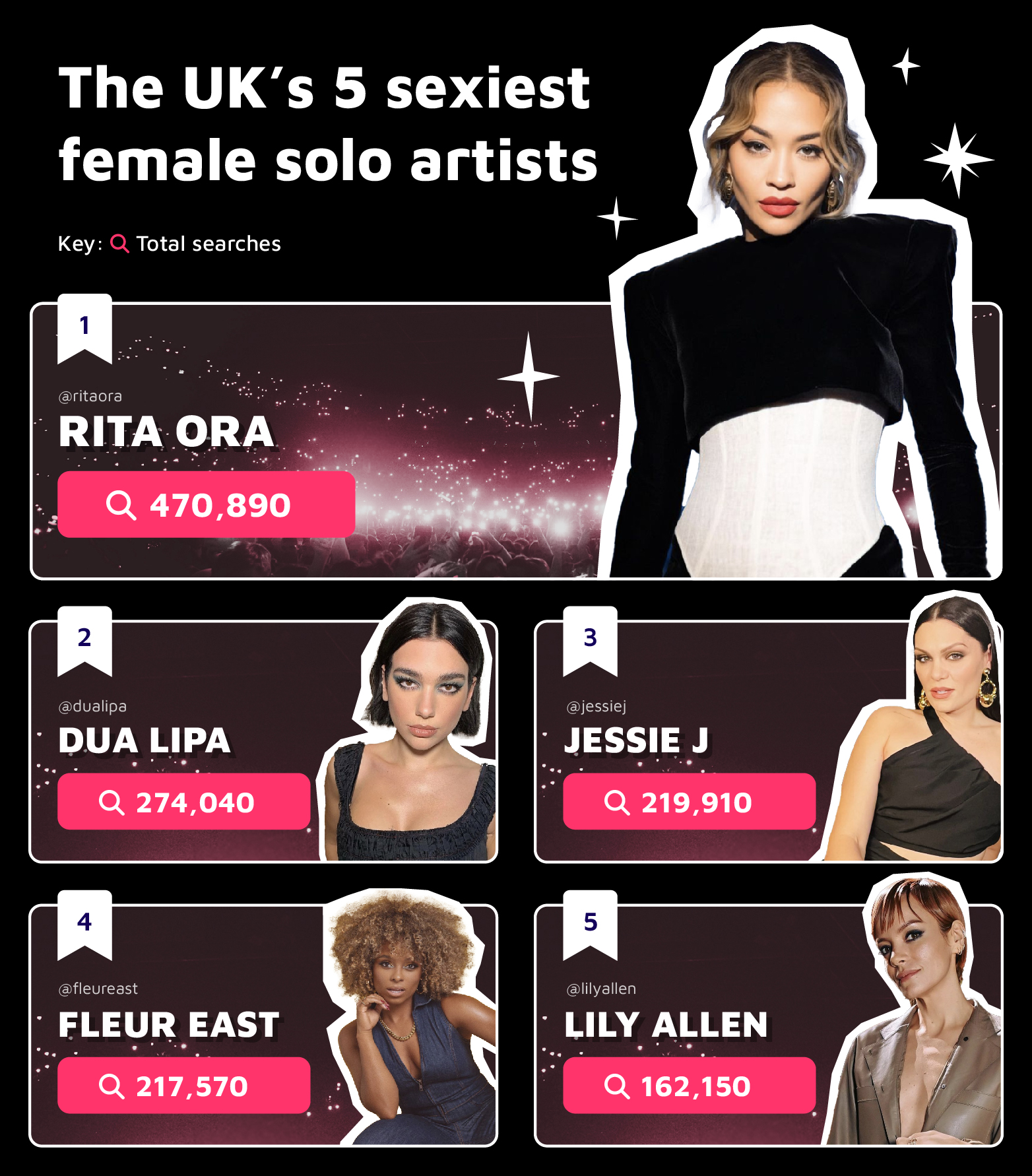 1. Rita Ora - 470,890 total searches
When it comes to female solo artists, Rita Ora takes the top spot as the UK's biggest crush, with 470,890 total searches over the last 12 months.
As well as her music career, Rita has established herself as a TV personality too, coaching contestants on both the UK and Australian versions of The Voice and appearing as a panellist on The Masked Singer. Rita has turned her talents to acting too, appearing in The Fifty Shades of Grey trilogy and an adaptation of Oliver Twist back in 2021.  
2. Dua Lipa - 274,040 total searches
Coming second, although a little way behind Rita Ora is the "New Rules" and "Levitating" singer Dua Lipa with just over 270,000 searches over the last year.
Dua has won numerous accolades since kicking off her career in 2017, including 6 Brit Awards and 3 Grammys. Dua even holds 2 Guinness World Records. 
3. Jessie J - 219,910 total searches
Jessie J takes her place as the UK's third most fancied female singer with just under 220,000 total searches over the past 12 months.
Jessie J first became known for her second single, "Price Tag", which topped the charts in a whopping 19 countries back in 2011, and her debut album, "Who You Are", made her the first female British solo artist to have 6 top 10 hits from a single album.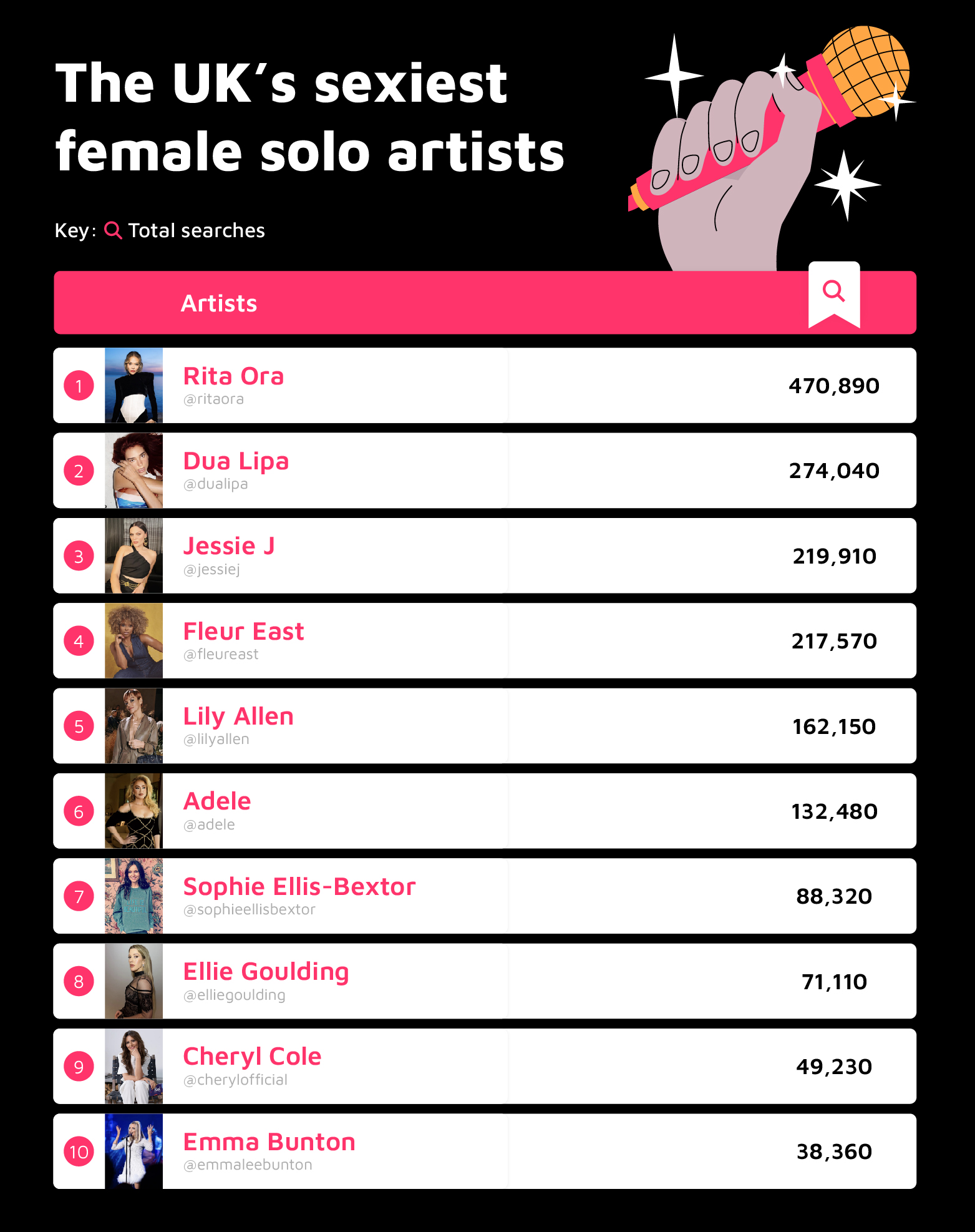 The UK's Sexiest Bands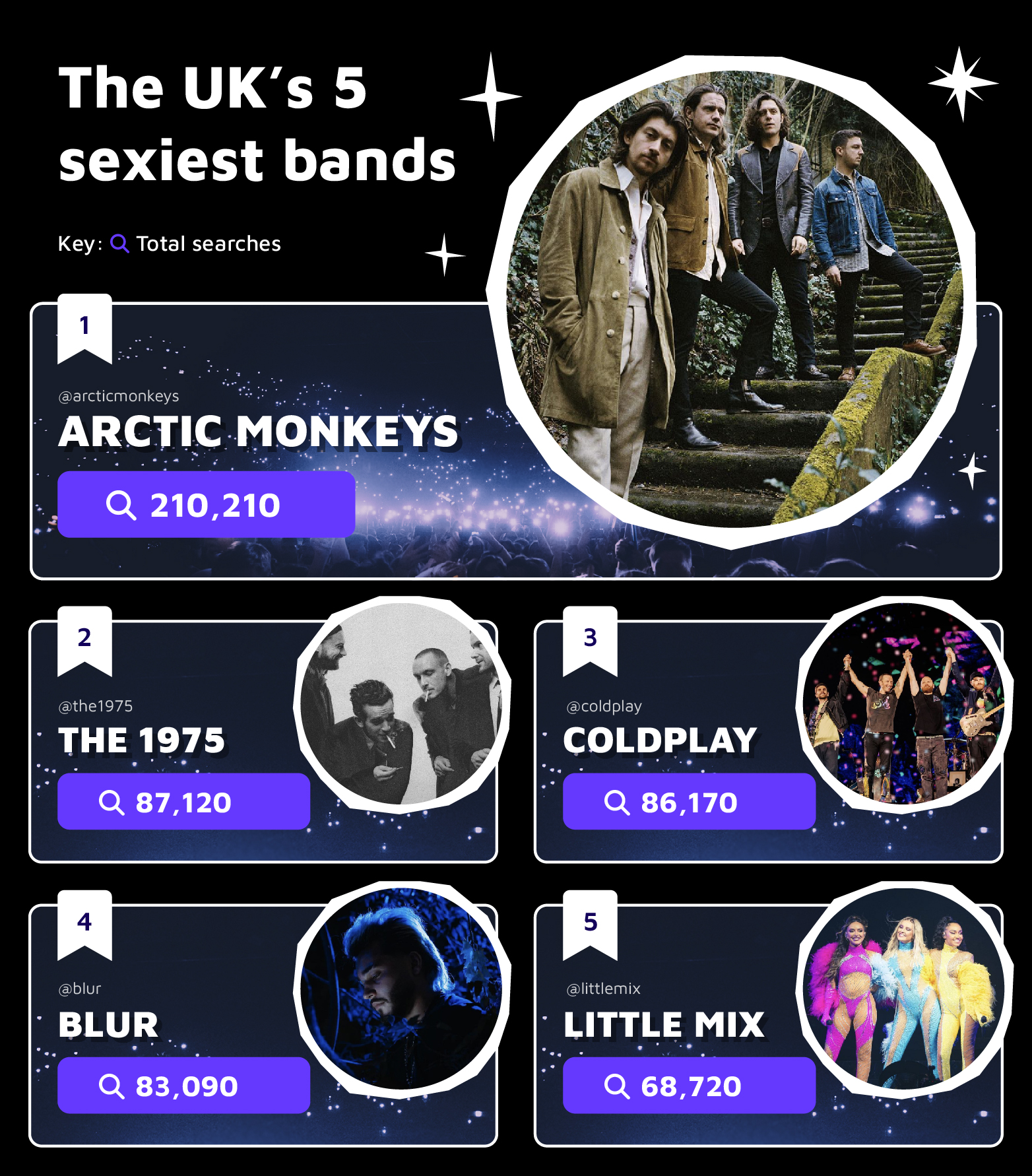 1. Arctic Monkeys

-

210,210 total searches
When it comes to the UK's most fancied bands, the Sheffield indie rockers Arctic Monkeys are way ahead of the competition, with 210,210 combined searches for the band members over the past year.   
Now on their 7th studio album, the band has moved away from the previous guitar-heavy sound of their debut, "Whatever People Say I Am, That's What I'm Not", the fastest-selling debut album in UK chart history.  
2. The 1975

-

87,120 total searches
Up next is pop-rock outfit The 1975, with just over 87,000 combined searches for the band members over the last year. 
Formed in 2002, the band released their self-titled major label debut in 2013, which peaked at number 1 in the UK charts, a feat they've managed to achieve with all 5 of their releases. 
3. Coldplay

-

86,170 total searches
One of the most popular bands of all time, selling over 100 million albums over their 25 years as a group, it is no surprise to see Coldplay in the top three.
Coldplay takes its place as the UK's third most fancied band, with the members reaching a combined total of 86,170 searches.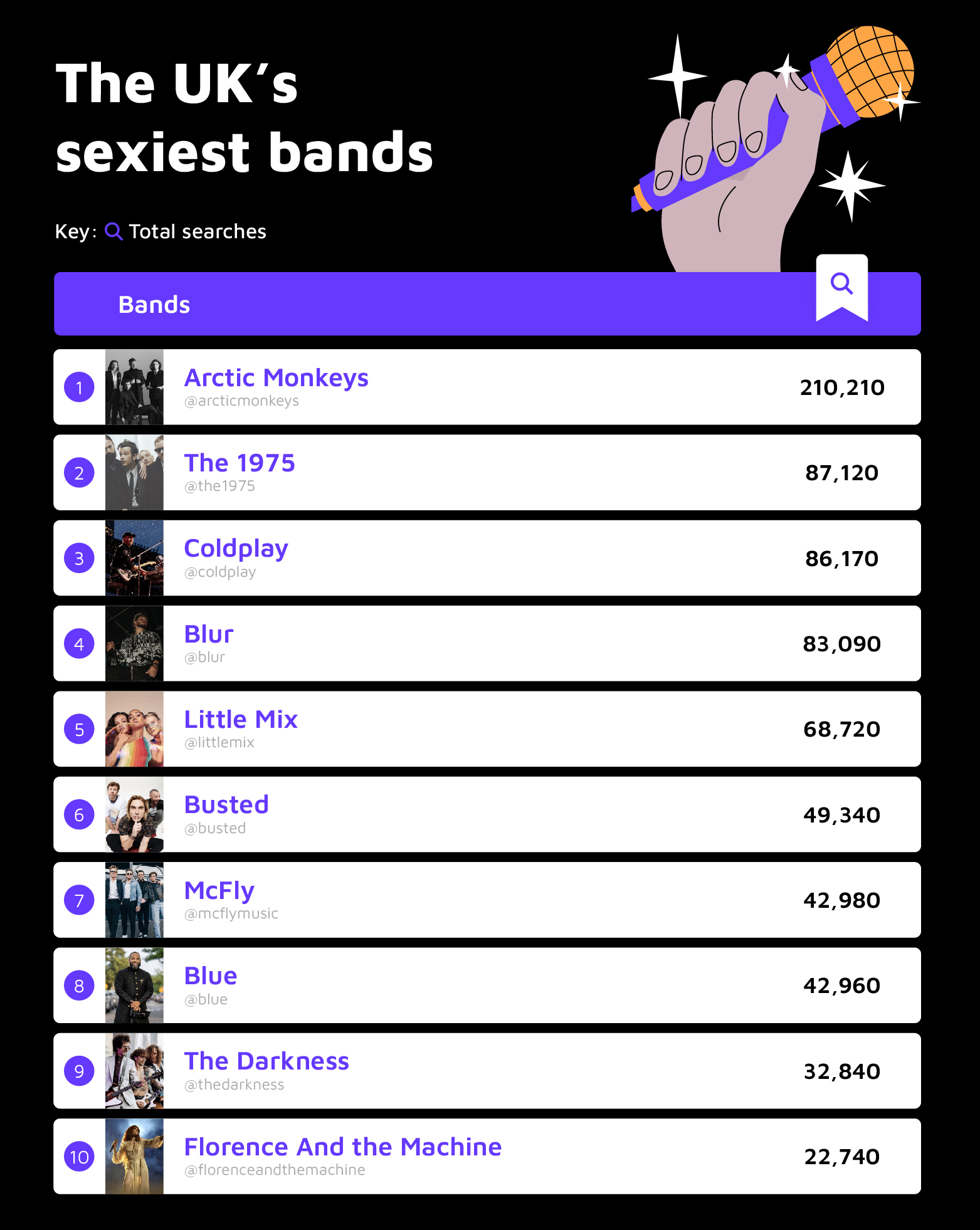 The UK's Sexiest Band Members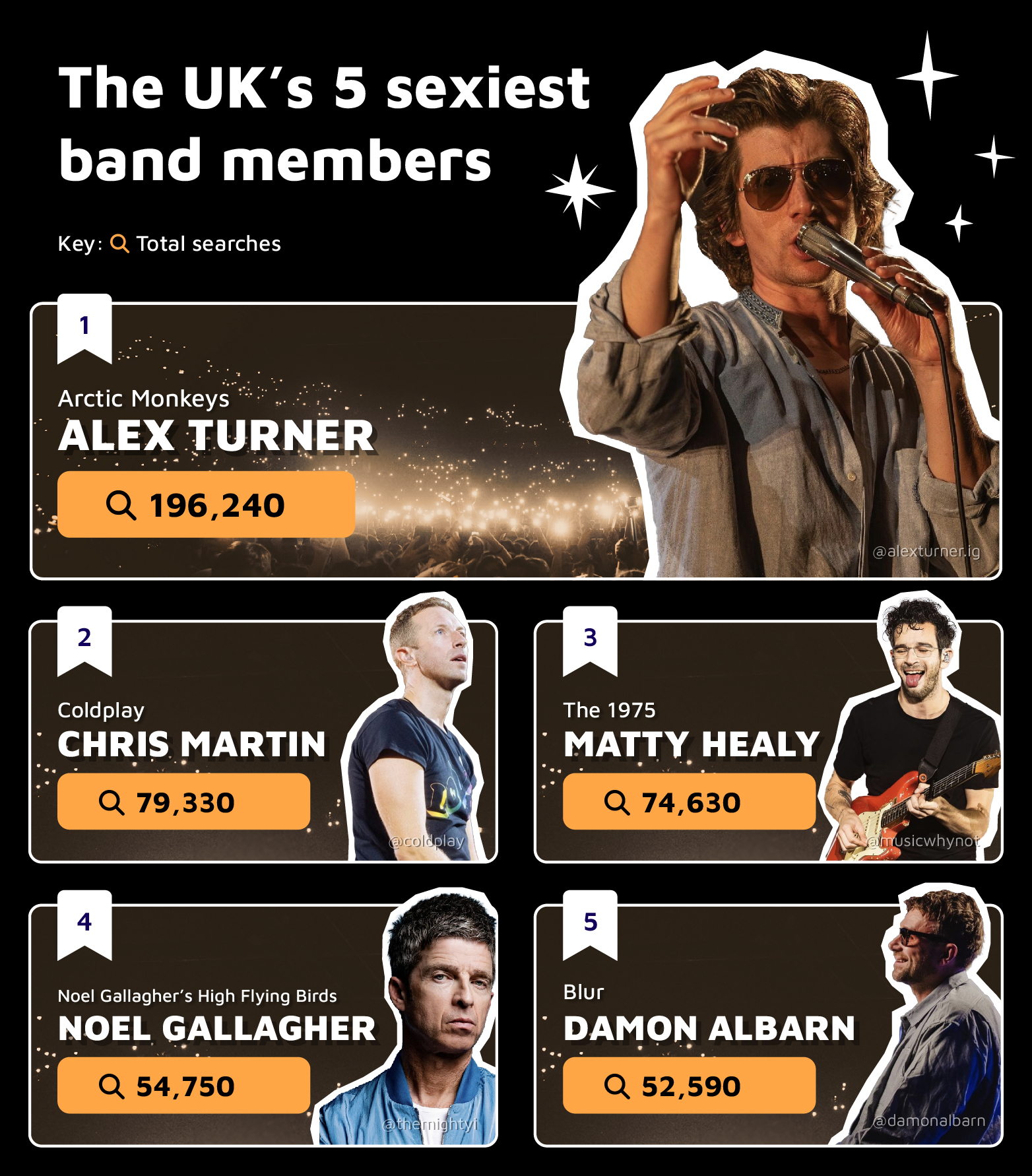 1. Alex Turner

-

196,240 total searches
The UK's most fancied frontman, according to Google searches, is Alex Turner, lead singer and songwriter for indie rock combo Arctic Monkeys, with more than 196,000 searches over the last year. 
As well as fronting his chart-topping band, he has also released 2 albums with frequent collaborator Miles Kane and wrote the soundtrack for the 2012 film Submarine.  
2. Chris Martin

-

79,330 total searches
Up next is Coldplay frontman Chris Martin, with 79,330 total searches over the last 12 months. 
As a member of Coldplay, he has sold over 100 million albums worldwide and has used his talents to raise money for various charities.
3. Matty Healy - 74,630 total searches
Rounding up the top three is Matty Healy, lead singer of The 1975, who recently announced the band's hiatus after a 93-date tour to support their most recent album. 
Known for his onstage antics and brief relationship with pop icon Taylor Swift, the art-pop frontman racked up just under 75,000 searches over the last year.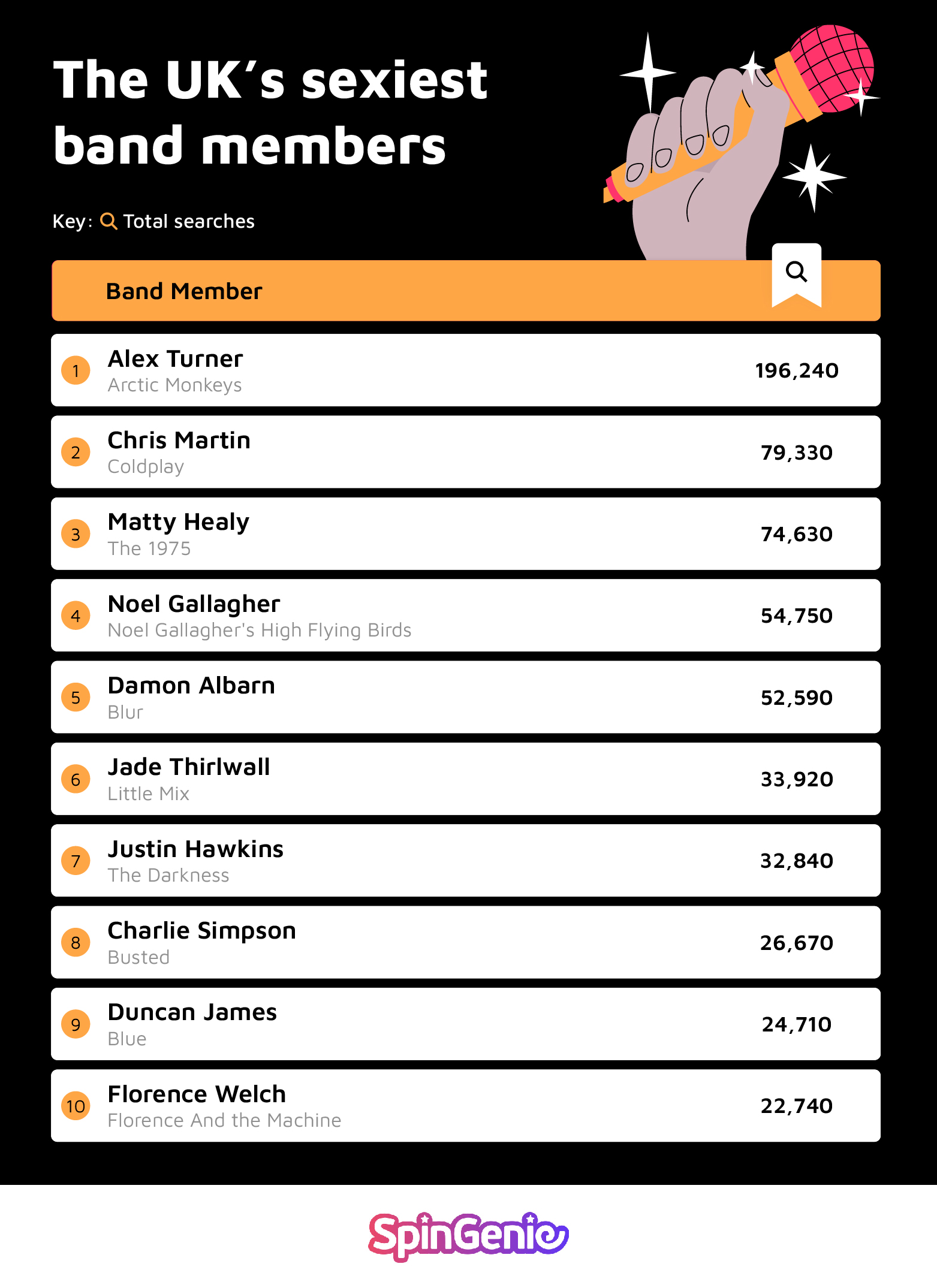 Methodology
For each artist, we used Google Ads to find the number of times the following keywords were searched from September 2022 to August 2023 in the United Kingdom:
[Artist] hot

[Artist] sexy

[Artist] calendar

[Artist] boyfriend

[Artist] girlfriend

[Artist] husband

[Artist] wife

[Artist] partner
The total number of searches for each of these terms was then taken for each artist and band member. Data correct as of 6/10/23.
---
Discover Spin Genie
Your Magical Online Casino Destination
Spin Genie is a regulated online casino and the destination of choice for the most entertaining online slots, and table games.