Singing in front of an audience takes a lot of bottle, whether in front of a crowd of hundreds or just in a private karaoke booth. But people love something about karaoke, whether you relish the limelight or require a little encouragement to take the mic.
Certain songs have become karaoke classics, but which are the world's favourite karaoke songs of all time?
To find out, the team at online slots site Spin Genie UK have analysed hundreds of Spotify playlists.
The World's Favourite Karaoke Songs
To find out which are the world's most loved songs to sing to, we've analysed hundreds of "karaoke" playlists to see which songs appear on them the most frequently.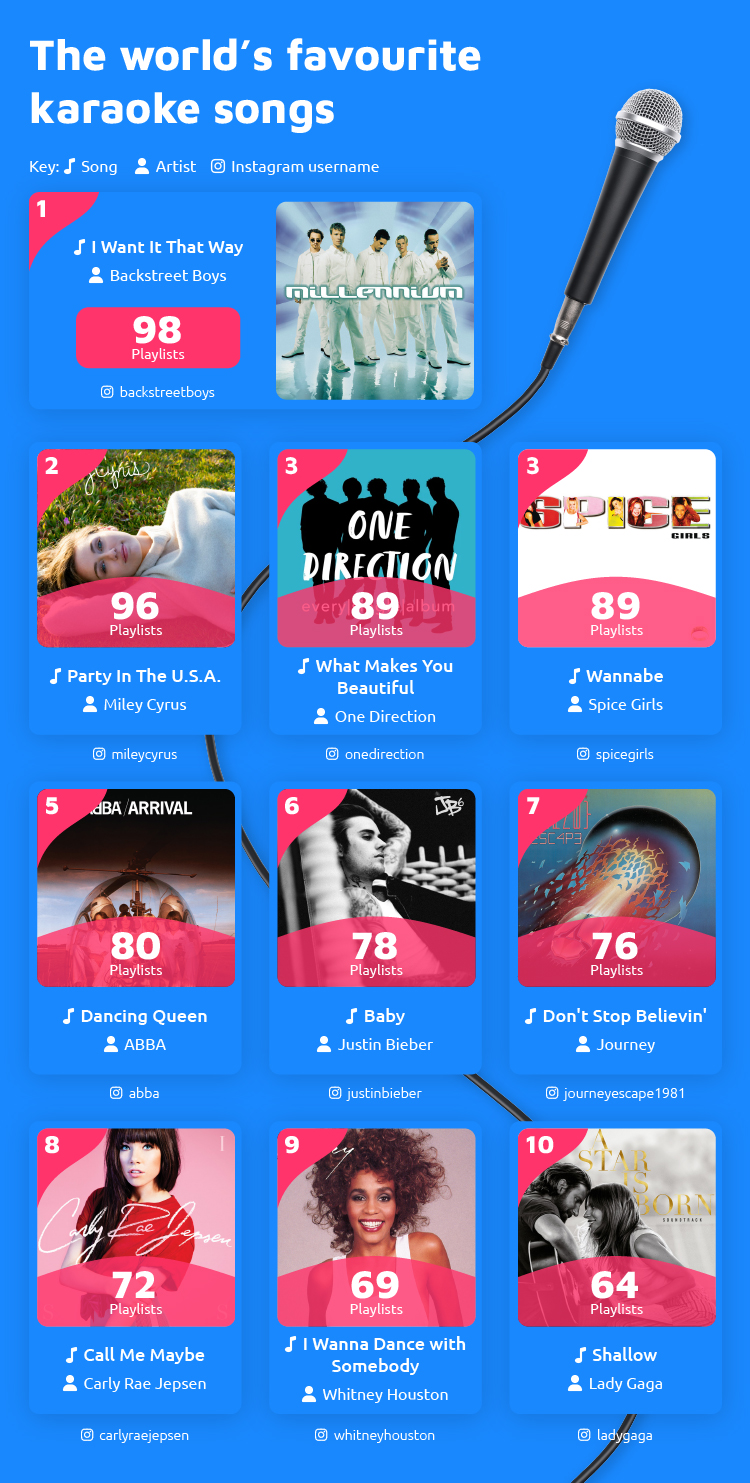 1. "I Want It That Way" - Backstreet Boys (98 playlists)
Released in 1999, this song instantly became a global hit. Over two decades later, it remains an iconic pop ballad popular with karaoke singers, appearing on 98 Spotify playlists. A cornerstone of the late 90s and early 2000s boy band era, "I Want It That Way" appears on many 'throwback' and 'nostalgia' karaoke playlists.
2. "Party In The U.S.A." by Miley Cyrus (96 playlists)
Released in 2009, this song marked a defining moment in Miley Cyrus's career as she stepped out of her "Hannah Montana" phase. A feel-good pop anthem, it's also an unofficial anthem for U.S. holidays and celebrations such as the 4th of July.
3. "What Makes You Beautiful" by One Direction & "Wannabe" by Spice Girls (89 playlists)
Two tracks are tied in third place, "What Makes You Beautiful" by One Direction & "Wannabe" by Spice Girls, both in 89 playlists. Released in 2011, "What Makes You Beautiful" propelled One Direction to international stardom. Hugely popular with those who grew up with the band, it set the tone for their illustrious career. "Wannabe" is perhaps more popular with a slightly older crowd and defines the 90s era of girl power and pop dominance.
It's clear that many classic tracks have stood the test of time. While many tracks are from the 2000s and 2010s, there's no shortage of hits from the 80s and 90s. Songs like "I Want It That Way" by the Backstreet Boys, "Wannabe" by Spice Girls, and "Dancing Queen" by ABBA continue to be playlist favourites, suggesting a timeless appeal across generations.
The list includes artists from various eras and genres, from 80s icons like Cyndi Lauper and Whitney Houston to more contemporary artists like Ed Sheeran and Bruno Mars. It's worth noting that Spotify was launched in 2008, and its metrics reflect the listening habits of its users, predominantly from the late 2000s onwards. As a result, older songs from artists of earlier eras might have ranked differently in popularity if streaming platforms like Spotify had been around 30 or 40 years ago.
Bruno Mars is the most popular artist overall, with five songs in the top 100 ("When I Was Your Man", "Grenade", "Locked out of Heaven", "Just the Way You Are", and "That's What I Like"), and features on two others ("Billionaire" and "Uptown Funk"). Similarly, One Direction and Britney Spears have three songs in the top 100, showcasing their popularity with karaoke crowds.
While pop is the dominant genre, rock anthems, R&B classics, country hits, and even Latin melodies are sprinkled throughout the list, showcasing the eclectic tastes of Spotify users.
The Most Streamed Karaoke Songs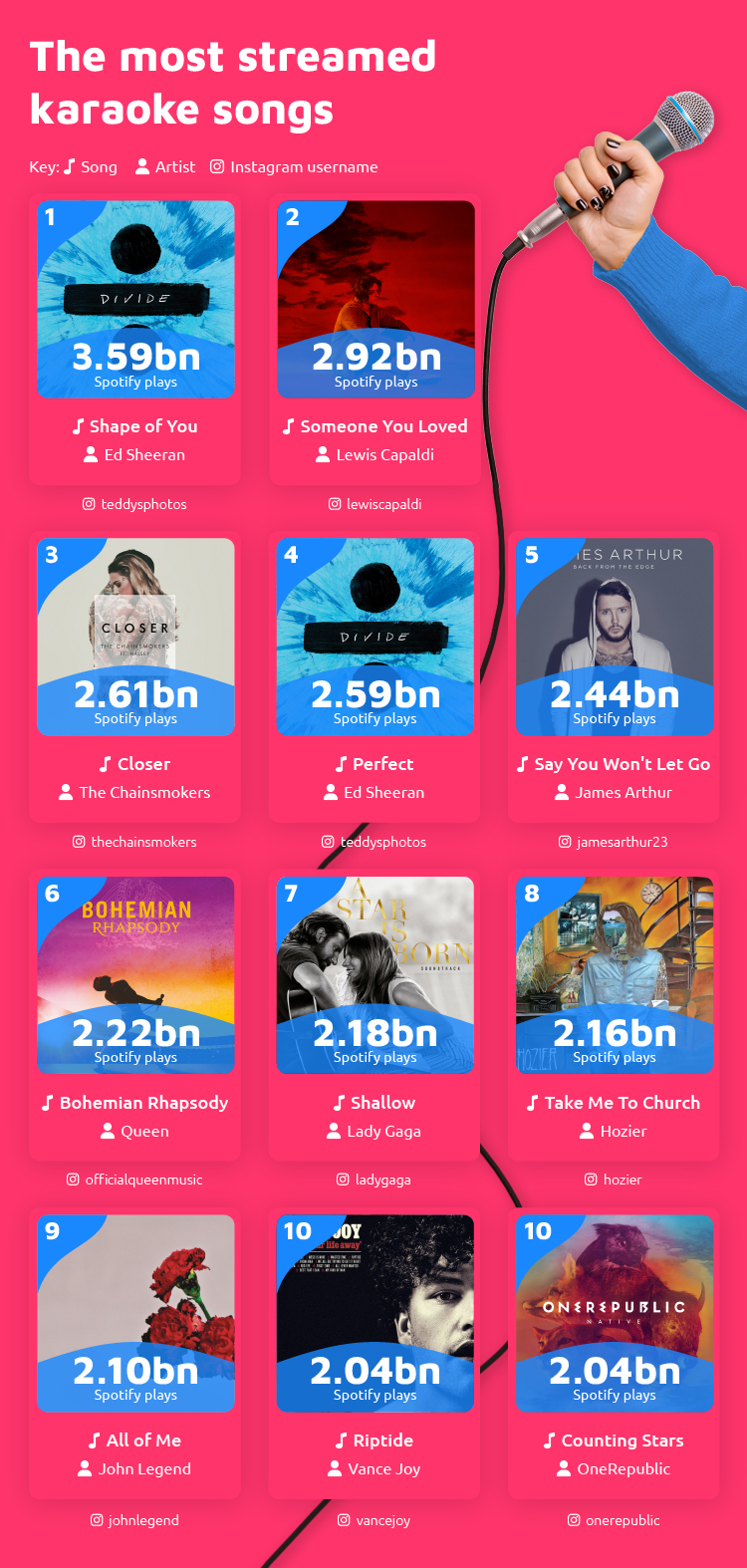 1. "Shape of You" by Ed Sheeran (3.59 billion plays)
Released in 2017 as a part of Ed Sheeran's third studio album, "Divide", "Shape of You'' quickly became a global hit. It became the first song to hit 2 billion streams on Spotify and is currently the 2nd most streamed song on the platform with almost 3.6 billion streams. It's also proven to be a popular karaoke choice, with its catchy marimba-driven melody and chorus. Sheeran has not one but two songs in the top five, with "Perfect" coming in fourth.
2. "Someone You Loved" by Lewis Capaldi (2.92 billion plays)
In second is Lewis Capaldi's 2018 breakout single, the soul-stirring ballad "Someone You Loved". His powerful vocals aren't the easiest to match, but it's still incredibly popular with karaoke singers.
3. "Closer" by The Chainsmokers (2.61 billion plays)
Released in 2016, "Closer" is an EDM-infused pop track by the American duo The Chainsmokers, featuring vocals from Halsey. Its blend of male and female vocals makes it a popular duet choice for karaoke parties.
The Most Covered Karaoke Favourites
Karaoke is a perfect example of the saying "imitation is the sincerest form of flattery", and the same is true when a song gets covered by professionals too. Here are the karaoke hits that have been covered the most times.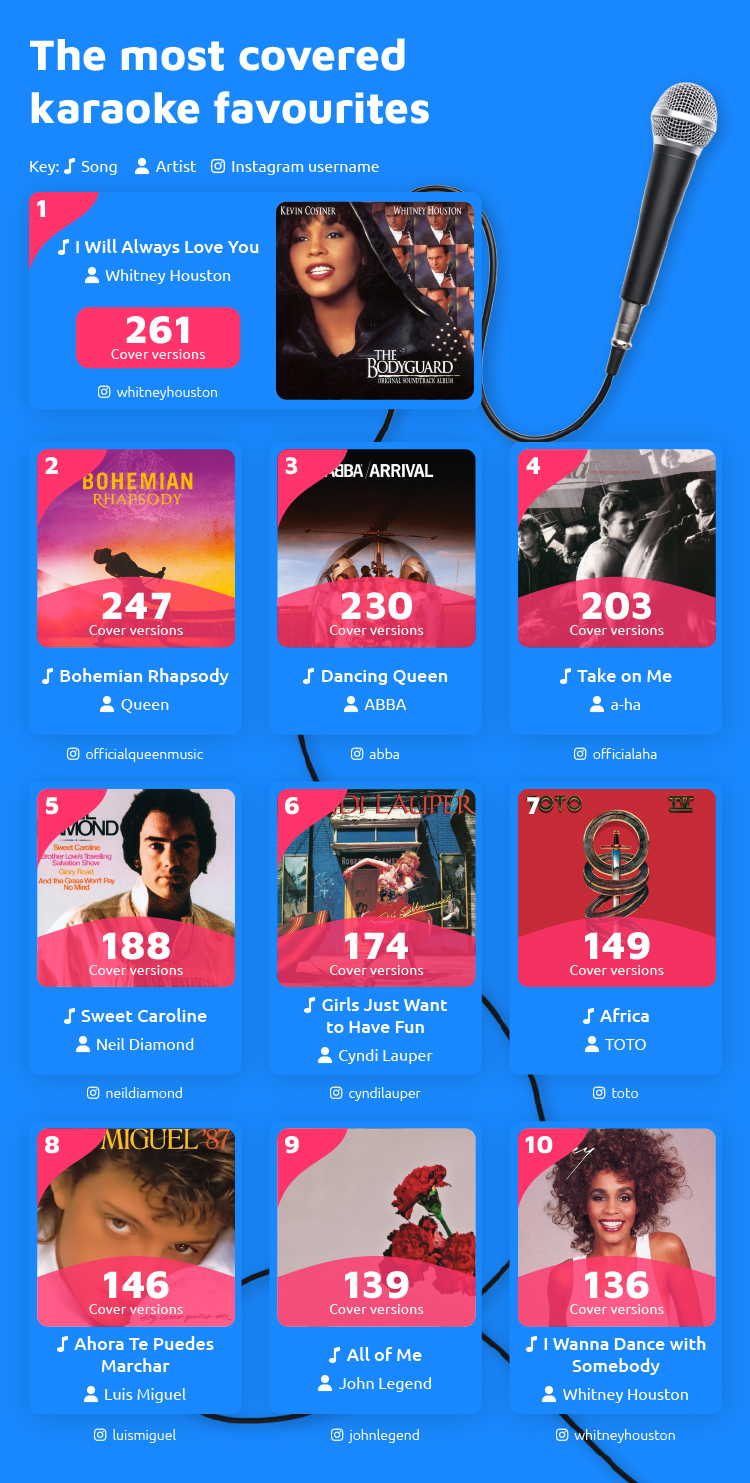 1. "I Will Always Love You" by Whitney Houston (261 cover versions)
In first place is a song that is a cover version itself. "I Will Always Love You" was initially penned and performed by country music legend Dolly Parton in 1974. But it became a global sensation after Whitney Houston's rendition for the soundtrack of the 1992 movie "The Bodyguard", one of 261 cover versions. Its challenging high notes make it a test for karaoke enthusiasts and an opportunity to showcase their vocal prowess.
2. "Bohemian Rhapsody" by Queen (247 cover versions)
Released in 1975, "Bohemian Rhapsody" is perhaps Queen's most iconic song. Written by Freddie Mercury, the track is renowned for its unique structure, blending rock ballad, opera, and hard rock. Many of the track's 247 covers have been parodies by artists such as Bad News, "Weird Al" Yankovic and even the Muppets.
3. "Dancing Queen" - ABBA (230 cover versions)
Released in 1976, "Dancing Queen" is one of the Swedish pop group ABBA's most enduring hits. The track has become a standard for dance divas like Carol Douglas and Kylie Minogue and has also been covered by acts including U2.
The Most Popular Karaoke Songs by Genre
We also looked at which songs appeared the most often in karaoke playlists for specific genres, such as "pop karaoke", "rock karaoke", and so on.
Pop - "Wannabe" by Spice Girls (48 playlists)
Despite coming third for overall karaoke playlists, on ones geared explicitly towards pop fans, "Wannabe" appears on 48 playlists. The song was released in 1996, but it's evident that its influence extends well beyond its original release. Whether you grew up singing the lyrics in your bedroom or discovered it years after its release, it's difficult not to sing along once the song kicks in!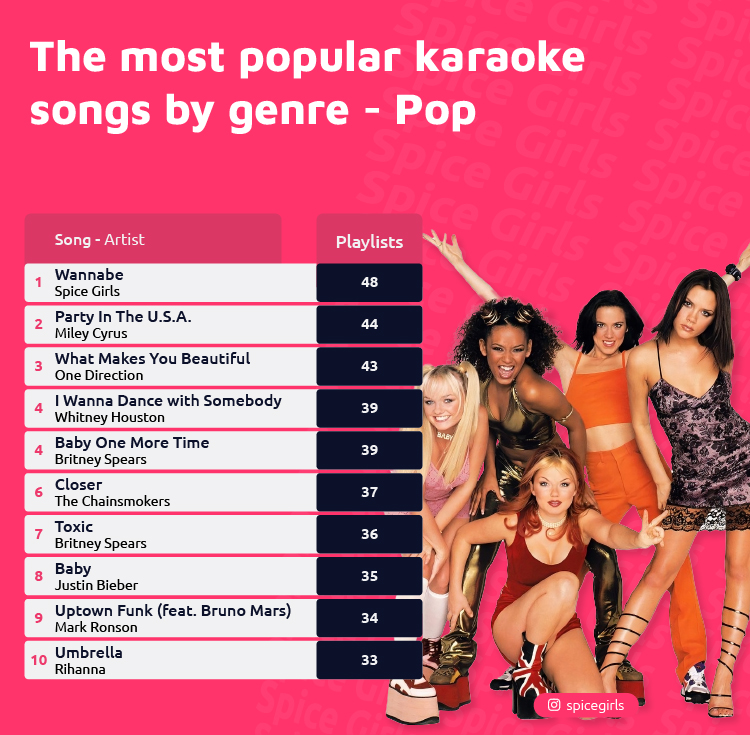 Rock - "Don't Stop Believin'" by Journey (53 playlists)
Countless iconic rock anthems are perfect for karaoke, but Journey's "Don't Stop Believin'" stands out at the top of the genre. Telling the story of a small-town girl and a city boy, the song starts slow before reaching its crescendo, giving karaoke singers a chance to ease their way into their performance! The song appears in 53 "rock karaoke" playlists.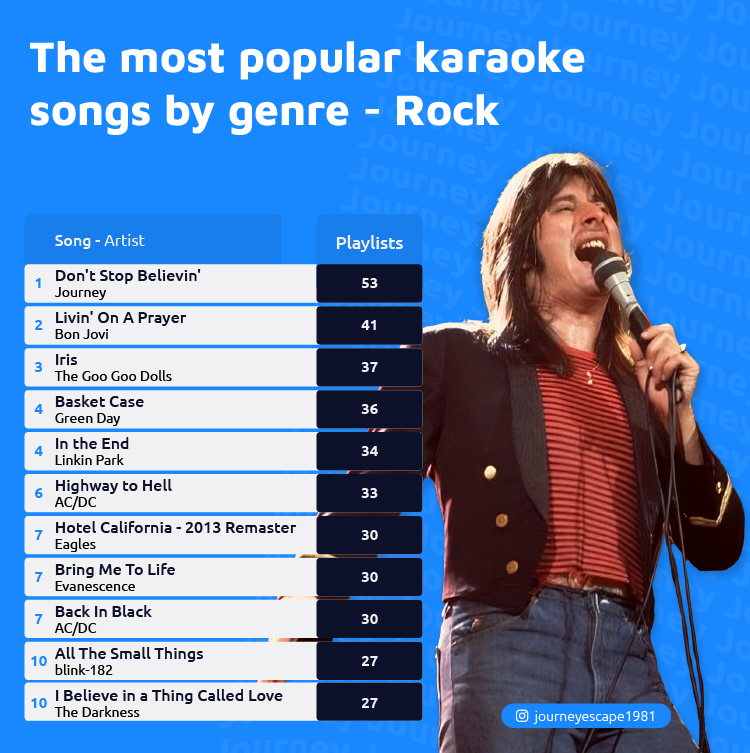 Hip-hop - "Hey Ya!" by Outkast & "This Is How We Do It" by Montell Jordan (10 playlists)
For hip-hop, two songs are tied for first place, appearing on ten playlists each. "Hey Ya!" is an anthem of the 2000s, encapsulating a period when hip-hop artists such as Outkast began pushing boundaries, experimenting with sounds, and blending genres. The other is "This Is How We Do It" by Montell Jordan, which takes the karaoke party back to the mid-90s when hip-hop and R&B began to merge and produce party anthems such as this.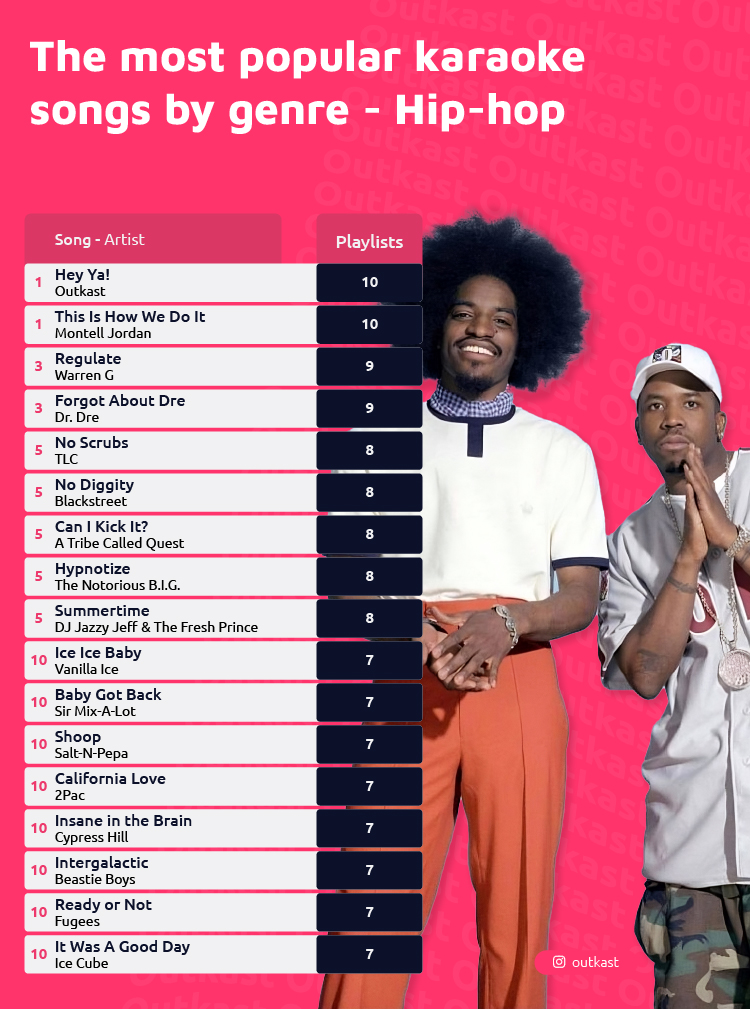 Country - "Wagon Wheel" by Darius Rucker (61 playlists)
For lovers of contemporary country music, few songs are as universally beloved and immediately recognisable as "Wagon Wheel". Initially written by Bob Dylan and later fleshed out by Old Crow Medicine Show, the song took on a new life when Darius Rucker offered his rendition in 2013, introducing the track to a new generation of fans. It sits in 61 "country karaoke" playlists, more than any other song.

R&B - "My Boo" by Usher & "No Scrubs" by TLC (24 playlists)
Finally, R&B is another genre with two songs tied for first, "My Boo" by Usher & "No Scrubs" by TLC, both in 24 playlists. Both hail from a golden era of R&B and are iconic tracks of the genre. Their continued popularity at karaoke parties shows that while musical trends may shift, certain songs retain a timeless quality!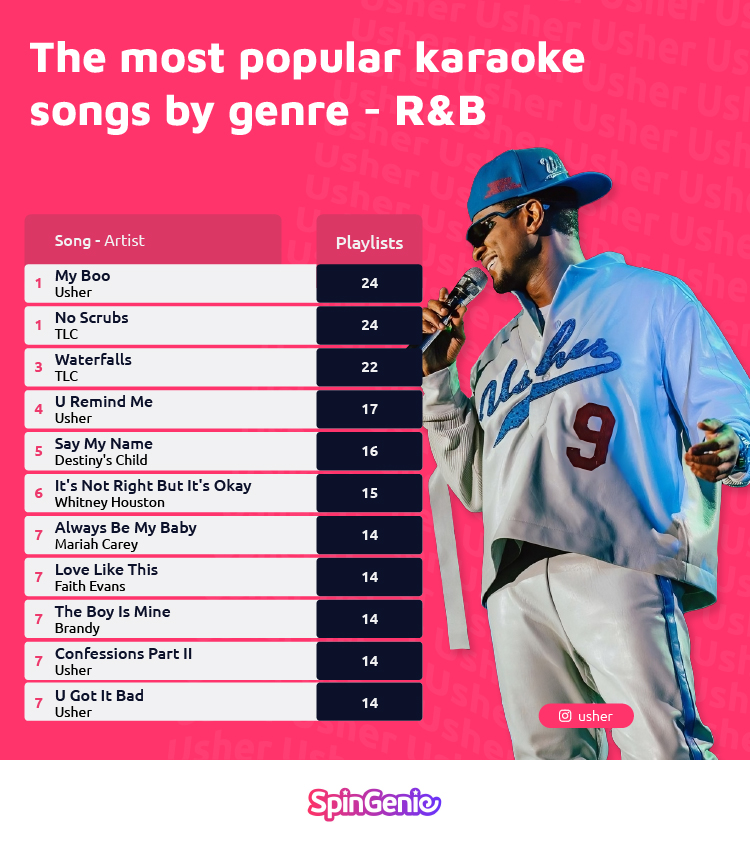 Methodology
The Playlist Miner was used to find the songs that most commonly appear in all playlists featuring the word "karaoke" in the title, as well as those within different genres (such as "pop karaoke", "rock karaoke", and so on).
For each of the top 100 songs, the number of Spotify streams was taken as of August 16, 2023.
The number of cover versions of each track was sourced from SecondHandSongs.
---
Discover Spin Genie
Your Magical Online Casino Destination
Spin Genie is a regulated online casino and the destination of choice for the most entertaining online slots, and table games.