Genie Answers: 
While the term 'pay table' specifically refers to the list of symbols and their values used in a particular slot,  the paytable page of an online slot will also often show the payline structure, rules, bonuses, and betting requirements all in one place. So if you're learning how to play online slots, clicking on the paytable icon can be a great place to start. So, without further ado, join us on the next instalment of our investigation into how online slots work, by taking a closer look at slot pay tables. 
Contents of Paytable 
As  mentioned, in the modern day, the paytable comprises of numerous pieces of handy information, which are as follows:
Paylines
You must be aware of the number of paylines and the layout of the paylines on the reels. A diagram illustrating how each of the paylines functions on the reels may be seen in your pay table. There should be an example of how this works if the slot machine has ways to win rather than paylines, in which case you merely need to have the identical symbols anywhere on succeeding reels to win. This feature, which might have up to 117,649 ways to win, will be described in the context of Megaways slots.
Symbols
Every slot machine's symbols are its core. These used to be fruit symbols, the Liberty Bell, bars, or fortunate 7s in the past. While they are still present in older slots, there are countless more symbols available nowadays.
Many feature card numbers from nine to ace and many have a theme, such as figures from Ancient Egypt or Ancient Greece. The pay table will outline each symbol with an example before outlining the potential payouts for landing three, four, or even five. Any special symbols will also be highlighted in the pay table. These might be the Wild sign and a description of how it functions.
Bet Size
You will see the minimum and maximum bet amounts that you can place. Additionally, it will be made apparent whether you need to wager a certain amount to unlock additional paylines or features.
Jackpots
The pay table for the slot machine contains information about the potential win. It also states if the machine has a jackpot feature or a progressive jackpot.
Online Slots Pay Table Examples
Presented below are screenshots from some of Spin Genie's most popular games; Spinning Wilds, Book of Dead, and Big Bass Bonanza. Notice how these slots mix classic and original symbols, with the unique symbols being more valuable than the classic icons. You can also see the layout of the paylines used in the slot, which is nicely illustrated in the Book of Dead paytable, as well as the direction in which valid winning combinations are formed. Some slot machines will be more in-depth than others when it comes to the information provided, as you can see with the Big Bass Bonanza slot which has 6 pages of information for its players. Lastly, some slots will display their theoretical RTP (return to player), but others might not. Still, you can usually find out this information with a quick Google search if it is of particular interest to you.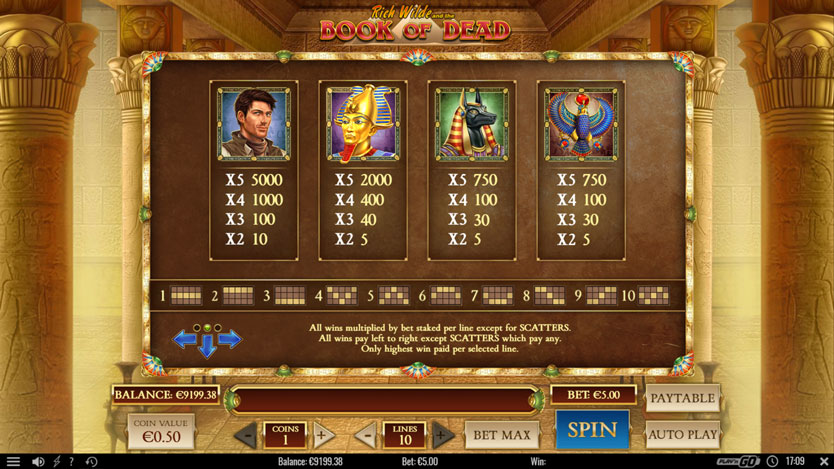 Play Online Slots at Spin Genie
So, now you're up to speed with how online slots' pay tables work, test out your new knowledge by playing one of the many slot games at Spin Genie. Sign up and play today.