Talent contests are some of the most popular shows in the UK. The heavyweights like The X Factor, which pulled in 6.19 million views in its final season in 2018, and Britain's Got Talent, which raked in 5.98 million views for its most recent series, are arguable staples of British television.
One of the critical parts of talent shows is having someone in charge to judge those talents. But with each show and each season, there are a variety of judges who decide who's good and who's bad. So, who is the nation's favourite talent show judge overall?
Our TV experts at online slots site Spin Genie UK have analysed the data to see which judges, across some of the most popular talent shows of all time, can be crowned the nations favourite. 
The Nation's Favourite Britain's Got Talent Judges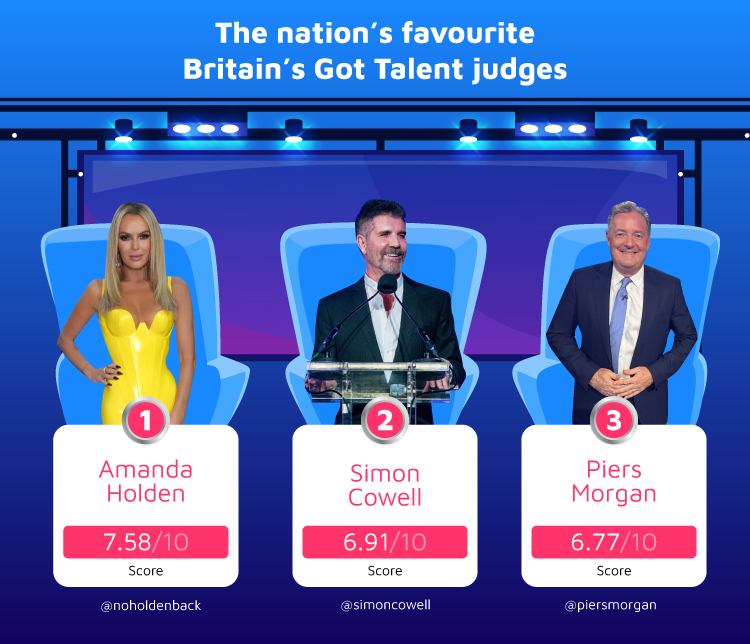 1. Amanda Holden - 7.58/10
Amanda Holden, English media personality, actress and singer, is the UK's favourite Britain's Got Talent judge. Holden is the most searched-for judge on our list, seeing 4.1 million Google searches over the last 12 months. Amanda is a staple of Britain's Got Talent, appearing on all 16 series since 2007. 
Not only is Amanda the nation's favourite BGT judge, but she also hosts a variety of other shows, including This Morning, Text Santa, and Give a Pet a Home. Holden also co-hosts the national Heart Breakfast radio show with Jamie Theakston.
2. Simon Cowell - 6.91/10
English television personality, entrepreneur and record executive Simon Cowell is the UK's second favourite Britain's Got Talent judge. Cowell is the longest-serving judge on our list, having judged the British public's talent on 28 series across Britain's Got Talent and The X Factor combined. 
Simon also has one of the highest engagement rates on Instagram at 4.8%, meaning he usually receives a lot of comments and likes on his posts. His recent posts are from America's Got Talent, and pull in thousands of likes. 
Known for his hard-to-please judging style, many contestants do their best to win his approval. Cowell is a big deal in the States, too, and is regularly in charge of US shows, including American Idol and America's Got Talent.
3. Piers Morgan - 6.77/10
Piers Morgan is the UK's third favourite judge, despite only appearing on four of Britain's Got Talent series. Piers was one of the three original judges on BGT alongside Cowell and Holden. Perhaps due to his well-known controversial views, Morgan has amassed the largest X following on our list of judges at 8.5 million. Piers has also pulled in 13.8 million views on TikTok. 
The original panel of BGT judges was set to have been Simon Cowell, Fern Britton and Piers Morgan, with Paul O'Grady as the host. After several revisions of the show however, with David Hasselhoff and Cheryl Cole both in the running, Cowell, Holden, and Morgan were finally named as the three main judges.
The Nation's favourite Strictly Come Dancing Judges
Strictly Come Dancing is one of the UK's favourite talent shows, but the judges on the panel are perhaps not as well-known as the likes of Simon Cowell and Amanda Holden in the wider media scene. As a result, when compared to the other judges on our list, our Strictly judges generally score lower. 

1. Alesha Dixon - 4.78/10
Alesha Dixon is the UK's favourite Strictly Come Dancing judge. Before joining the show Alesha was part of hip-hop group Mis-Teeq, where she featured on 7 UK top 10 hits. 
Dixon has appeared on 14 series of Strictly and Britain's Got Talent combined, serving as a judge on three series of Strictly. Dixon has built up a significant social media following of 1.1 million on Instagram, 858,700 on X, and 22,000 on TikTok. 
2. Shirley Ballas - 4.19/10
Shirley Ballas has appeared on the most recent seven seasons of Strictly Come Dancing and has quickly become one of the show's favourite judges. After replacing Len Goodman as head judge, Ballas has seen 1.1 million Google searches over the last 12 months. 
Shirley is a ballroom dancer and dance teacher alongside working as a judge on Strictly, specialising in International Latin, which earned her the nickname The Queen of Latin.
3. Motsi Mabuse - 3.60/10
Motsi Mabuse is another recent Strictly judge who has been on the show for the last five seasons. 
Starting out as a professional South African dancer on the German dance competition Let's Dance, Motsi has since earned her spot as the third most-liked Strictly Come Dancing judge, amassing more than 570,000 Instagram followers. 
The Nation's Favourite Dancing on Ice Judge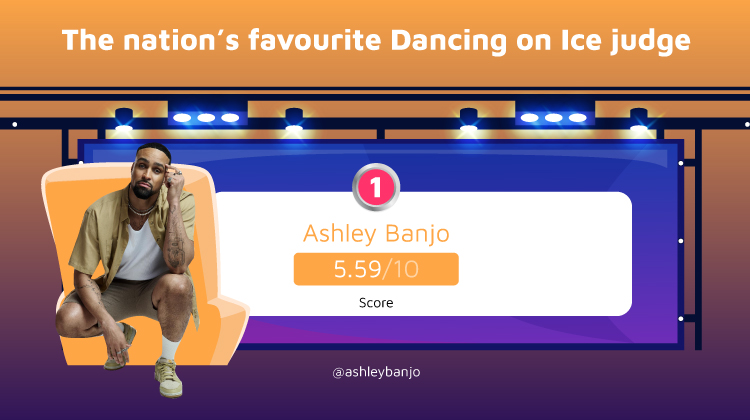 1. Ashley Banjo - 5.59/10
Joining the show in 2018, Ashley Banjo is our favourite Dancing on Ice judge and ranks as the UK's fifth favourite talent show judge across all our shows. 
Outside of judging, Ashley is known for being the leader of the street dancing troupe Diversity, which won the third series of Britain's Got Talent. With his stellar dance moves, Banjo has pulled in the highest volume of TikTok likes of all our judges, with a whopping 14.2 million.
The Nation's Favourite X Factor Judges
Despite coming to an end, The X Factor has a long-standing reputation as one of the first and biggest talent shows in the UK. Starting in 2004, The X Factor lasted for 15 seasons and kickstarted the career of many contestants and TV personalities.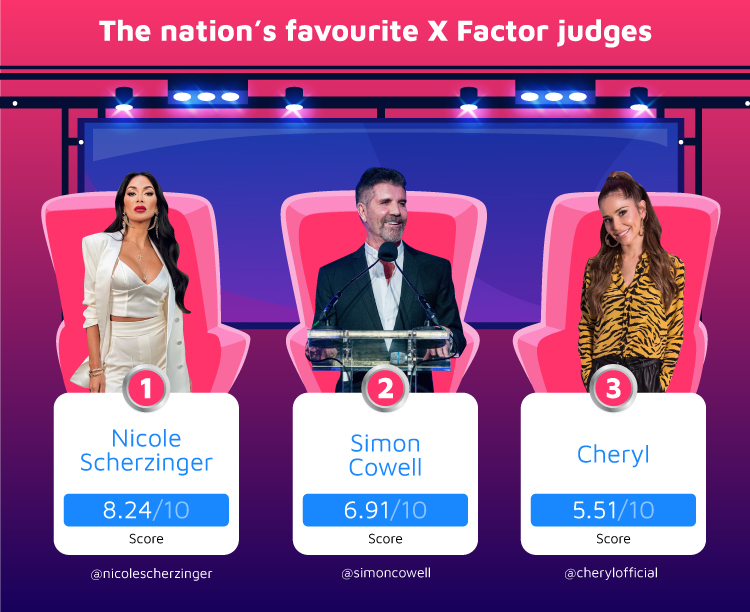 1. Nicole Scherzinger - 8.24/10
Nicole Scherzinger, the leader of the popular girl's group Pussycat Dolls, ranks as the UK's favourite X Factor judge, amassing a social following of 5.8 million followers on Instagram, 4.8 million on X, and 3.5 million on TikTok. 
Nicole has also pulled in over 31 million likes on her TikTok posts, the highest by far of any judge on this list. Scherzinger appeared on four series of The X Factor, where she played a significant role in forming the hyper-popular boy band One Direction.
2. Simon Cowell - 6.91/10
Simon Cowell, perhaps the most infamous judge on our list taking up top spots on two massive UK talent shows, earning himself the title of the "harsh judge" on both Britain's Got Talent and The X Factor, shows which arguably wouldn't be the same without him. However, his demeanour has seemingly softened over the years, and he has a soft spot for animal acts. 
3. Cheryl - 5.51/10
After appearing on five series of the X Factor, Cheryl is the nation's third favourite X Factor Judge. Girls Aloud singer and TV personality Cheryl also has one of the highest proportions of Instagram followers out of all our judges on our list at 3.4 million. When paired with her 2.5% engagement rate, Cheryl can pull in £15,800 for a sponsored post on Instagram. 
The Highest-Earning Judges on Instagram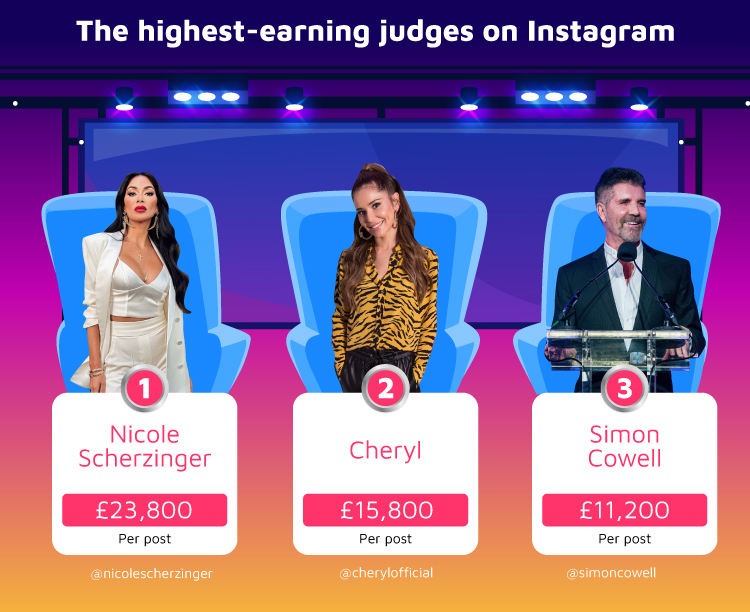 1. Nicole Scherzinger - £23,800 per post
With an engagement rate of 3% and over 5.8 million followers, Scherzinger can command a massive £23,800 for a single sponsored post on her Instagram page. 
2. Cheryl - £15,800 per post
Cheryl can earn up to £15,800 per sponsored Instagram post, with a reach of 3.4 million 
followers and an engagement rate of 2.5%.
3. Simon Cowell - £11,200 per post
Cowell, not only one of the nation's favourite TV judges on The X Factor and Britain's Got Talent, can earn up to £11,200 for a sponsored post to his 2.2 million followers.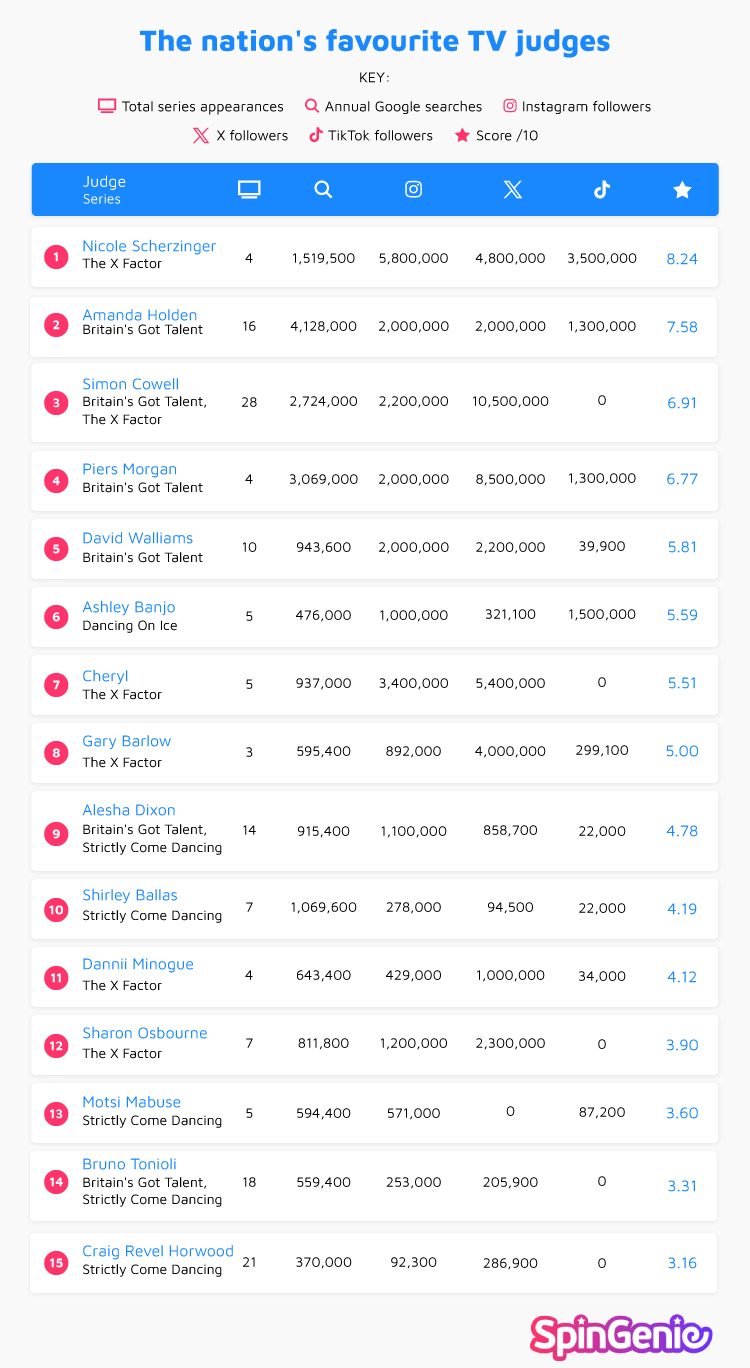 Methodology
Judges were recorded from the Wikipedia of each talent show, the X Factor, Britain's Got Talent, Strictly Come Dancing, and Dancing on Ice. The number of series each judge appeared on was also taken from Wikipedia, with guest appearances not included. 
Judges were removed from the list if they had not served on at least three talent show seasons or only had one social media account across Instagram, X and TikTok. 
Social media followings were recorded directly from Instagram, X, and TikTok, and Instagram engagement rates and potential earnings were recorded from Inzpire.me's Instagram pricing calculator. 
Search volumes were recorded from Google Ads Keyword Planner.
Data correct as of 01/08/2023.
---
Discover Spin Genie
Your Magical Online Casino Destination
Spin Genie is a regulated online casino and the destination of choice for the most entertaining online slots, and table games.