Buckle up because today's article is going to be a long one. We're looking at one of the most iconic slot franchises out there; Rainbow Riches. In this article, we'll be providing you with the complete list of all the games in this bustling franchise. 
Rainbow Riches: A Brief History
You've probably heard of Rainbow Riches if you enjoy playing slot machines. The game was initially introduced in 2008, and when it was made available in pubs and bookmakers, it seemed as though the Irish luck was on its side. Today, Rainbow Riches Slots are a playable game online, and new iterations of the game only add to its growing popularity.
The original Rainbow Riches slot machine was a typical fruit machine, but because of its three bonus games, it managed to stand out from the crowd. The game was really spread across two screens, one of which took players to the Irish countryside and included playing card and leprechaun symbols on its five reels, three rows, and 20 paylines. The bonus rounds were shown on the other screen. These included the Wishing Well and Pots of Gold bonuses, as well as the Wheel of Fortune-style feature game Road to Riches.
Since then the Rainbow Riches franchise has migrated from brick-and-mortar casinos to the online casino scene and has sprouted many variants over the years.
Slingo Rainbow Riches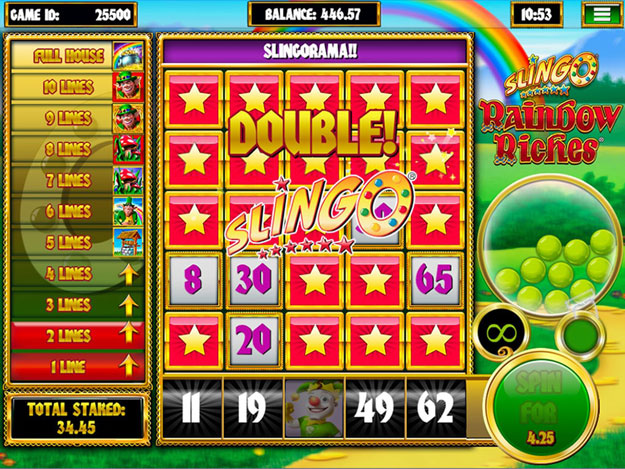 The immensely famous Irish Luck-themed slot machine and the traditional game of Slingo are combined in Slingo Rainbow Riches. The charm, thrills, and excitement of the original game, along with all of its bonus features, have all been preserved. How far up the Slingo bonus ladder you travel determines the bonus feature you can activate.
Rainbow Riches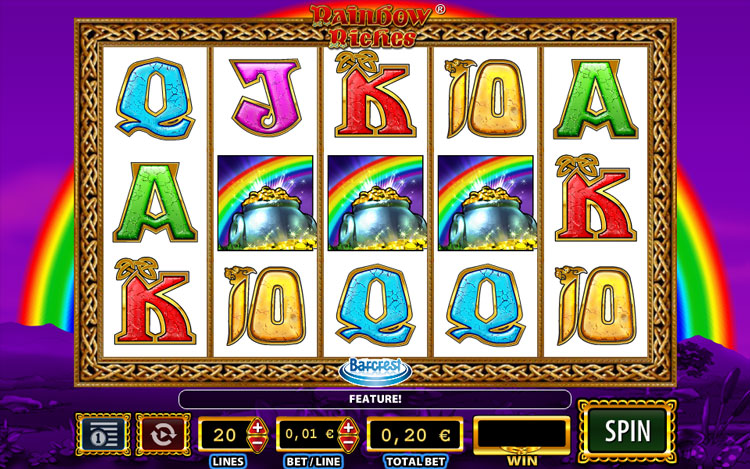 Barcrest created the online slot machine Rainbow Riches, which has 20 fixed paylines and five reels and three rows. A Wishing Well bonus, a Pots of Gold feature, and a Trail of Gold bonus are just a few of the game's features that can be unlocked by hitting particular scatter symbols.
The renowned game developer Barcrest is responsible for the hugely well-liked online slot machine called Rainbow Riches. Barcrest's Rainbow Riches slot game is a true favourite among both seasoned and novice slot players because of its bonus features and fun leprechaun theme.
Rainbow Riches Cash Cluster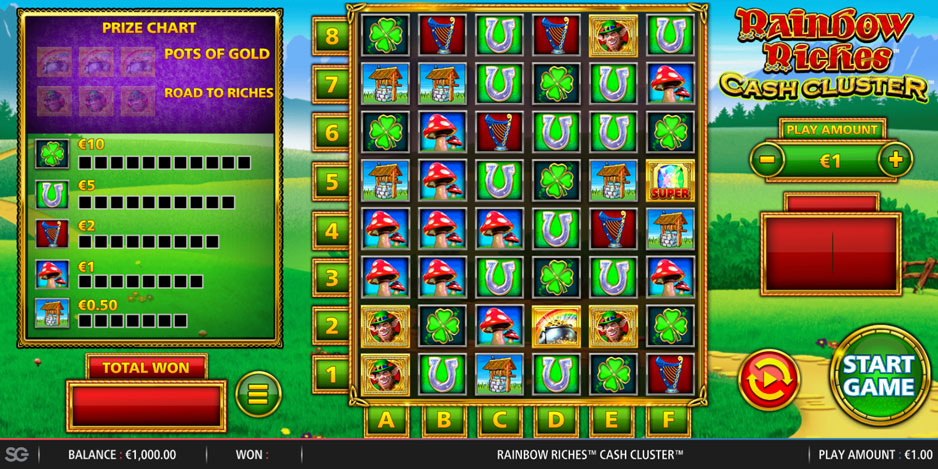 With the 6x8 Co-ordinates-based reel set of the Rainbow Riches Cash Cluster slot, you can experience a unique type of gameplay. To get payouts and start the Road to Riches or Pots of Gold bonus games and win up to 500 times your initial wager, collect symbols on the reels and complete the Prize Chart.
Rainbow Riches Cluster Magic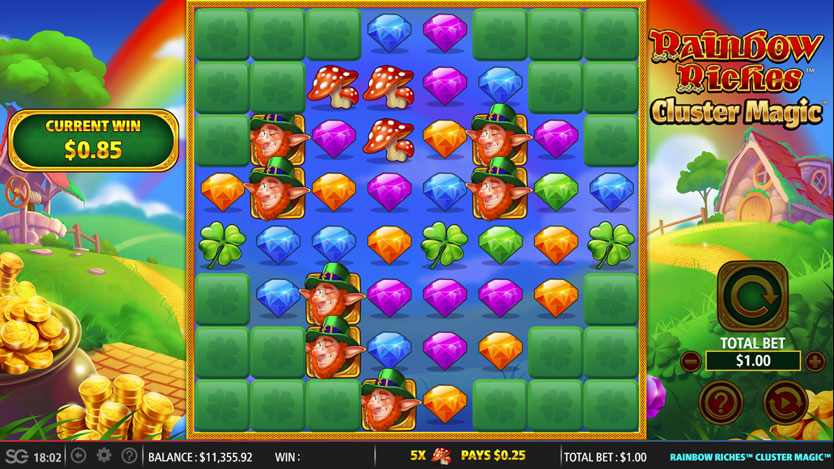 Barcrest created the online slot machine known as Rainbow Riches Cluster Magic. Free spins, sticky wilds, growing multipliers, and cascading reels are among the features. The biggest reward in this game has a multiplier of 5000 and an RTP of 96.34%.
Rainbow Riches Drops of Gold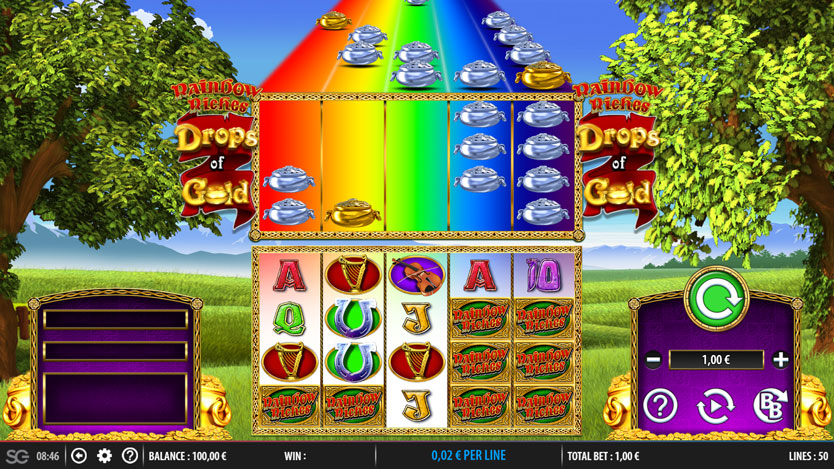 Another game in the Rainbow Riches series is called Rainbow Riches Drops of Gold. Along with three distinct Big Bet options, it has a rainbow road above the reels where pots of silver and gold wilds move to a drop zone. The free spins bonus round, where prizes up to 250x are achievable, is the major draw. If you play with ordinary bets, it everything happens on 5 reels, 4 rows, and 50 ways to win. However, if you choose a Big Bet, you can expand the paylines to 100 (and even 200 during the bonus round), which also raises the maximum possible payout to 500x (or 1,000x during the free spins feature).
Rainbow Riches Free Spins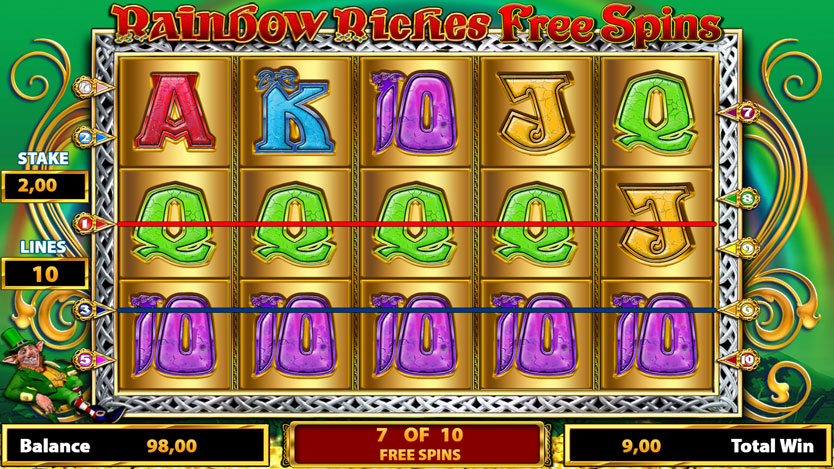 In contrast to the immensely popular first game in this series, Rainbow Riches Free Spins is entirely focused on the bonus round. This version has a slightly higher RTP of 95.17% and features 5 reels, 3 rows, and 10 chances to win. In this medium volatility Barcrest follow-up game, the bonus round offers up to 999 free spins, and there are many extended bonus round sessions.
Rainbow Riches Fortune Favours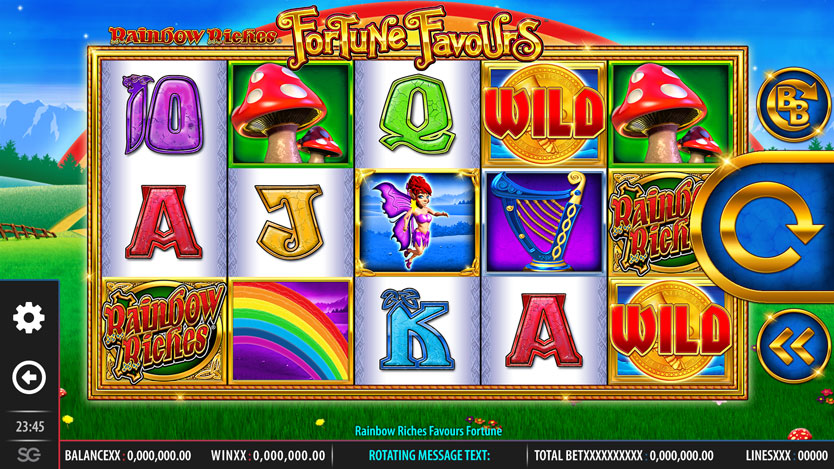 Barcrest created the online slot machine Rainbow Riches Fortune Favours, which has a high RTP of 97.5%. Additionally, it has the "Big Bet" option enabled, giving players the option to raise their wager in order to improve their chances of initiating the primary free-spins bonus round.
A pioneer in both offline and online slot machine design, Barcrest created the 10-payline slot machine called Rainbow Riches Fortune Favours. The goal of this game is to impress players with its vintage appearance and bright graphics. It features a special bonus function that gives your gaming tonnes of extra benefits and gives you the opportunity to win some amazing prizes.
Rainbow Riches Leprechauns Gold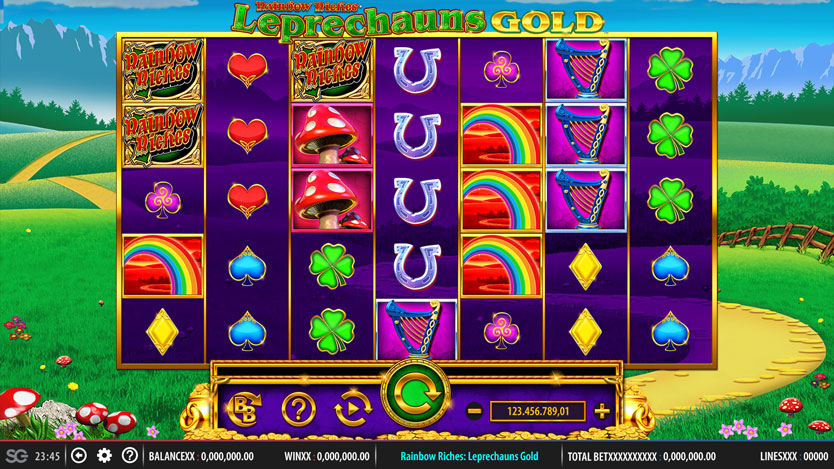 The top jackpot in Rainbow Riches Leprechauns Gold is 500x and it has 50 paylines. Its RTP is 97.75%, and its gameplay is very volatile. Free spins and pick-a-prize rounds are features.
The game's aesthetics absolutely go with the overall theme. As soon as the game loads, a leprechaun wearing a green suit will appear. He even has a large red beard, so he clearly fits the stereotype. The reels are set against a stunning green backdrop, and the fields are blooming with pink and yellow flowers. It's a lovely touch to have the seemingly endless fields in the background.
Rainbow Riches Megaways with Buy Pass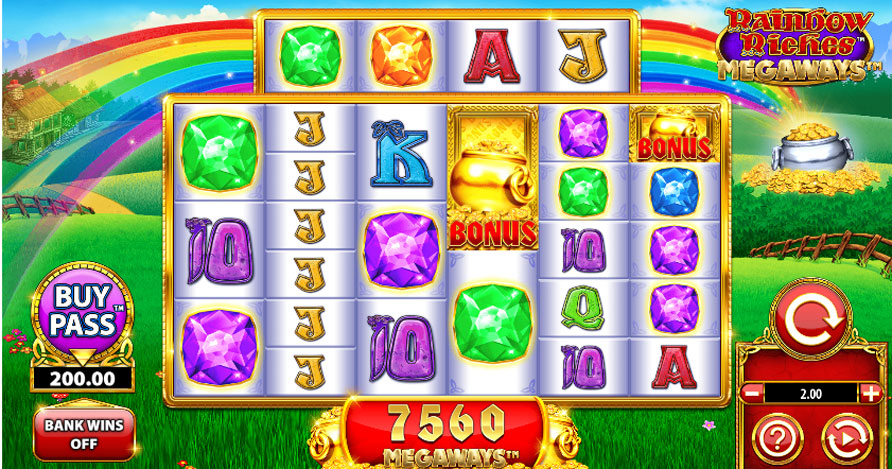 Playing the Rainbow Riches Megaways slot, it feels as though someone must have given the green, little Leprechaun a steroid injection. The game has beautiful graphics, including a golden pot at the end of the rainbow and Irish farmland in the background. The action takes place on six primary reels, each of which can hold two to seven symbols. The aforementioned rainbow also runs through the top reel, which is horizontal. Your chances of winning here are up to 117,649, making each spin special. The Avalanche feature ensures that winning symbols are eliminated and new symbols are added in their place.
Rainbow Riches Midnight Magic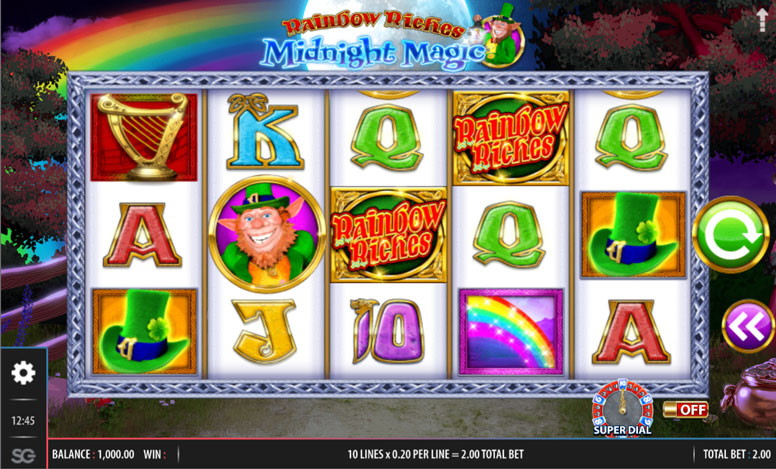 Another Barcrest slot machine themed around the recognisable leprechaun is called Rainbow Riches Midnight Magic. It has 5 reels and 10 paylines, and when just 2 scatters appear, you can activate the Super Dial feature to start the bonus wheel. The bonus round in these somewhat volatile Irish luck games has symbol upgrades and prizes up to 625x.
Rainbow Riches Power Mix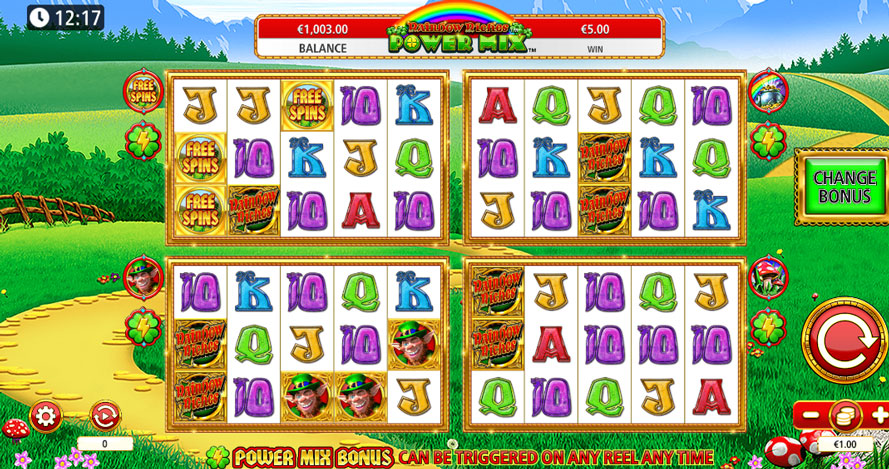 Barcrest's Rainbow Riches Power Mix is a quad-reel slot machine that has the all-time favourite Rainbow Riches bonus features and plays out on 4 reel sets at once. You can choose from 5 different bonus games and a Power Mix streak-style respins that can pay up to 12,500 times your initial wager.
Rainbow Riches Pots of Gold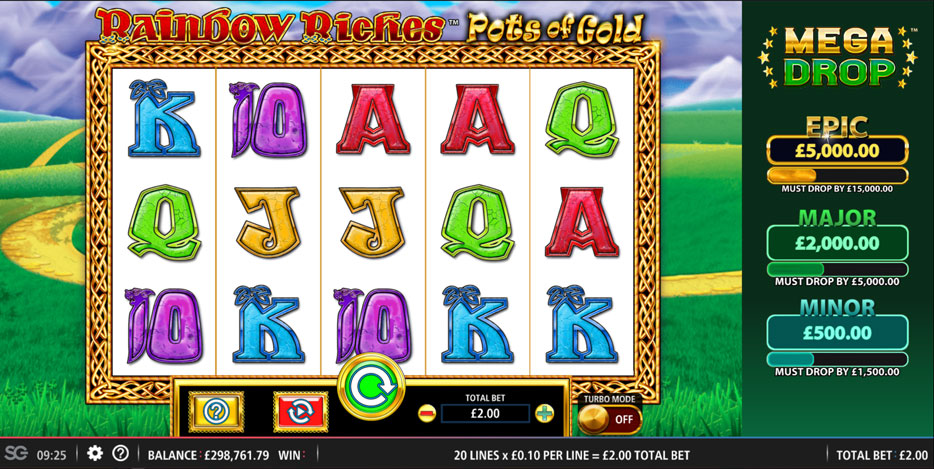 Join the cheery leprechaun in the Rainbow Riches Pots of Gold slot to win one of the three progressive Mega Drop jackpots and participate in the thrilling Pots of Gold bonus game to gather gold pots that can pay up to 5,000 times your initial wager.
Rainbow Riches Race Day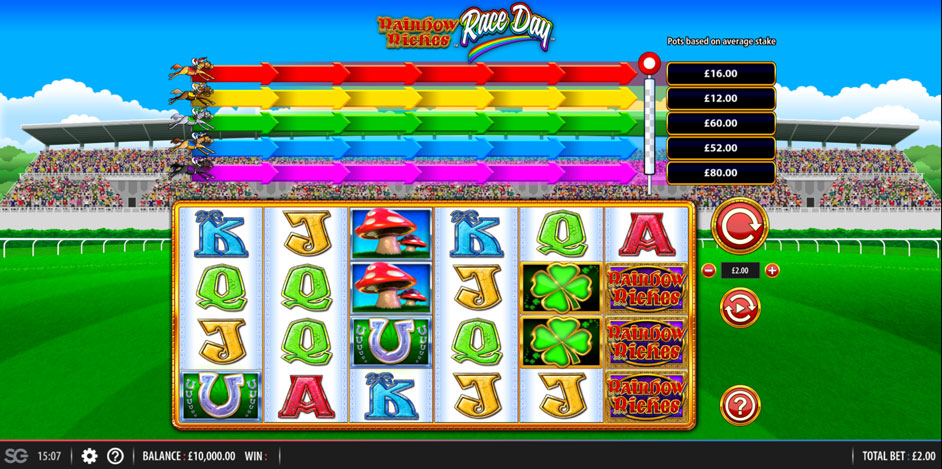 4096-ways-to-win are on offer in Rainbow Riches Race Day by SG Digital. Bonus metres and limitless free spins are features. This medium volatility slot's RTP is 96.25%, and the highest reward is worth 5000 times the total bet.
Typically, the Rainbow Riches series' designs share a lot of similarities, however, Rainbow Riches Race Day deviates from the norm. When compared to earlier games in the series like Rainbow Riches Megaways and Rainbow Riches Pick n Mix, the game's setting at a race track rather than in the midst of a field gives it a unique appearance. However, it is not entirely unconventional.
Rainbow Riches Rainbow Frenzy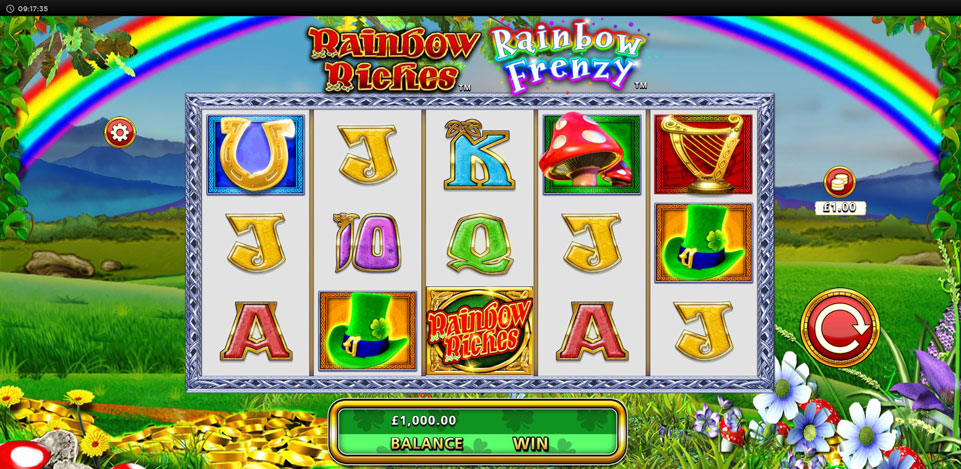 Barcrest's Rainbow Riches Rainbow Frenzy is a vibrant and thrilling leprechaun-themed game. You must wait to gather three to five bonus symbols before entering the land of rainbows and leprechauns because they will trigger 10, 15, and 15 super free spins. During the bonus game, bronze, silver, and gold pots with cash awards ranging from 2x to 50x appear on the reels. The leprechaun will collect all the pots and monetary prizes displayed on the screen if you can find him. Both leprechauns will take all the pots and cash rewards if they arrive at the same time. Make sure to play the game in Demo mode before moving on to a genuine online casino to win a prize of 2000 times your chosen wager!
Rainbow Riches Reels of Gold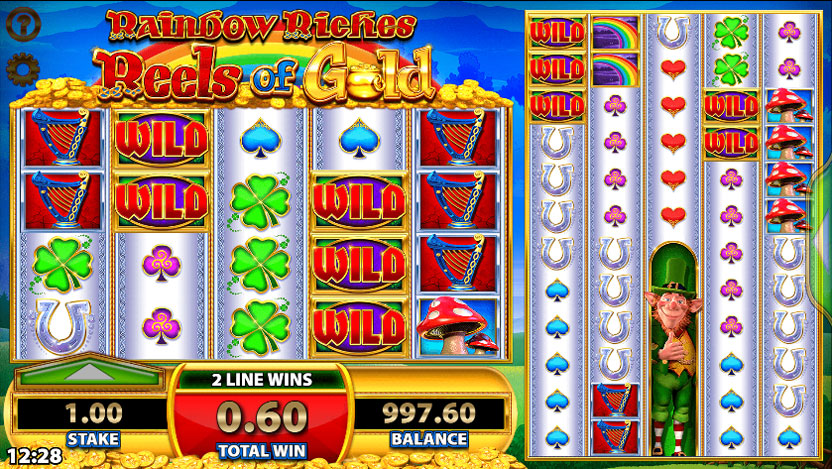 Two reel sets—one with standard reels and the other with colossal reels—come with Rainbow Riches Reels of Gold. The audio to this game is about as endearing and Irish as they get, and the "irish luck" motif is timeless. Both the regular game and the free spins round each have seven separate extra features that can be activated at any time. The enormous reel set features 5 reels and 12 rows, compared to the ordinary reel set's 4 rows and 5 reels. Overall, there are 100 paylines available for use here, though you can play with fewer if you choose. The major draw is the free spins feature, but you can also take advantage of the bonus round's seven fairy extra features.
Rainbow Riches Retro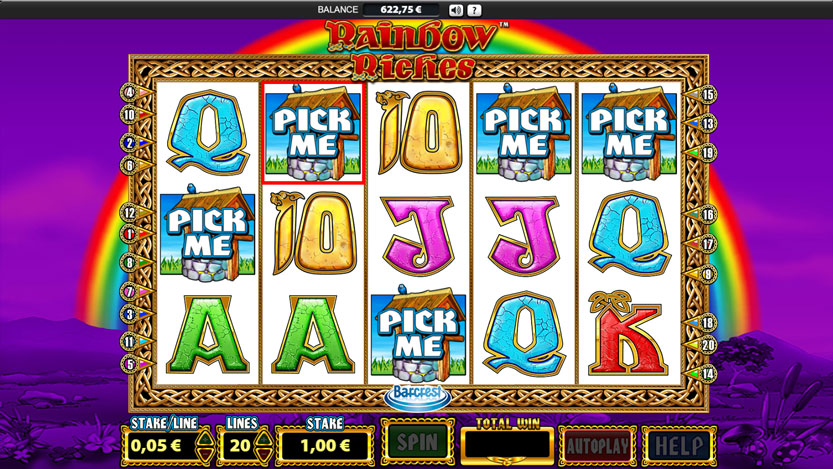 With its understated design, Rainbow Riches Retro is a simplistic slot that transports players back in time. We absolutely adore this game, which has an Irish flavour. The slot machine is kept incredibly exciting by a few appealing elements, making it an appealing release.
A fun gaming experience with thrilling moments is provided by the sly little leprechaun and the titular treasures. When placing sound bets, the gamblers who set out on this amazing voyage could win up to 2,500 times their initial investment. 
Rainbow Riches Piles of Cash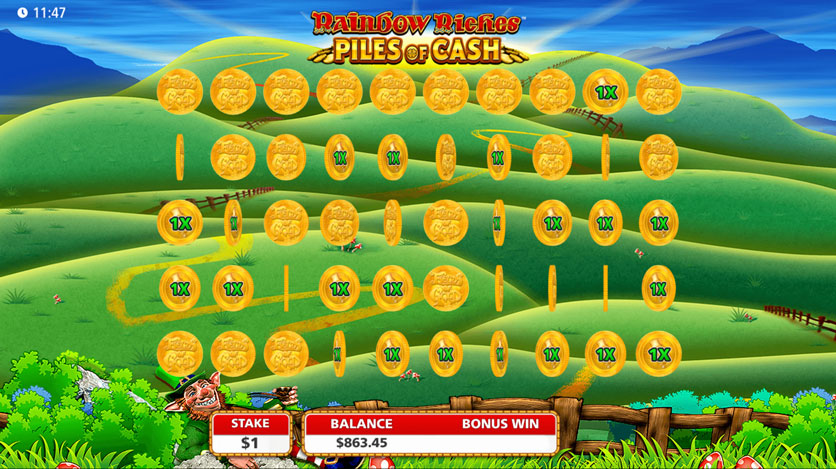 This is the only scratchcard on our list and offers some unique action. Play the Rainbow Riches Piles of Cash slot machine from Light and Wonder and you might earn incredible rewards up to 3,665 times your wager. Discover bonus leprechauns to start the Cash Crop Bonus Game, where you may earn up to 650 times your wager by revealing symbols on five separate game panels.
Play All the Rainbow Riches Games at SpinGenie.com
With so much to explore you better get going if you want to try all of the games on our list, so sign up and play today at Spin Genie.