Dance Your Way Into Evolution's World of Live Casino, Funky Time Introduction
Does Evolution Live's recent release Funky Time Live continue their successful trend of creating hit after hit in the market for live casino games? Following Evolution's critically acclaimed Crazy Time is the eagerly awaited Funky Time. It is built on the same concept and has exciting multiplier payouts reminiscent of disco in the 1970s. This game features a brand-new, state-of-the-art betting system in addition to up to 4 bonus games, much like the original. If you want to know how to play this game, visit the Funky Time game page here. In this review, we'll be taking a closer look so you can make an informed decision about this game before its early release at SpinGenie on the 10th of May - 2 Weeks before its global release.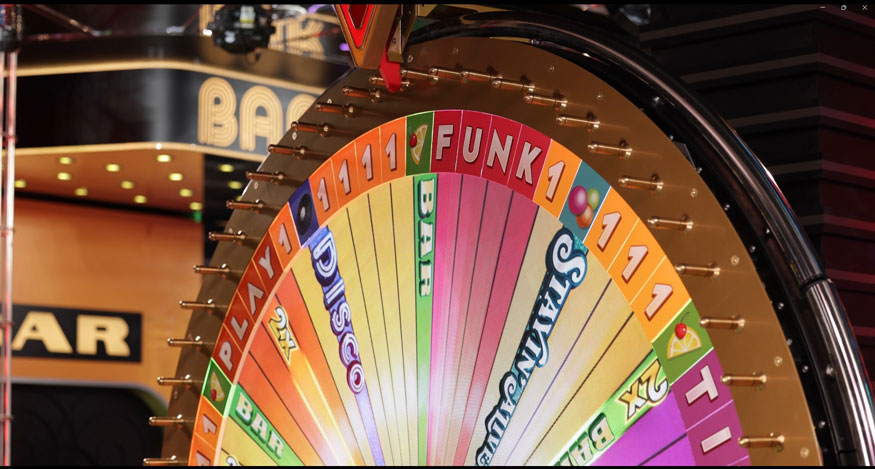 ---
*Terms and conditions apply.*
---
Funky Time Information
Game Name: Funky Time
Game Provider: Evolution Gaming
RTP: 95.99%
Max Win: €500,000
Spin Genie Release Date: May 10, 2023
Global Release Date: May 24,2023
Discover Funky Time's Retro-ish Theme
The Funky Time live casino game uses a prize wheel reminiscent of game shows from the 80's however, it has been modernized and now takes the form of a digiwheel. The overall theme takes us another decade further back to the groovy disco scene of the 1970s. It's all about night fever here, and throwing some shapes on the colorful dance floor!
The Whacky Gameplay of Funky Time
Let's start our Funky Time Live game review by looking at the gameplay that is offered. Like its predecessor Crazy Time, it has a distinctive 70s theme and is centered around a Prize Wheel. Impressive presentation of the studio's disco-era motif and brilliant colour. As may be expected from Crazy Time's makeover, Evolution is a master of spectacle, so amazing graphics, a gorgeous purpose-built studio, and committed presenters bring it to life.
But there are other enhancements in addition to the theme. With a brand-new studio, an immersive theme, 17 betting options, an improved user interface, and that highest payoff of 10000x, the gameplay has also undergone significant improvements. Let's take a look at the different kinds of wagers players can make:
Number 1
Outside of multiplier values, you'll only see one number on the wheel, and that's the number 1. Betting on this will yield a 1:1 payout.
Letters
The letters spelling "PLAY," "FUNK,", and "TIME," also appear on the wheel and will offer prize payouts of 25:1.
Bonus Games
Alternatively, players can choose to wager on the wheel landing on one of the four bonus games. If successful this will take all players who made this wager to the bonus game in question, but let's take a look at these a little later on; continue the suspense if you will.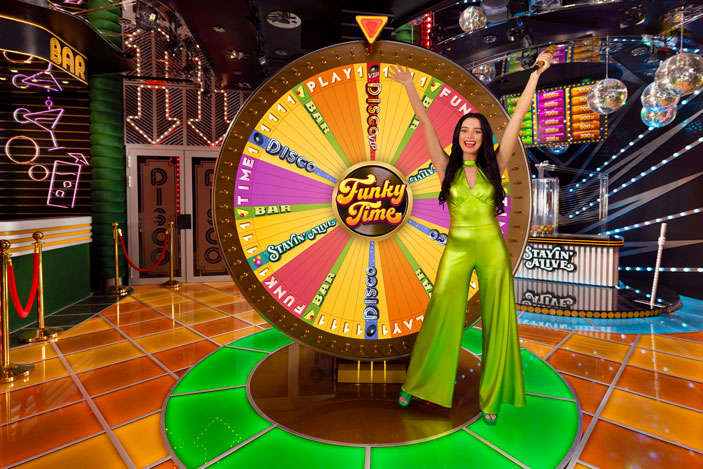 Meet Funky Time's Groovy Wheel
The digiwheel is a great technological advancement that Evolution Gaming have made in the Funky Time Live Casino Game. The wheel is well-designed and as it is digital allows for random multipliers to be added to various positions as the wheel spins. We've talked about the number and letter bets in detail, but a large part of the Wheel is also made up of spaces for the four exciting bonus rounds, so let's explore what this is all about!
Sway Those Hips with Mr. Funky
Play that funky music! It's finally time to talk about the Funky Time UK casino game's four bonus features. You heard that right, just like Crazy Time there are multiple bonus features to look forward to, and each has a top prize of 10,000!
Bar Bonus
You may select from a blue, yellow, or pink glass. The multiplier goes up as the glass fills up. The Robot Bartender then tops off the glass with an olive to increase the multiplier even further.
Stayin' Alive
You will need to choose a color once more, but this time, three balls will be connected to each color. Each of the balls has a ladder at the top of the screen.
Similar to Mega Ball, balls are drawn from the drawing machine. Players move up one level on the corresponding color ladder since the majority of the balls have the number "1" on them. However, some of the balls have the number "2" on them, allowing players to jump two stories. When all four plates at the bottom of the screen are burned through, the bonus is over.
Disco
On a 37-square virtual dance floor where the game is being played, Mr. Funky walks around. The presenter spins a tiny wheel to choose which way Mr. Funky will move while gaining multipliers. The game ends when he hits the ground, and the multipliers that have been accumulated are added up and divided among the players.
Vip Disco
When playing the VIP version of this bonus, big prizes like 50x, 250x, 500x, and 1,500x are available on the dance floor. Additional multipliers can be added to these awards to increase them even more. However, there is only one VIP Disco Bonus segment on the wheel, and it has a 1.56% chance of landing.
Funky Time Is on the Disco Floor, Spin Genie's Verdict
The Funky Time Live Casino game is shaping to be an exciting release from powerhouse Evolution Gaming. With the best-loved elements of the classic live game Crazy Time, enhanced with modern updates and brand-new theming, this sequel is very likely to surpass its forebearer. The prize payout potential in this game is impressive and the 70s fun will surely put a smile on your face.
Dance with Mr. Funky by Playing Evolution's Funky Time on Spin Genie
The countdown to the release of the Funky Time live game show is coming down to days, especially when you remember that at Spin Genie this game comes out two weeks early. Sign up and play today.