The appeal of celebrities often carries on into the afterlife, with devoted fans enjoying the works of their favourite stars for many years after they've passed. But as well as seeing their legacies live on, many celebrities continue to amass substantial wealth. Some celebrities have earned millions or even billions of pounds since their deaths.
How? Celebrities typically leave behind assets like copyrights, trademarks, and the right of publicity. For example, for musicians, songs streamed on Spotify, played in bars, and used in advertisements constitute a significant portion of posthumous earnings.
Spin Genie UK has explored which stars have earned the most since passing away, as well as how this compares to the average earnings in the UK.
The Celebrities with the Highest Posthumous Earnings since 2001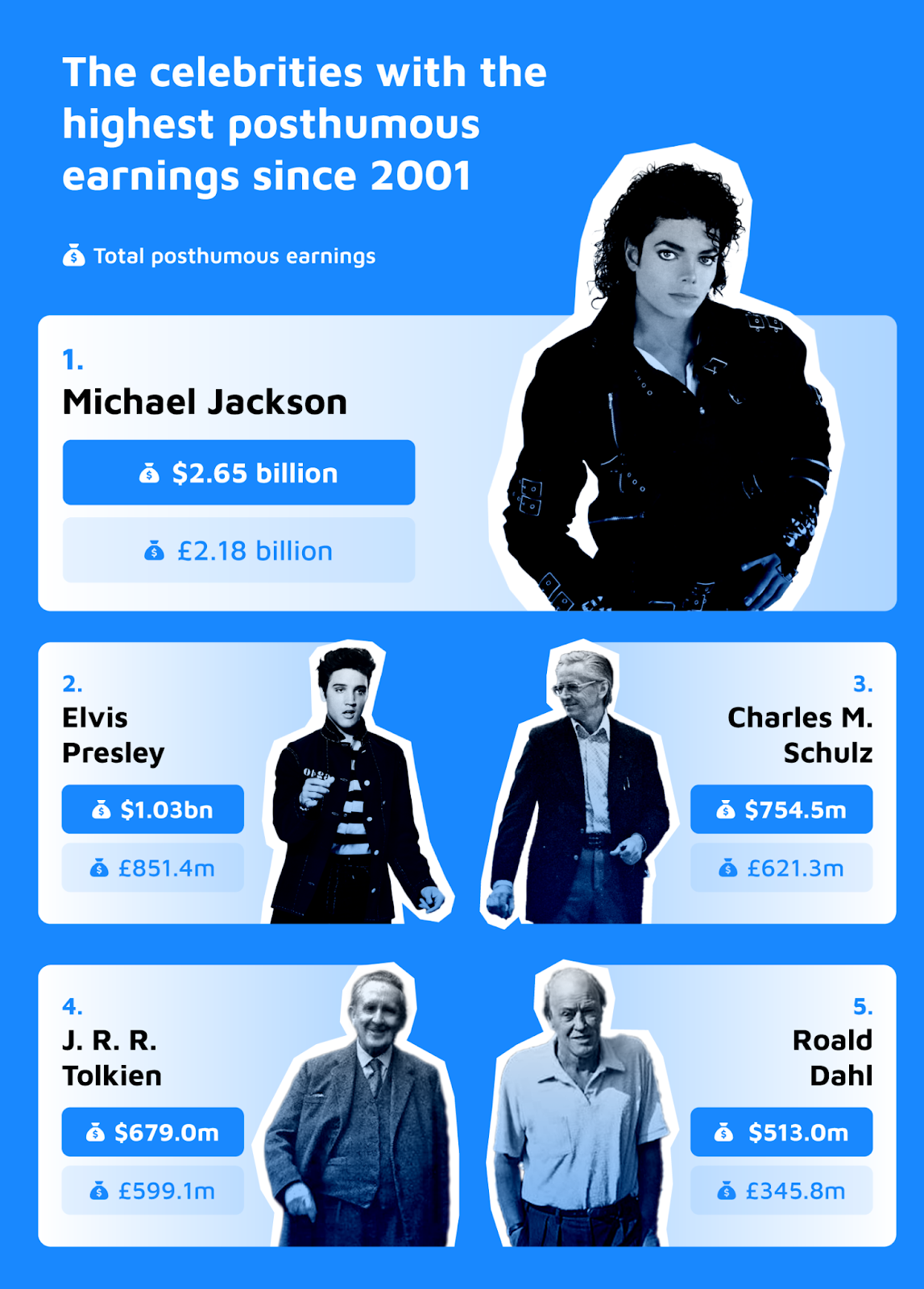 1. Michael Jackson - $2.65 billion (£2.18 billion)
At the summit is Michael Jackson, whose posthumous earnings amount to an astronomical $2.65 billion (£2.18 billion). It would take the average Brit nearly 78,702 years to earn what Jackson has amassed after his death, highlighting the immense impact of his music and the continuing appeal of his legacy.
Jackson's finances were in a bad state before his death. Still, his estate turned them around to generate more than $2 billion, mainly from the Sony/ATV song catalogue that he owned, which included the hits of Lennon–McCartney. Until recently, the Jackson estate was in a legal dispute over unpaid taxes, which they won in 2021.
2. Elvis Presley - $1.03 billion (£851.4 million)
Elvis Presley, another colossal figure in music, holds the second spot with earnings of $1.03 billion (£851.4 million). Presley's legacy requires the average person to work 30,674 years to match his posthumous earnings.
Like Michael Jackson, Presley didn't leave behind a cash-rich estate due to mismanagement during his career. His estate, which includes a vast collection of photos, album covers, and other memorabilia, benefits from visitors to Graceland and the marketing of Presley's name and image, such as in the recent Baz Luhrmann movie. Control over the estate has shifted over time, with a significant portion sold to media companies, though his family maintains a stake and manages key aspects like Graceland​.
3. Charles M. Schulz - $754.5 million (£621.3 million)
The third place is held by cartoonist Charles Schulz, known for the "Peanuts" comic strip, with $754.5 million (£621.3 million), which sets the bar at 22,383 average years' worth of earnings.
Despite his passing, Schulz's characters continue to be loved worldwide, contributing to his estate's profitability. Even in his lifetime, it was estimated that Schulz earned over a billion dollars. However, several Christmas specials that have been aired for free on TV in the US every year since 1965 have now been snapped up by Apple TV, which could impact his estate's earnings.
4. J. R. R. Tolkien - $679.0 million (£599.1 million)
The "Lord of the Rings" series has morphed into a multi-billion dollar enterprise with books, movies, and merchandise. J. R. R. Tolkien's Middle-earth has lived on in many formats and is evidence of his enduring popularity and considerable posthumous earnings.
However, his post-death earnings were relatively modest up until last year. That's because the rights to "The Hobbit" and "The Lord of the Rings" were recently sold for around $500 million, which went to his family.
5. Roald Dahl - $513.0 million (£345.8 million)
Roald Dahl comes in fifth, with estimated earnings of $513.0 million (£345.8 million). His children's stories, such as "Charlie and the Chocolate Factory", are timeless classics that have also been adapted into various other media formats. However, his wealth only hit these heights very recently. In 2021, Netflix paid an estimated $684 million for the rights to his works, with "Matilda the Musical" being the first big release.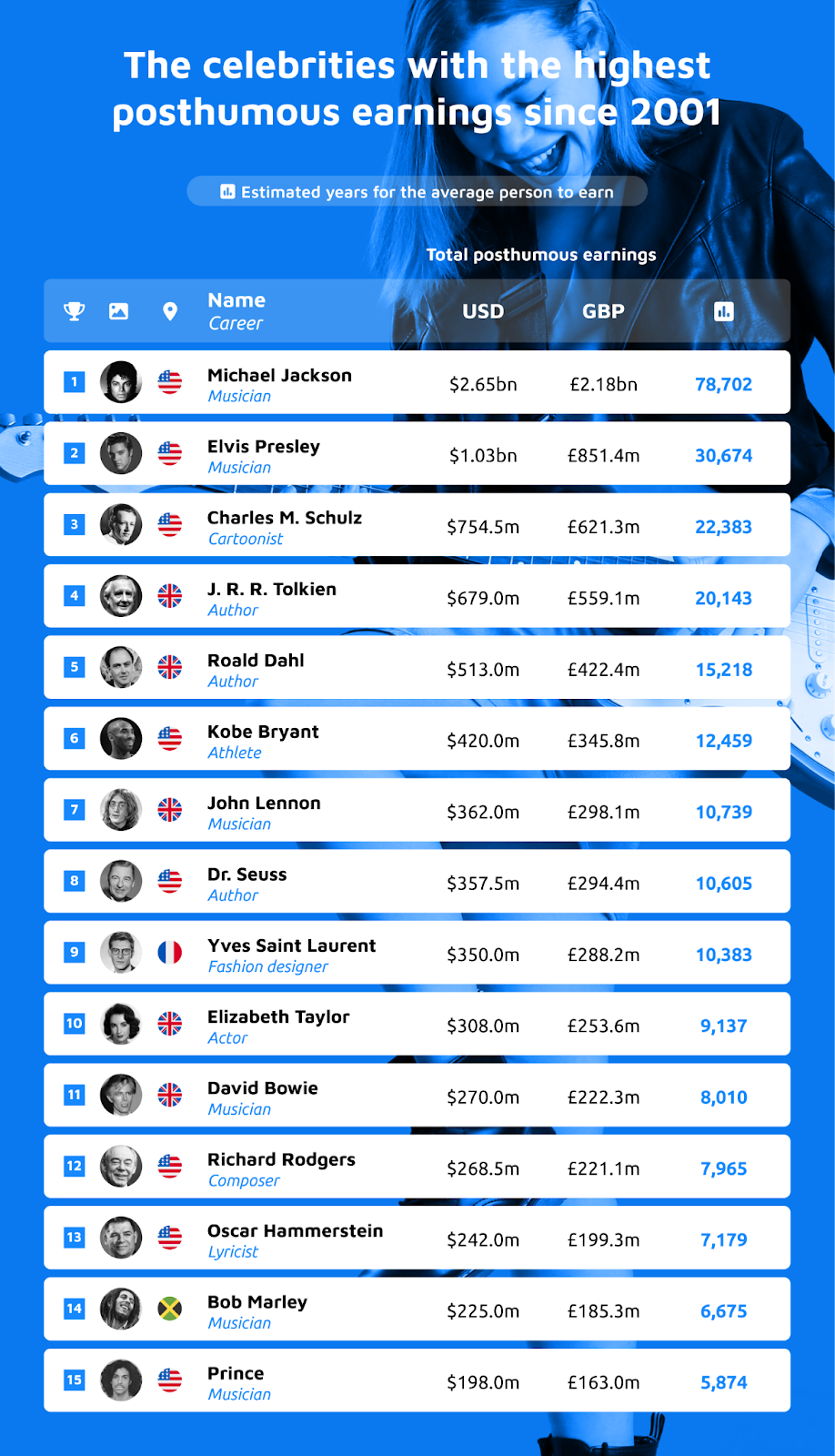 The Highest-earning Posthumous Careers since 2001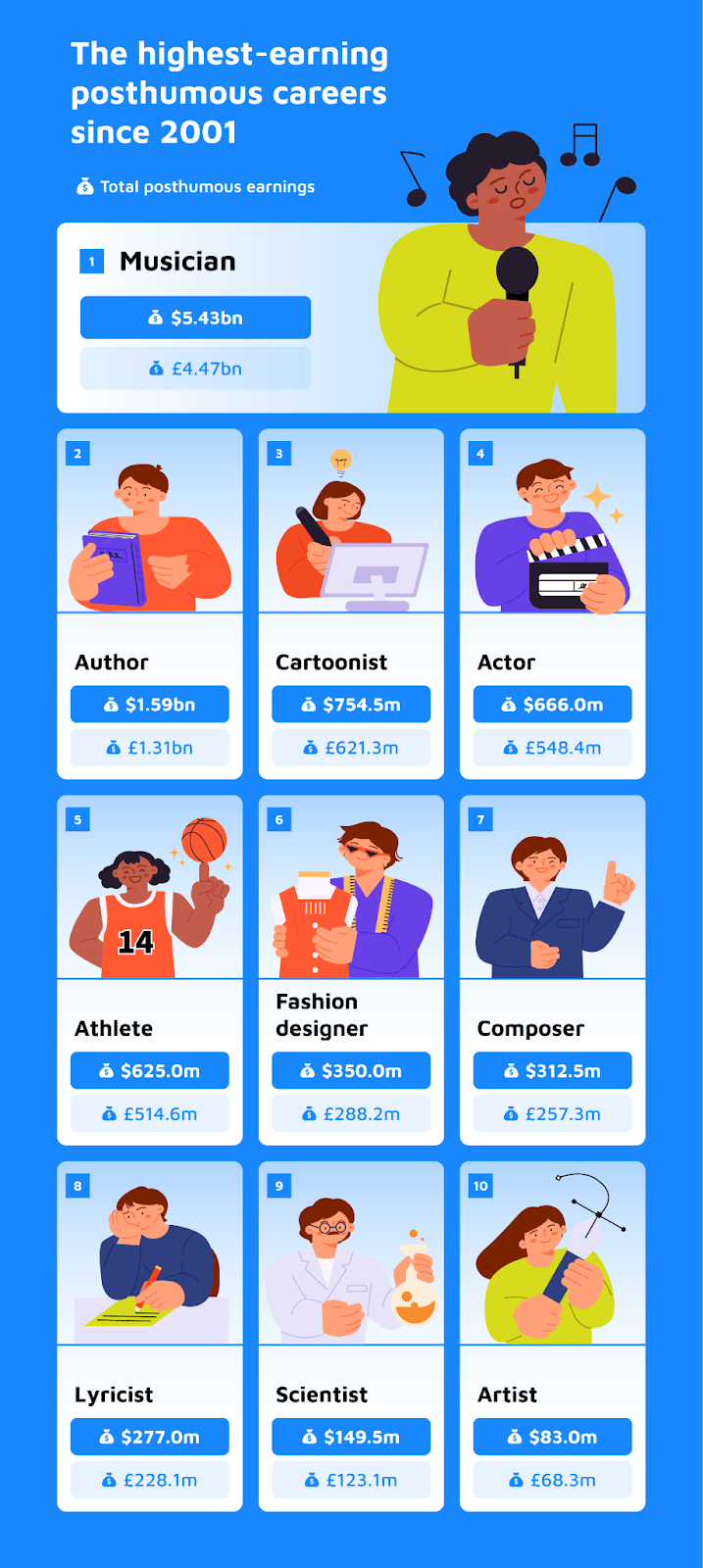 Of the 60 or so celebrities who estimated figures are available for, musicians top the list with a significant margin, earning $5.43 billion (£4.47 billion) posthumously.
This is followed by authors, who have earned $1.59 billion (£1.31 billion) after their death. Much of this comes from the sale of Middle-earth Enterprises last year, which saw half a billion dollars go to the estate of J. R. R. Tolkien.
Despite only being represented by one celebrity (Charles M. Schulz), cartoonists come in third, with posthumous earnings of $754.5 million (£621.3 million).
Actors also have considerable earnings after death, with $666 million (£548.5 million). The highest earning of these is Elizabeth Taylor, most of which came from a record-breaking auction of her jewellery, costumes and artwork in 2012, which brought in $184 million (£151.7 million).
In fifth are athletes, with $625 million (£514.6 million). Kobe Bryant is the highest earner, with $420 million (£345.8million). Kobe's Nike shoe line is set to be relaunched next year and is the cover star for 2K's NBA video games. He also invested in the Body Armor sports drink before his death, which Coca-Cola subsequently bought.
Methodology
All data was sourced from historical versions of Forbes' list of the highest-paid dead celebrities. For each celebrity, we took a total of their earnings for each year between 2001 and 2022.
These are pre-tax earnings from sales, streams, licensing deals and other sources, and estate acquisitions. Forbes compiles their numbers with the help of data from Luminate, IMDbPro, NPD BookScan and interviews with industry insiders. Fees for agents, managers and lawyers are not deducted.
Data correct as of 31/10/23.