We're turning back the sands of time in today's Wild Egypt slot machine review. The Wild Egypt slot machine, a colourful 5x5-configuration game with high bets and great rewards as you play to win up to 150,000x your wager in a gorgeous and enormous palace, was created by Red Tiger Gaming. You will feel like a pharaoh in this low-RTP slot, where winning is harder than ever... but also potentially more rewarding. The grid is surrounded by statues and alabaster pillars. With this glitzy and frantic slot game, go back in time to the ancient world. Keep on reading our Wild Egypt online slot review to find out more.
Wild Egypt Slot Overview
Ancient Egypt continues to demonstrate that it is the unending supply of video slots because of its rich cultural heritage and abundance of treasures. We will get the chance to observe certain components of good luck and some elements related to purported curses in this distinctive Red Tiger Gaming title, which has excellent and quite engaging features. There is no doubt that the Wild Egypt slot UK has a lot to offer. It's a fantastic option for both novice and seasoned gamers because to its exceptional animation and distinctive features. It has a gold pattern and several various wild symbols.
Symbols 
The symbols used in the Wild Egypt casino slot have been well thought out. The bird sign, which, in accordance with prehistoric beliefs, reflects the intent of the gods, may be found on the pyramid-shaped reels. The Horus Eye, which offers power, protection, and good health, is another significant emblem. The ankh is visible throughout the entire game and shines in blue and gold. This represents immortality, and Anubis, the deity of the afterlife, is also brilliantly shown in the colours black, gold, and purple. The purple lotus is another potent emblem. There will also be a golden tomb and Tutankhamun's death mask. Other symbols include hieroglyphs and other symbols that resemble Egyptian art in a variety of colours, including blue, green, red, and sand.
RTP
The Wild Egypt slot online has a medium volatility rating but does have a rather disappointing theoretical RTP of 94.27%, which is substantially below the current market average.
How To Play Wild Egypt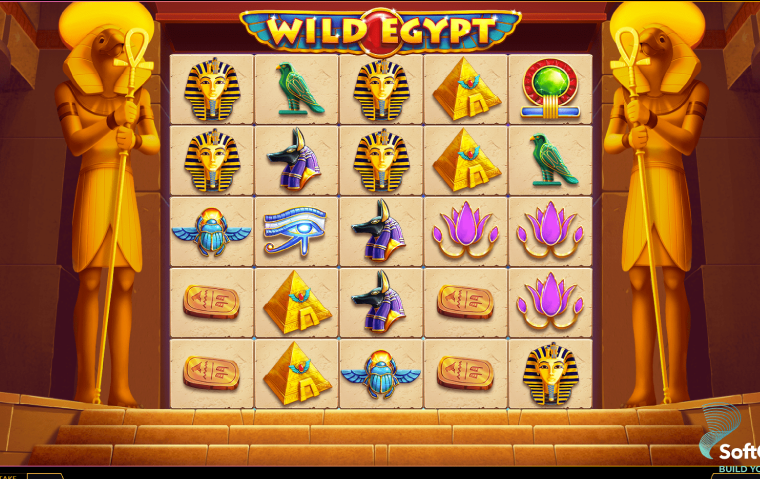 You can play the Wild Egypt slot game on any device of your choosing including on the go via the Wild Egypt mobile slot. A unique grid with 5 reels and 5 rows serves as the backdrop for the Wild Egypt game. While most slot games have a 5x3 layout, this game has perfectly symmetrical reels. If you are familiar with slot machines, you will notice that even this machine with an Ancient Egyptian theme provides something special in its incredibly simple controls.
At the bottom, there won't be any annoying control panels—in fact, there won't be any panels at all! Only the spin button and a few other buttons are there, keeping the number of controls to a minimum. This is why choosing your wager size before you begin playing is so crucial.
You must land three or more matching symbols on any of the 20 paylines in the Wild Egypt online slot to win. The value of that symbol and your wager are then used to determine your wins.
The reasonable range of bets between 0.20 and 60 should please mid-level gamers who want to experiment with more significant but still quite secure stakes. Before you start, place your wager and carefully read the rules.
Wild Egypt Slot Game Features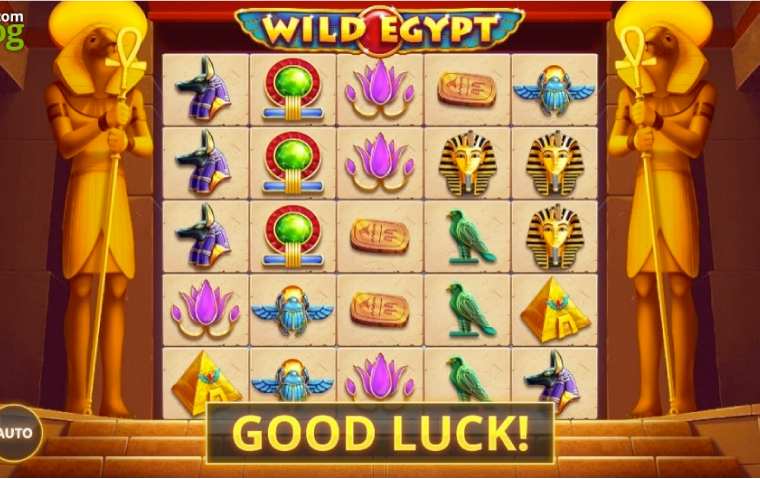 The online slot machine Wild Egypt has some really unique slot bonuses, which undoubtedly profit from its distinctive grid layout. Everywhere you look, you'll see cascading symbols, which enhance your chances of winning by replacing winning symbols with new ones after each spin.
Another excellent innovation is Instant Wilds, which only appears following each successful spin. The symbols become wilds or stand in for other symbols upon each victory. Your likelihood of success could also be greatly influenced by multipliers such as progressive wins, which are applied for each win as long as you maintain a string of victories. In addition, there is a tonne of extras that are generated at random, like free spins and random wilds! Additionally, there is an Instant Win feature that can pay out up to 50 times your bet.
Play the Wild Egypt Slot on Spin Genie
Despite a disappointing RTP, the Wild Egypt slot machine is a treasure trove of features and design elements that many players will fall head over heels for. If you've enjoyed our Wild Egypt slot review, and want to try this title for yourself, then sign up and play today at Spin Genie.