Gameshows have been a staple of our TV viewing since the early 1970s, and with such excitement offered in each episode is not hard to see why. Gameshow-inspired slot machines are such fun to play because they tap into this excitement and allow players to experience the game for themselves, without ever needing to leave the house! Keep on reading to find out more about the fantastic gameshow-inspired slot machines available to play on our site. 
Wild Wheel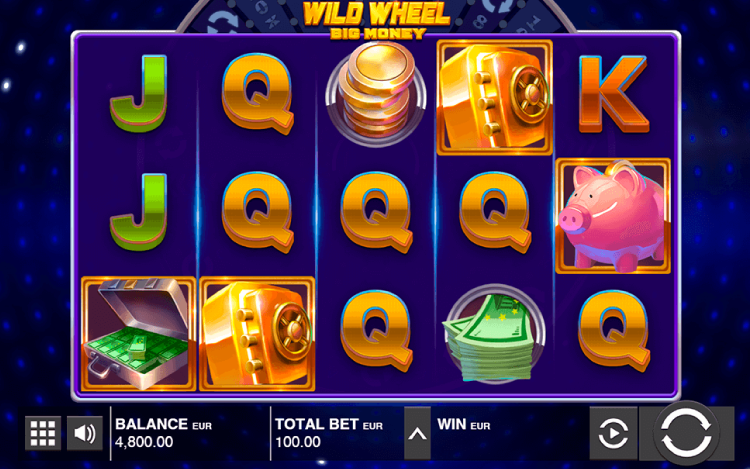 Let's be honest, the golden age of game shows was the 70s and 80s, which is why retro-themed slots work so well when summoning up the excitement and flashy novelty factor of gameshow-themed slots. With 5 reels, 3 rows, and 20 fixed pay lines, Push Gaming's Wild Wheel transports you to a simpler era, seamlessly mixing classic slot machines with interesting additions, gameshow vibes, and a wonderful, playable design perfectly optimized for hours of enjoyment on desktop, mobile, and tablet devices. You won't find many sophisticated gimmicks or over-the-top animations here, which adds to the game's traditional flavor. Push Gaming has instead kept things basic with simple graphics and an amusement park-style soundtrack that captures the popular gameshows of the aforementioned eras. 
Deal or No Deal: The Perfect Play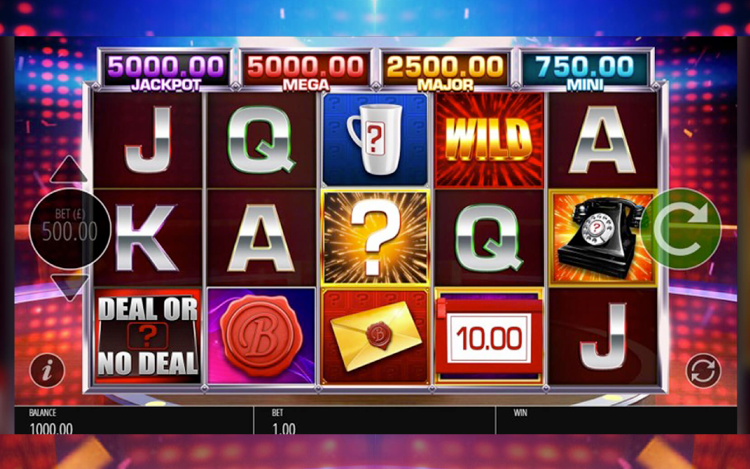 Inspired by the term 'a perfect game' coined by Noel Edmonds, presenter of the TV show Deal or No Deal, Deal or No Deal: The Perfect play is all about making the right choices at the right moment, just like successful players of the gameshow. There are five reels and three rows in this slot game. It also features a 20-pay line grid that is inspired by traditional pub fruits. The iconic fruit symbols and lucky 7's are featured on the reels. The Superboard, Money Box, and Easy Money feature are all included in the Deal or No Deal: The Perfect Play.
Deal or No Deal Megaways JPK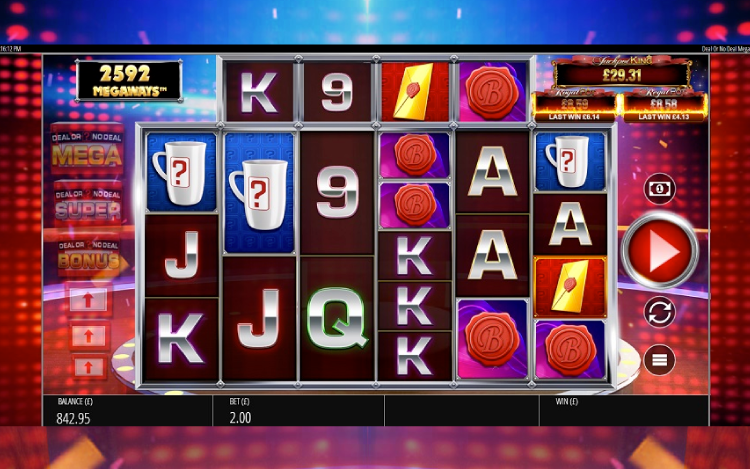 Deal or No Deal is the question. Megaways JPK is a Blueprint Gaming online slot based on the successful TV show of the same name. Each spin has six reels and a different number of rows, with up to 117,649 ways to win. Forming four consecutive wins triggers the bonus, which awards free games. It's a high-volatility position with a 95.83 percent return to player. Along with the epic Megaways feature, the Jackpot King progressive pot feature is also active throughout pay, meaning that very lucky players might literally 'walk away with life-changing money,' as Noel Edmonds puts it in the show.
Wheel of Fortune Megaways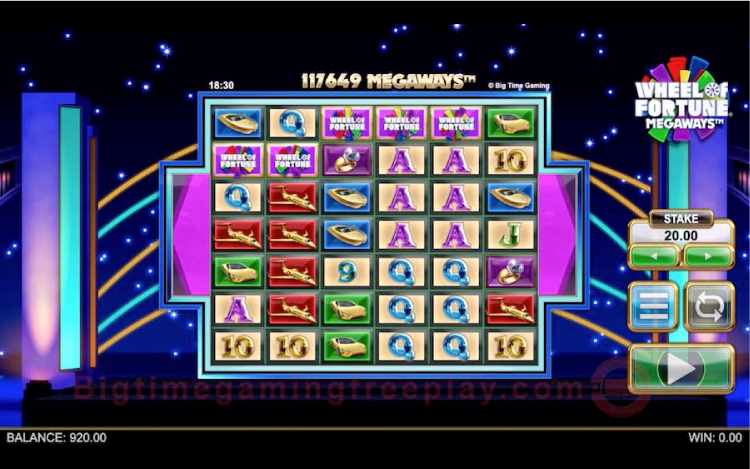 Wheel of Fortune is one of America's most popular television shows, as well as one of the longest-running, with the inaugural episode airing in 1975! The game revolves around a unique sort of competition in which competitors fight against one another to solve word puzzles, with the winner receiving cash prizes from a large "wheel of fortune" that can be spun. Wheel of Fortune is synonymous with game show royalty, so it's no surprise that IGT/BGT went all out when creating this game. Wheel of Fortune Megaways has six reels and two to seven rows, with up to one million ways to win on each play. Wild Megastacks and a free-spins bonus are among the bonuses and features.
DOND: Lightning Spins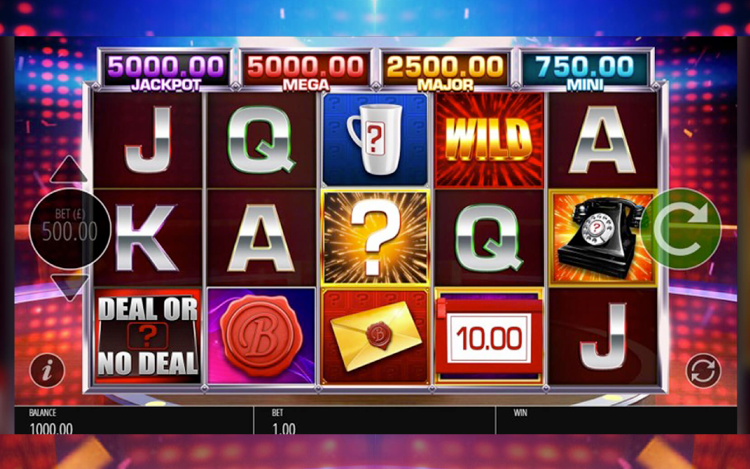 Deal or No Deal Lightning Spins, a new slot from Blueprint Gaming, is based on one of the most successful game show franchises. The major feature of this slot is a respin bonus game, which has 20 pay lines and four jackpot payouts. Four jackpots and a respins bonus are among the game's features. This medium/high volatility slot has a 96.5 percent return to player (RTP) with a top reward of 5000x.
Deal or No Deal Megaways: The Golden Box
Deal or No Deal is the question. Golden Box Megaways is the game. Another epic entry in Blueprint Gaming's renowned TV series-based slot series, this is a six-reel slot with a maximum number of Megaways of 117,649. You'll activate the feature round if you land four or more symbol drop wins in a row. You'll then get to play your own version of Deal or No Deal in the hopes of winning cash or free spins. When you activate the free spins, you'll be rewarded with mystery symbols as well as a win multiplier that grows with each reaction win.
Slingo Deal Or No Deal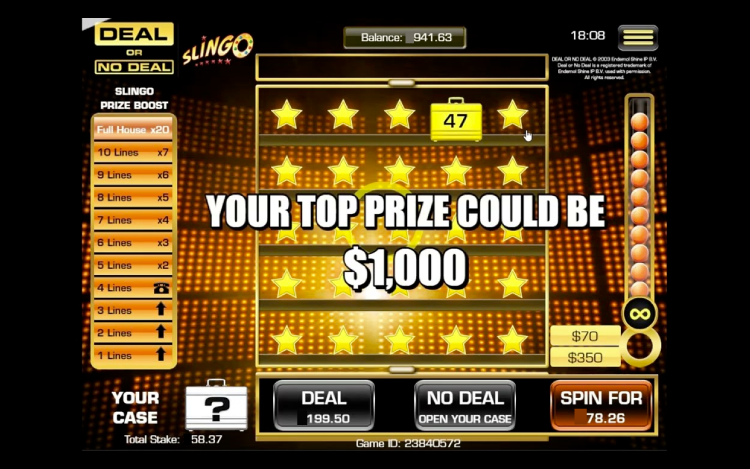 Deal or No Deal is a popular television game show that you can play from the comfort of your own home with the Slingo Deal or No Deal slot. Pick a box and spin the reels to complete the grid and score Slingos in Slingo Deal or No Deal UK. Slingo Deal or No Deal is a game in which you handle 25 boxes on a 5 by 5 grid while keeping your chosen box by your side. The theoretical return to player (or RTP) is 95%, and it's important to keep in mind that this is a high-volatility game. The Joker, Super Joker, Free Spin sign, and Devil are among the four symbols in Slingo Deal or No Deal; the perfect and much-awaited fusion of gameshow action and the amazing Slingo game formula. 
Doubleup Ducks
Let's be honest, without taking the plunge and going on an actual TV game show, the closest razzle-dazzle experience many of us have is the thrills and spills of carnival games, and it's this excitement that developers Eyecon has focussed on, in their Doubleup Ducks game. Double Up Ducks is a 5-reel, 25-pay line slot. It has a fairground theme and offers double wild rewards as well as a Free Games feature with up to 240 free spins and a 3x multiplier. Make a trip to this virtual fairground your priority as there's the chance to win up to 380 times your bet on each spin.
Come on Down and Play Game Show Slots at Spin Genie
So, if you've always dreamed of becoming a game show contestant, now's your chance! By playing these great slots at Spin Genie, however, you don't have to fill out any paperwork or even leave your house – thanks to our fully optimized interface. Sign up and play today!