Online slots definitely go through trends of popular themes. A few years back Norse slots were all rage, and a few years before that we all wanted to head back to ancient Egypt. Now though, it seems the age of the Pirate is at hand, with many of the internet's most popular online developers creating their own take on the swashbuckling tales and iconic imagery that has captured our adventurous side for generations. So, join us, as we tell tales of cursed pirates, hunt for lost treasure, find tons of booty, and more, in these top pirate slots; all of which can be played right here at SpinGenie.
Epic Treasure
The Epic Treasure slot, developed by Maxwin Gaming in collaboration with Red Tiger Gaming, has a pirate treasure theme and is played on 5 reels and 40 pay lines. A long time ago, a Pirate ship and all the treasure it carried vanished in the open sea. People from all over the world have been trying to find it since then, and now you have the opportunity to try your luck as well. In this game, things can reach epic dimensions if you're lucky enough to land one or multiple Epic Chests in the bonus round, as all chests are sticky and can collect individual rewards up to 1,000x your stake. This is how you're most likely to crack the 5,000x potential, although standard symbol payouts can be fairly great as well, meaning you don't have to find the 'X marks the spot' in order to walk away from this game a little bit richer.
Dead Mans Fingers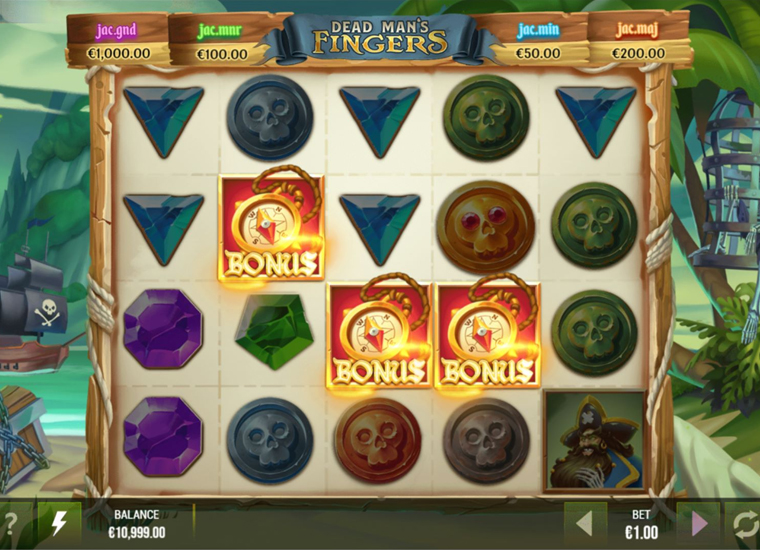 With the maiden journey of Dead Man's Fingers slot, secret treasures and swashbuckling adventure await you on the great seas. In this title developers, S.Games have teamed up with behemoths Yggdrasil, to create a pirate adventure like no other. With enormous base game wins, tremendous extra boosts, and four jackpot pools to spin for, this dramatic slot will have you sailing the high seas in pursuit of its treasures. The name of this slot comes from the many tales of ghost pirates, cursed to sail the seven seas for all eternity for their greed, their bodies wearing down to skeletons that haunted the dreams of sailors the world over. This entertaining and eerie game, which is played on a 4x5 slot scape, is all about adventure,  and age-old pirate folklore, with symbols, music, and scenery that speak of a dramatic pirate ghost story just waiting to be told.
Reef Raider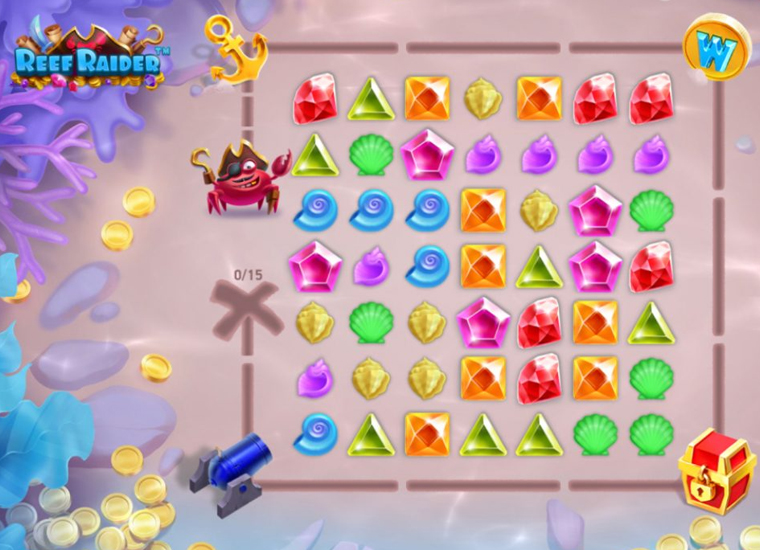 Join a goofy pirate crab deep beneath the waves in NetEnt's Reef Raider slot, a 7-reel, 7-row Cluster Pays game. Reef Raider is a video slot that uses an avalanche reels mechanic and has a lot of added features.
There are two sorts of wild symbols, as well as multipliers that can increase rewards by up to 50 times.
Keep a special look out for modifiers that give you more wilds or mystery symbols, or that delete symbols to make fresh avalanches. The Reef Raider slot's aesthetics are simplistic and cartoonish, in keeping with the pirate theme. The visuals are colorful and crisp, with aquatic plant life fluttering in the backdrop, so if you're looking for a pirate-themed slot that's more cutesy than it is creepy, this is definitely the title for you.
Wild Bounty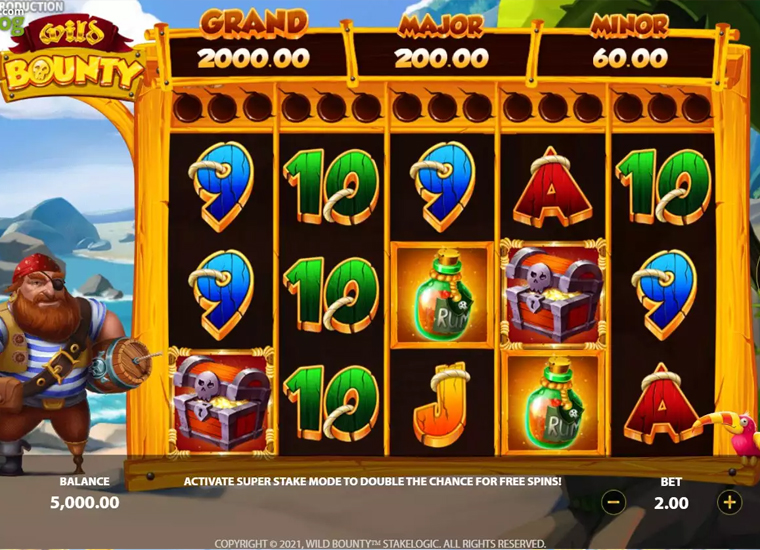 Wild Bounty by Hurricane Games is the game for you if you adore the seven seas and want a game with a lot of booty (that's added features for those of you who don't speak pirate). On these reels, you'll find pirate adventures and a top jackpot award of 2500x your total stake. To the left of the reels, a pirate stands against a vivid and eye-catching ocean backdrop and the reels themselves are constructed out of wooden planks. Wild Bounty is a 5-reel, 20-pay line slot with a solid  96.1 percent RTP and a high volatility rating, for some excellent swashbuckling fun. Super stakes, wild stacks, wild bounty jackpots, and a bonus wheel are among the extra features available that keep gameplay entertaining spin after spin.
Booty Bay
Push Gaming's Booty Bay is a pirate-themed online slot with a highly distinctive appearance, as you'd expect from a slot from this developer. The design of Booty Bay is undeniably eye-catching, with vibrant colors and high-quality images combining to convey a swashbuckling tale of doubloons, chests, and sunken riches. Booty Bay is a 5x5 reel slot machine with cluster payouts. This wacky online slot from Push Gaming has hot zones, walking wild multipliers, and a pick-a-prize feature, as well as a top reward of 20,000x.Walk the Plank or Play Pirate Slots at SpinGenie!
Walk the Plank or Play Pirate Slots at SpinGenie!
...the choice is yours, but we're pretty sure what you'll decide. There's no denying that the pirate slot genre features a fantastic mix of vibrant and creative titles all ready to tell their own tale and transport you to tropical islands, sunken depths, or the top of the crow's nest. Often jam-packed with features, and packing some serious potential booty, you can play all the pirate slots mentioned on our list, as well as tons and tons more at Spin Genie. Now there's an offer you we think you will enjoy!