Are you ready to go where no man (or woman) has gone before, and step out into the great beyond of the universe? If so, then check out these amazing space-themed slots that you can play today at SpinGenie.
Blast Off to New Worlds with Space-Themed slots!
So, why would you want to play a space-themed slot? Well, if you're a sci-fi fan you're going to love all of the recognizable motifs and iconography. Space-themed slots also often include some of the most beautiful graphics which include dazzling crystals and planets, and you'll often find that developers can get pretty experimental when it comes to the features on offer in this title.
Cosmic Cash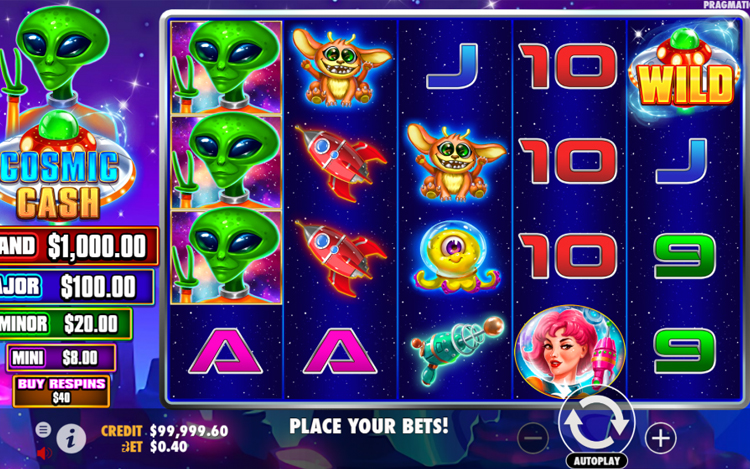 Launch off and interact with extraterrestrial beings in Cosmic Cash from Pragmatic Play and partners Wild Streak Gaming. With a maximum return value of 96.56 percent while playing normally or 96.58 percent when purchasing respins, this game has a very volatile mathematical model. Cosmic Cash, which is accessible on any device, has a wide selection of wagering possibilities, ranging from 40% to £/€200 per spin.
Cosmic Cash is a slot machine that may be played on a 5x4 game panel with 40 fixed paylines. It has symbols including 9-A card royals, ray guns, spaceships, tentacled aliens, cute aliens that resemble dogs, astronauts with pink hair, and green aliens. Wild symbols can appear anywhere on the reels and can be worth up to 12.5 times their normal value when five of them appear in a row.
Spaceman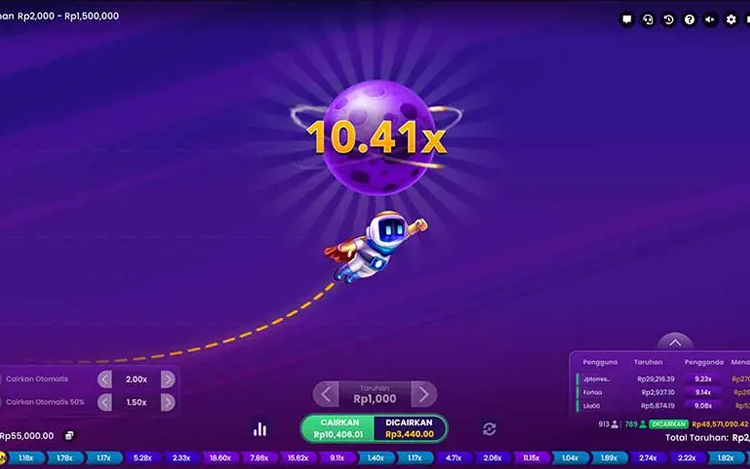 Space and sci-fi movies are well-known for their advanced technology and futuristic features, and this is something that the Spaceman slot from Pragmatic Play has perfectly captured. The Spaceman slot game completely departs from the traditional reels experience and aims to give players an alternative method of wagering.
The main screen serves as the lobby in this multiplayer game, where players wait for a match to start. The wait, which is typically not too long, is indicated by a countdown timer.
Additionally, there is a chat window for online players to communicate with one another, giving the slot a social component more typically found in games like online bingo.
Our adorable little spaceman patiently waits for the next game to start before he takes to the stars and flees from the flying saucer that is uncomfortably hovering above him. The plan is to put your wagers as you wait for the spaceship to take off; the longer the journey, the more money you could win in prizes. This is because of the bonus multipliers, about which you may learn more in the section below on the Spaceman bonus features. After takeoff, the spaceman will unavoidably crash at some point. To cash out before you crash out is the objective of the game. Timing is crucial because once the spaceman has crashed, it will be too late to withdraw money and you will have lost your game bet.
Star Clusters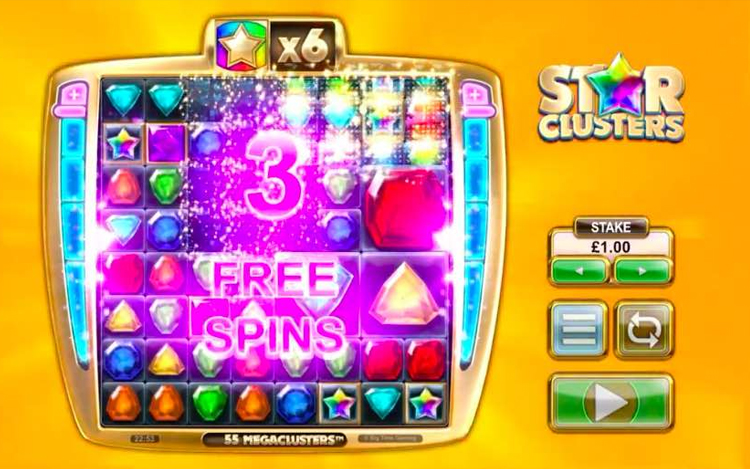 The futuristic innovations continue with Star Clusters Mega Clusters. The first game to feature Big Time Gaming's brand-new Megacluster mechanic is the online slot machine called Megaclusters. Clusters of symbols can result in wins, and the free spins feature adds wild multipliers to the reels.
Star Clusters Megaclusters, the first game in the series, may be expanded to a 16x16 reel set with 256 total symbols. A top prize worth 23960x might also be won, as well as an endless series of increasing multipliers. When you land five or more matching symbols in a row or column on the slot's 4x4 grid, winning combinations form clusters. Anytime you make a winning combination, the winning symbols will fragment into smaller ones to assist you to make even more winning combinations.
When you run out of ways to combine these symbols to win, they vanish from the reels and are replaced by new symbols. In order to increase the chance of winning combinations, this slot machine combines two interesting gaming features (cascades and split symbols). Although the slot's visuals aren't particularly inventive, you probably won't notice because the action on the reels is so intense!
Starz Megaways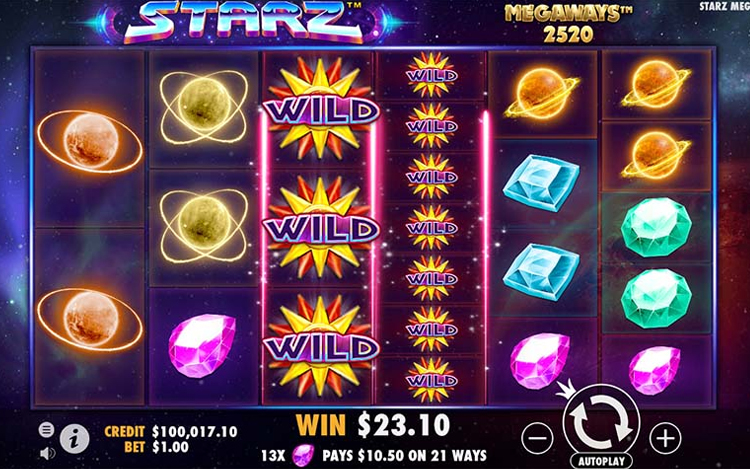 With a lively space theme and Pragmatic Play software, the online slot machine Starz Megaways gives players up to 117649 winning ways with each turn of the reels. You have a strong chance of winning with the game's expanding wilds and sticky wild free spins features.
This is Pragmatic Play's second Megaways slot machine, and Starz Megaways boasts intriguing new elements that significantly alter the Megaways series. Starz Megaways features eye-catching graphics that are situated in space and feature emblems of various celestial bodies and diamonds. As you spin the reels, an electronic soundtrack plays in the background. The game's RTP is 96.48 percent, and the maximum prize is 10,000X your wager. The bonus round grants 8 or more free spins with locked-in wild reels.
Stargate Megaways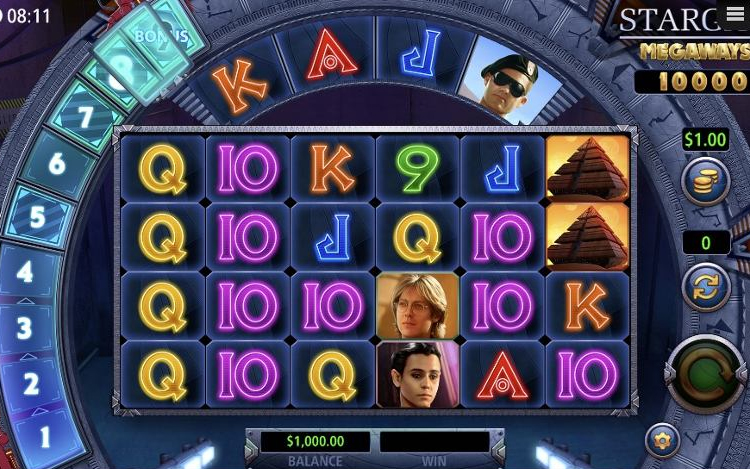 It's not surprising that Stargate has inspired its own slot machine as it is one of the most recognizable sci-fi films and TV shows out there. SG Digital created the online slot machine known as Stargate Megaways. A bonus trail, cascading symbols, up to 117,649 ways to win, free spins, and a number of modifiers are among the main features. With a 96.13 percent RTP and a top jackpot of 25,000 times your bet, this slot machine is extremely volatile but has pretty large potential payouts.
This slot features the actual, venerable Stargate gadget with the Megaways grid neatly tucked inside. Want to see iconic characters like Jack O'Neil and Ra? Do you want to see visuals from the iconic movie that started it all? You'll find everything you're looking for in this game. Of course, given that it's an online slot, a tonne of bonus features will also be included.
Play These Space-Themed Games at SpinGenie.com
So, without further ado, it's time to strap in and prepare for lift-off. Sign up and play great space-themed UK slots and so much more at Spin Genie!