Rainbow Riches and Fluffy Favourites, are both two games that have gotten on in years but were the progenitors of absolutely iconic slot franchises - but which one's better? We're going to remain perfectly on the fence here at Spin Genie, but we're going to take a close look at both games to help you make up your mind.
The Overviews
Barcrest created the online slot machine Rainbow Riches, which has 20 fixed paylines and five reels and three rows. A Wishing Well bonus, a Pots of Gold feature, and a Trail of Gold bonus are just a few of the game's features that can be unlocked by hitting particular scatter symbols. The Rainbow Riches slot was originally seen in brick-and-mortar casinos when released in 2008, before transferring to an online format. Many slot players will agree that it was Rainbow Riches that really instigated the rise of the 'luck of the Irish' slot genre.
The online slot machine Fluffy Favorites was created by Eyecon and is based on a fantasy world with bunnies and other creatures. There are 25 fixed paylines, three rows, and five reels. A free-spins round and a "choose me bonus" are bonuses. Fluffy Favourites pips Rainbow Riches to the post in terms of years, as this slot was first released in 2006. While its theme wasn't as revolutionary as Rainbow Riches, what Eyecon did do with Fluffy Favourites was make a slot that stood out from the crowd and offered light-hearted and bright fun that players of all genders could enjoy.
Special Features 
Next, let's look at the special features offered by both of these impressively old-school games.
Fluffy Favourites Features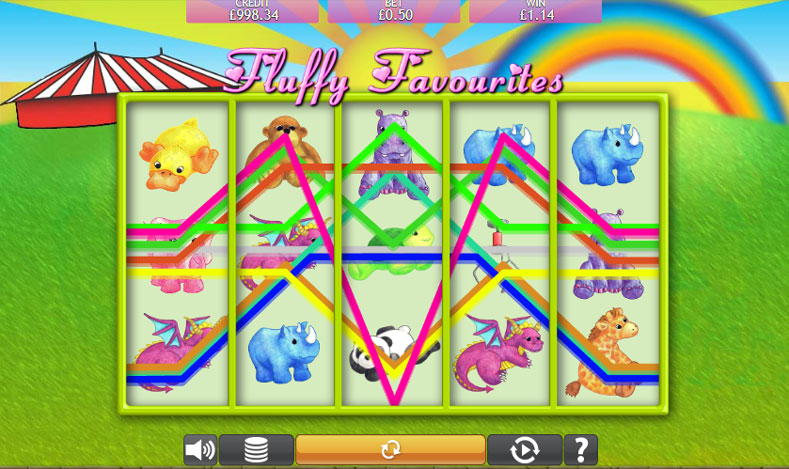 Unlike many slots that were released in the mid-noughties, Eyecon wasn't satisfied with simply releasing a slot with a free spins bonus and calling it a day. Instead, they created a feature called the Toy Box feature. 
There are two Scatters in Fluffy Favourites, one of which also serves as the game's Wild.  The first Scatter is represented by the claw, which you may recognise from grab games in arcades. To start the Toybox Pick feature, which gives you three picks, you must spin at least three claw symbols into the reels. You will be granted a further pick, up to a total of five, for each additional claw symbol that appears on the reels. You will now be transferred to a new screen where the well-known arcade game is presented to you. Simply click the toy of your choice to activate the claw, which will then drop the item into the hopper and reveal your multiplier prize.
Next is the free spins feature of this game. The pink elephant is the other Scatter image in the game. If you spin up three, four, or five of these elephant scatter symbols across the reels, you'll start the Fluffy Favourites free spins round and be rewarded with either 15, 20 or 25 free spins.
The paylines and wagering requirement that initially activated the feature will still apply during the free spins, but every win is tripled during this time, giving you lots of chances to win a sizable sum of money. Having tripled wins was a more common feature back in the day, than it is now, and is definitely a stand-out feature of this game. 
Rainbow Riches Features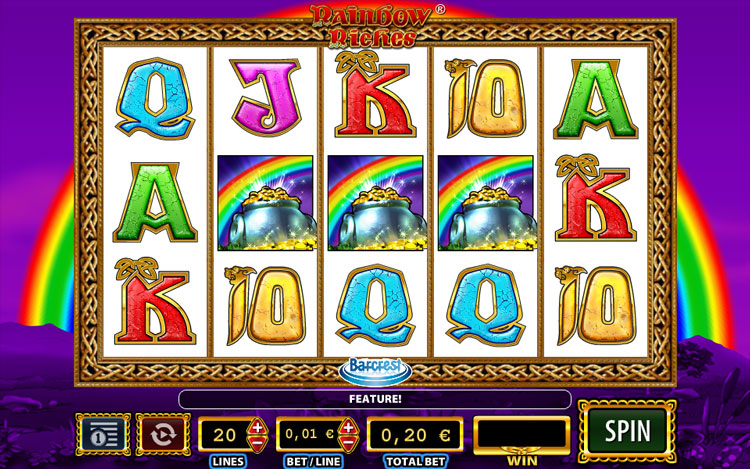 Similarly to Fluffy Favourites, Rainbow Riches set itself out from the crowd with its diverse bonus features. Firstly, there's the Wishing Well Bonus feature. You must spin three or more wishing well symbols to be eligible for this bonus. After then, by selecting one of the three wishing wells, you can win a reward. To reveal a multiplier worth between 2x and 500x your initial stake, simply click one of them.
Next up is the Road to Riches bonus and you must get three or more leprechaun scatter symbols to activate this bonus. In this game, you follow a path and pick up rewards along the way. The leprechaun spins a wheel with seven alternatives, numbered 1 to 6, with the seventh option denoted as "collect" in order to proceed along that path. Wherever you have come to on the path will determine your additional prize when you reach the Collect part of the prize wheel.
Lastly, comes the Pots of Gold bonus feature. You must spin the "pots of gold" symbol on reels 2, 3, and 4 to activate this bonus. A bronze, silver, or gold pot with stake multipliers is then offered to you. They revolve around. You can collect the matching prize when they quit, with a 500x payout being the most generous.
Gameplay 
Moving on to gameplay, it's safe to say, that as these are both old slots, their gaming format is pretty similar, but let's look a little more closely.
Fluffy Favourites Gameplay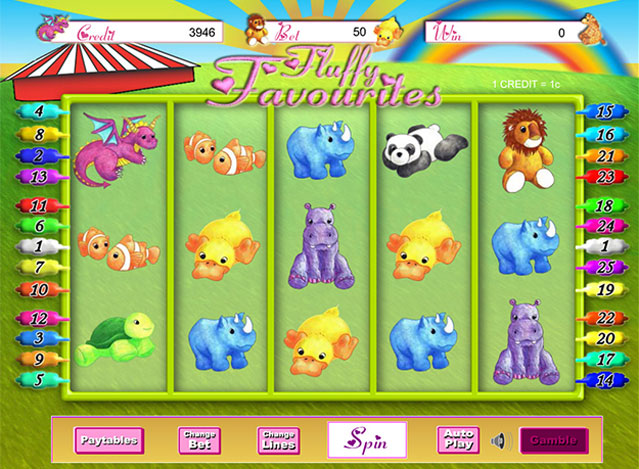 Visually, the Fluffy Favourites slot is showing its age, with the graphics looking quite 'clip-art' like; in fact, Eyecon recently released a remastered version to bring the imagery up to date. One thing that's really nice about the Fluffy Favourites slot is that there aren't any arbitrary playing card symbols. Instead, all the symbols used in this game are different stuffed animals. These visually clear depictions make it easy to keep track of the high-paying symbols vs. the low-paying ones and certainly make the game feel much more immersive. 
Rainbow Riches Gameplay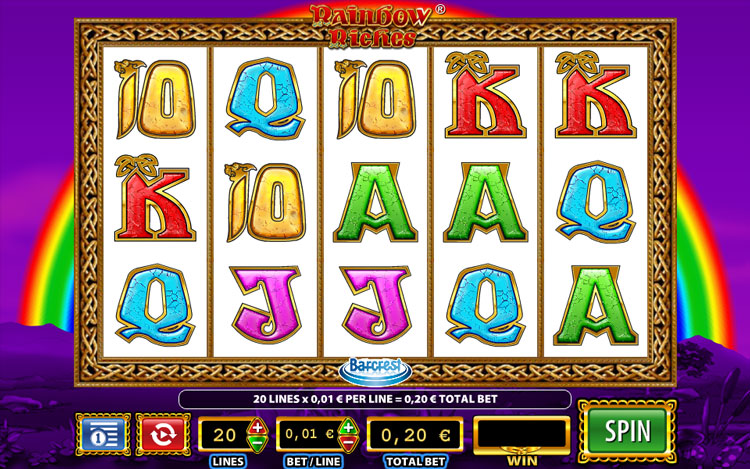 The Rainbow Riches slot machine is also showing its age graphically. The graphics in this slot remind us of early flash games (which is pretty much what his slot is) and have a very 2-D appearance. Of course, Barcrest has released tons of Rainbow Riches games since then, with much more impressive graphics. Instead of all-unique symbols, the Rainbow Riches slot features playing card symbols, but these have been made to blend in with the theme of the slot and are accompanied by classic luck of the Irish symbols such as Leprechauns. 
Stats
Lastly, let's look at the status of each game for all you data nerds out there!
Fluffy Favourites Stats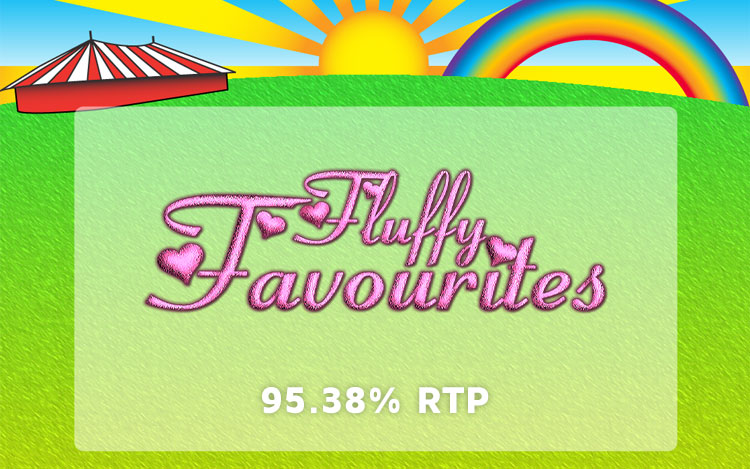 If you know a little about Eyecon slots, then you know that their theoretical RTPs are a bit lower than usual and the RTP for Fluffy Favourites sits at 95.3% which isn't too far off the modern mark-especially considering the age of the game. In terms of volatility, the Fluffy Favorites slot is regarded to be medium volatility. It has a 5x3 reel format and has 25 paylines. The top win for this game is 5000x your wager. 
Rainbow Riches Stats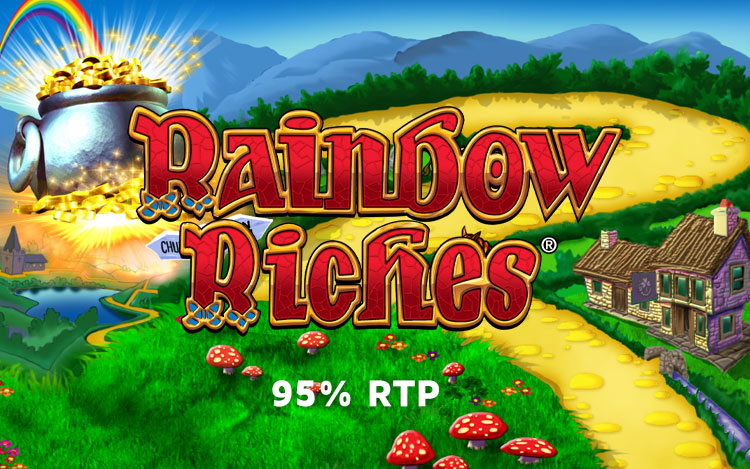 You may be surprised to find out that the Rainbow Riches slot RTP is even lower than that of Fluffy Favorites at 95%. Like Fluffy Favourites, however, this slot also has a medium volatility rating. Rainbow Riches has a 5x3 format with 20 paylines and has a top prize of 500x your wager; which is pretty low by modern standards. 
The Verdict
When it comes to our verdict, we love both slots for different reasons. While the stats of the Rainbow Riches slot don't compare too well with that of Fluffy Favourites, the Rainbow Riches slot has an additional bonus feature not to mention has inspired over 20 new games as well as having defined its genre. Fluffy Favourites, however, has features and stats that align more closely to modern slots, as well as impressive attention to detail, but its theme; which is one of its standout features, definitely isn't for everyone.
Sign Up and Play Fluffy Favourites and Rainbow Riches at Spin Genie
Whether you're team Rainbow Riches or a Fluffy Favourites fan, one thing remains the same; you can play both these fantastic games, as well as a whole host of other games right here at Spin Genie. Sign up and play today.