Spin Genie is your #1 go-to website for the best slot games available online. Try out a host of slots and read about them through our reviews, just like this Slingo Centurion slot review. Want to learn more about the innovative Slingo Centurion slot uk? Read on.
Slingo Centurion Slot Overview
Slingo Centurion casino slot isn't your ordinary slot game: it is a bingo-style slot, offering you the best of both worlds. Experienced slot players wanting to try out something different are exactly whom Slingo Centurion online slot is for. Played on a 5x5 grid with 20 paylines, this Roman Empire-themed game with its cute cartoon style is a great diversion from traditional slot games.
Symbols 
Because the Slingo Centurion slot machine is a hybrid game, you will not encounter slot game symbols until the bonus rounds. When you first play Slingo Centurion slot, you will come across a bingo-style board. Once you trigger the bonuses, you will be taken to a familiar slot grid screen. There are of course the classic card symbols, but you will also find Ancient Roman-themed elements such as coins, chariots, swords, and helmets. The most coveted of these symbols is the centurion himself.
RTP
Slingo Centurion mobile slot has an average RTP of 95%. However, the volatility is currently unknown.
How To Play Slingo Centurion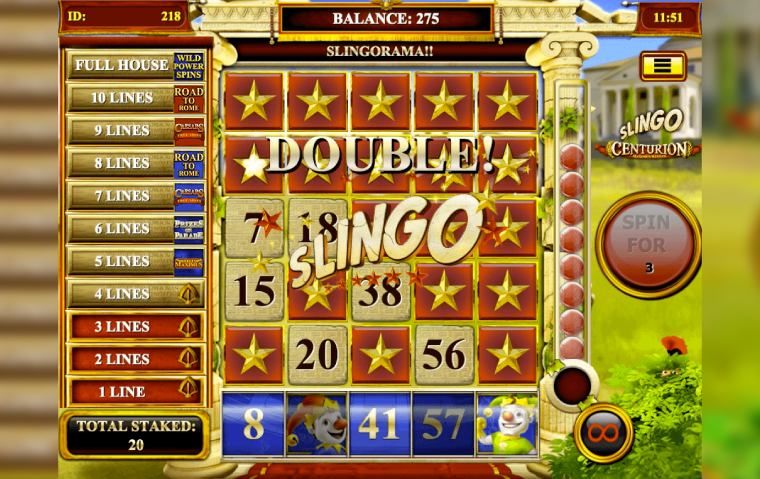 Despite the unusual nature of Slingo Centurion online slot, gameplay will come easily for you once you get the hang of it. Before you begin the slot, read the instructions carefully. And don't forget to take advantage of the Help button! It will be particularly useful in such an unconventional game as this. Then place your bet and start playing.
Slingo Centurion Slot Game Features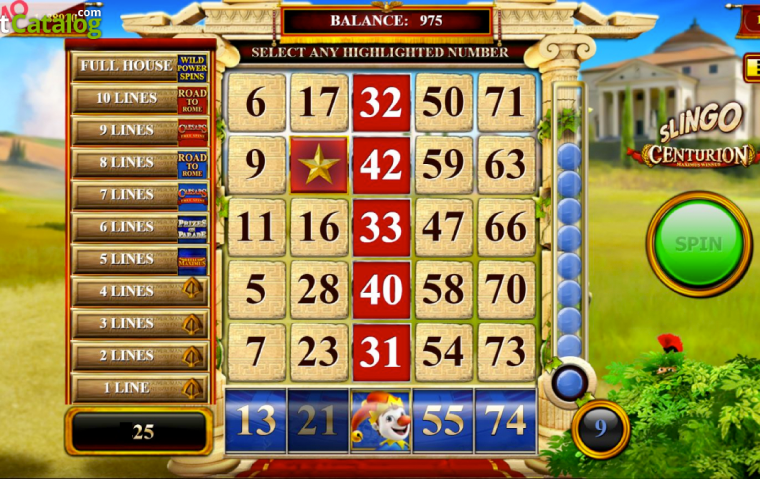 The final portion of this Slingo Centurion slot machine review focuses on how to trigger the Slingo Centurion slot bonus. Boasting of 7 bonus games in total, this slot has plenty of extra content on offer. You can activate these bonuses whenever you nab 5 line wins.
Reelus Maximus
A multiplier appears on the grid, which practically guarantees a win.
Prizes on Parade
A mini game where you click on flashing lights to accumulate your prize.
Caesar's Free Spins
A free spins round featuring up to 12 spins along with loads of multipliers.
Road to Rome
Dice appear so you can move the centurion across the board to gather more wins.
Wild Power Spins
This is another free spins round featuring wild symbols that can substitute for any other to form a winning combination.
Slingo Centurion Slot on Spin Genie
Willing to try out something a little off-the-beaten-track? This bingo-slot game might just be the one for you. This Slingo Centurion online slot review is just one of many available here on Spin Genie. Read more and find many more games on this website.