Watch out! The apocalypse is upon us in today's Lost Vegas slot machine review. The Vegas Strip is turned into a zombie wasteland in the Lost Vegas slot machine. You can opt to fight as a survivor or infect people as a zombie, and depending on your decision, you'll get access to different extra features. The Lost Vegas slot online is sure to have you on the edge of your seat with 243 unique possibilities to win with each and every spin with random modifiers to be on the lookout for! So if you're a fan of shows such as the Walking Dead, you're going to want to keep on reading our Lost Vegas online slot review to find out more. 
Lost Vegas Slot Overview
In Games Global's Lost Vegas online slot it's less "Viva Las Vegas" and more "Apocalypse Las Vegas." Players in the Lost Vegas casino slot machine must first choose whether they support the survivors or the zombies. The Lost Vegas slot is a medium volatility slot that offers something for everyone to enjoy. While slot pros will enjoy the exciting elements this game has to offer, beginners will find this slot to be more difficult. In addition, who doesn't enjoy a slot machine with 243 distinct possibilities to win on each and every spin?
Symbols
Whether you are on team zombie or team survivor, a variety of features on the Lost Vegas slot machine can be enabled. Other elements include unique symbols that are utilised on both sides. The Lost Vegas slot machine, for instance, uses its logo as its wild symbol, which can replace all other symbols other than the scatter. The Lost Vegas Wild, which has a 10x multiplier for five symbols, is the greatest payout in the standard game, but the Zombie Hand can provide you with 1000 coins.
RTP
A medium-volatility slot, Lost Vegas with a theoretical RTP of 96% and a comparatively high risk/reward ratio. When using the Zombie reels, the volatility also seemed to be a touch higher, and it was more difficult to initiate the free spins.
How To Play Lost Vegas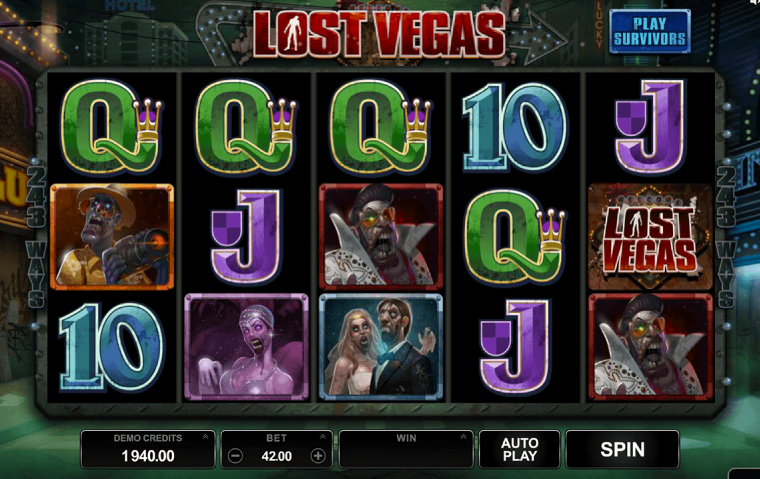 To play the Lost Vegas slot simply load the game at Spin Genie on your chosen device such as on the go via the Lost Vegas mobile slot. Players can choose whether they wish to play on the side of the survivors or the zombies in the unique feature of the Lost Vegas slot machine. Once you've chosen your squad, all that's left to do is configure the Lost Vegas slot machine.
With each spin of the Lost Vegas slot UK, you have 243 possible possibilities to win. This is known as an all-ways slot. Set your coin value and the number of coins you want to bet per spin to determine your stake. To play the Lost Vegas slot at its highest wagering levels, click the "Max Bet" button if you choose to go all-in. Just click spin once your stake has been determined.
Lost Vegas Slot Game Features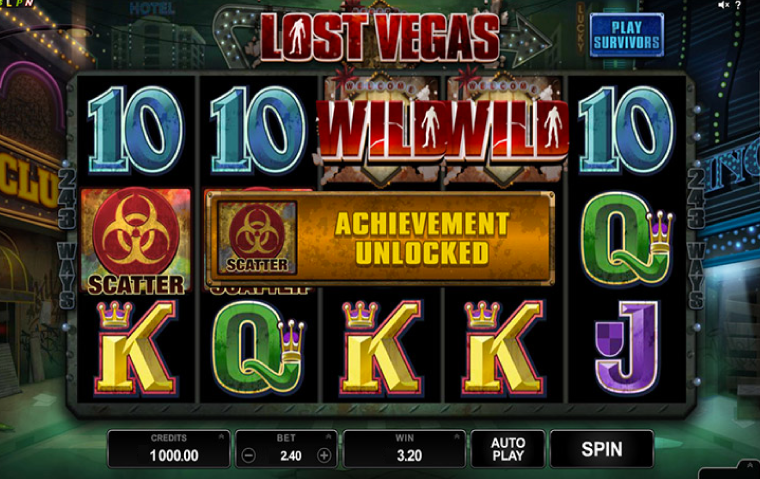 The Lost Vegas slot bonus features are as follows:
Survivor Free Spins
A player can activate the survivor free spins option when they are playing in survival mode. Because they award players with cash bonuses each time they appear on the screen, the low-paying symbols (10-A) are actually the target in this function. As soon as they land, these symbols are taken off the reels, and the cash stack keeps growing until no more low-paying symbols are encountered. Due to the systematic removal of the low-paying symbols from the reels, this also has the additional benefit of improving your odds of receiving payment for a higher earning symbol.
Zombie Free Spins
The free spins round functions a little differently when you are on team zombie. Stacks of zombie symbols will show up on the reels, and when a reel is completely covered in zombie symbols, stacked wild symbols will be added, making that reel "infested." When all of the reels are infected, the free spins feature will terminate. Because a large increase in the number of wilds on the reels might help you win larger and better prizes, players want reels to get infected.
Zombie Fist of Cash
When playing in zombie mode, a zombie may punch its fist out of the screen with a wad of cash in it after every spin. The gamers will receive an immediate cash bonus.
Blackout Bonus
When playing in survivor mode, the screen will black out following any spin and only the high-paying symbols will be visible. A monetary prize is revealed for each symbol that remains on the reels.
Play the Lost Vegas Slot on Spin Genie
If you've enjoyed our Lost Vegas slot review, and want to dive straight into the post-apocalyptic fun, then sign up and play today at Spin Genie where a whole range of fantastic casino games await you.