Hey you guys!!!! We're taking a closer look at the epic Goonies Jackpot King slot machine from Blueprint Gaming. This slot is absolutely jam-packed with bonus features including lots of free spins features. The Goonies Jackpot King is inspired by the iconic 80s movie and all the beloved characters are present and correct. So without further ado, join us as we look at the free spins and bonuses on the Goonies Jackpot King slot game.
The Goonies Jackpot King Slot: Free Spins and Bonuses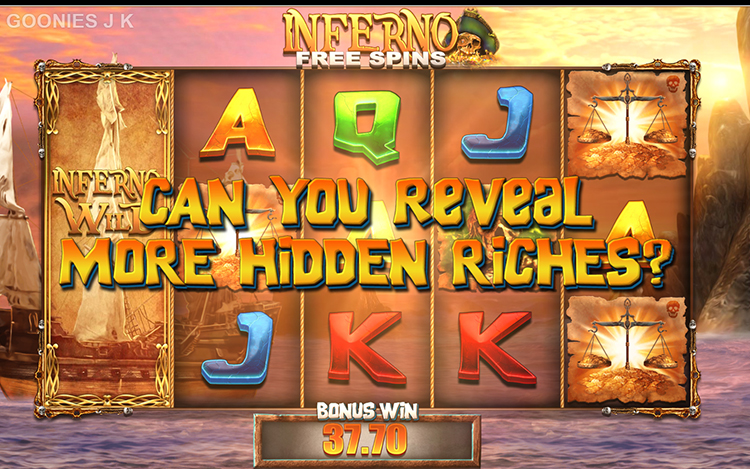 The bonus features of the Goonies Jackpot King slot are split into two categories; those that are random modifiers, meaning they become triggered at random as the player spins, and the bonuses offered by the prize wheel which is spun when players land three bonus scatter symbols in any reel position within a single spin. 
Let's take a look at how the Goonies Jackpot King Modifiers work first:
Sloth's Win Spin:

With this random modifier players are given a guaranteed symbol win.

Data's Colossal Symbols:

This modifier will add a colossal 3x3 symbol to the reels.

Truffle Shuffle:

This turns all wild symbols into overlay symbols.

Mouth's Lucky Coins:

A symbol is selected at random to give players bonus prizes.

One Eyed Willie's Bonus Boost:

This feature adds extra bonus symbols to the reels.

Mikey's Hidden Treasure:

One of the reels will be chosen to become completely wild.
Now let's look at the bonus features which are awarded when their space on the bonus wheel is landed on:
Super Sloth Free Spins:

When Super Sloth Free Spins are triggered, whenever a Super Sloth Wild symbol appears on the reels all picture symbols on the screen are transformed into the top-paying game symbols. 

Goonies Go Wild Free Spins:

During this free spins bonus round all of the top-paying symbols that appear on the reels will become wild symbols.

Inferno Free Spins:

During this free spins bonus round 1-3 reels will become wild.

Fratelli Hideout Bonus:

This is a straightforward pick-and-win bonus round.

Skeleton Organ Bonus:

During this pick-and-win bonus round players can not only win prizes but multipliers too.

One Eyed Willie's Treasure Bonus:

In this bonus, players spin the wheel to land multiplier values.
While such a wealth of bonus features is a treat in itself, with The Goonies Jackpot King slot, the fun can continue as at the end of every bonus round five chests will appear. Players pick a which and a prize will appear, which can even trigger the bonus wheel to spin again!
The Goonies Jackpot King Slot: Jackpot King Feature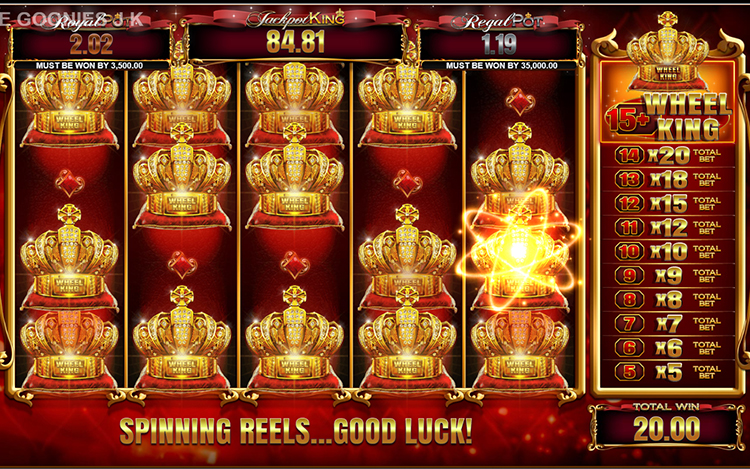 Last but not least, The Goonies JPK includes the Jackpot King feature. This feature offers three separate jackpots to players. Players receive 500 coins from the Royal pot and 5000 coins from the Regal pot. When it comes to the Jackpot King pot, things get even more exciting because it is a progressive pot where winning jackpots far over 1 million coins are not unheard of, though, the stars will have to align and your luck will have to be in to win this.
Play The Goonies Jackpot King Slot at SpinGenie
At SpinGenie you can play the Goonies Jackpot King slot machine as well as a whole host of any casino games, playable from any device you like. Sign up and play today.