Summer is most definitely here in old Blighty so why not get into the spirit of the season and try out some top summer-themed slot games from the best and brightest developers? Join us in today's article as we take a closer look at the top summer slots that you can play here at Spin Genie with a high volatility rating. 
---
*Terms and conditions apply.*
---
What Does High Volatility Mean? 
The term "volatility" describes the magnitude of a slot machine's jackpot and the likelihood that it will be hit frequently. Players can utilise this information to pick which slot best suits their skill level, financial constraints, and experience expectations. Slot machines with high volatility carry a high level of risk, making it very difficult to land winning combinations. You could play these slots a hundred times and never come up with a winning combination. When playing the slots with the most volatility, it's crucial to manage your bankroll correctly. This is essential so that you have a time restriction in place and don't try to play endlessly in the hopes of succeeding.
Here Comes the Sun!
Sun, sea, holidays, there's very few of us out there that don't like summer. The perfect time to kick back and relax and just enjoy the weather, many summer slots are super easy to play, but still tons of fun. Let's take a closer look at our top picks for high volatility slot games to enjoy here at Spin Genie.
Wild Mantra
The online slot machine Wild Mantra, developed by Yggdrasil, takes a different take on the concept of summer slots and draws inspiration from both the Hindu and Buddhist religions to produce enlightened artwork. The Wild Mantra online slot offers a tranquil and peaceful atmosphere while engrossing players with top-notch graphics. This makes the Wild Mantra slot machine the ideal option for unwinding after a long day. However, if you win the jackpot of 2191 times your stake amount on the Wild Mantra slot machine, you might find yourself leaping up and down instead of in a zen paradise. In addition to a delightful respin feature, wilds also contribute to the Wild Mantra slot game.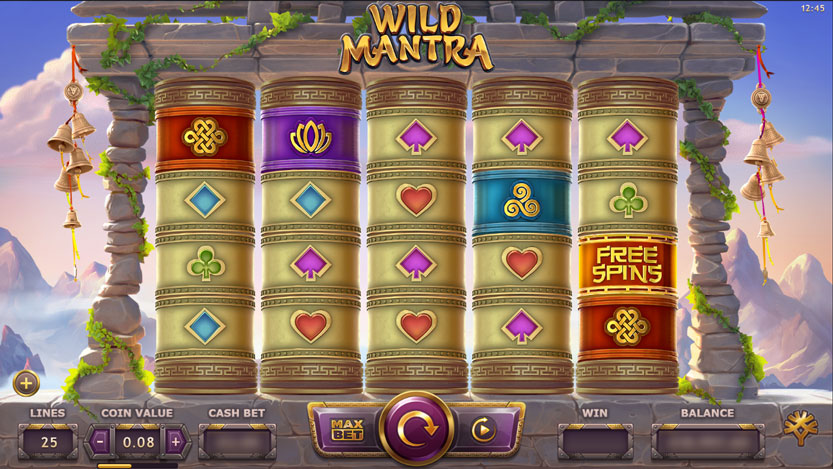 Wild Beach Party
Pragmatic Play's Wild Beach Party is a fruity and unpredictable tropical island slot machine that uses a 7x7 cluster pay matrix to determine payouts. In the same base game tumble sequence, tumbling victories may result in the spawning of an x2 multiplier wild, and the multiplier can then quadruple up to x256. In the bonus round, it can increase to x729, which can result in winnings of up to 5,000 times your initial wager.
A tropical island paradise is the setting for Wild Beach Party, which is essentially Fruit Party 2 with a flirtatious party girl jiggling on the right. Some gamers might find her seductive action commentary endearing, and this clearly feels like a summer slot for the boys!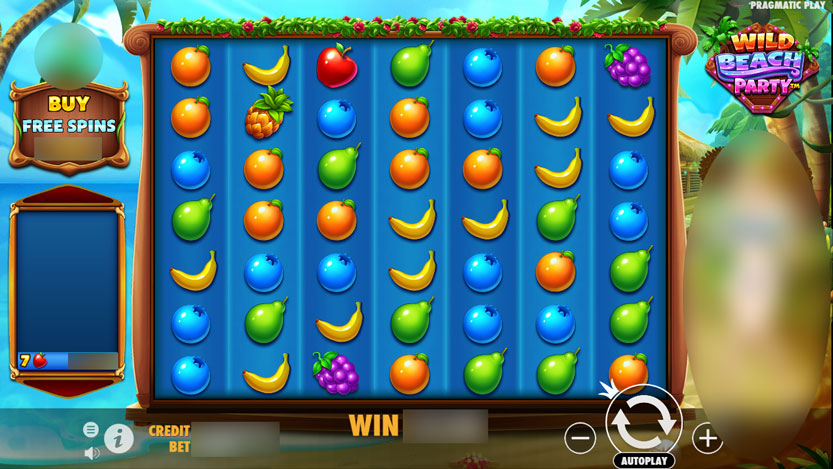 That's Rich
That's Rich is probably going to appeal to you right now if you've ever wanted to be an actor or supermodel. The Win Spin feature, which offers expanding wilds with progressive multipliers and wins that are guaranteed on each free spin, is the main draw in this case. The supermodel/actress's seaside balcony serves as the setting for the reels, which include five reels, three rows, and ten ways to win. Expanding wilds are characteristic of this slot machine, and during the bonus round, all wilds will grow. The progressive multiplier rises up to 20x with each wild that appears, resulting in wins up to 10,000 times your initial bet.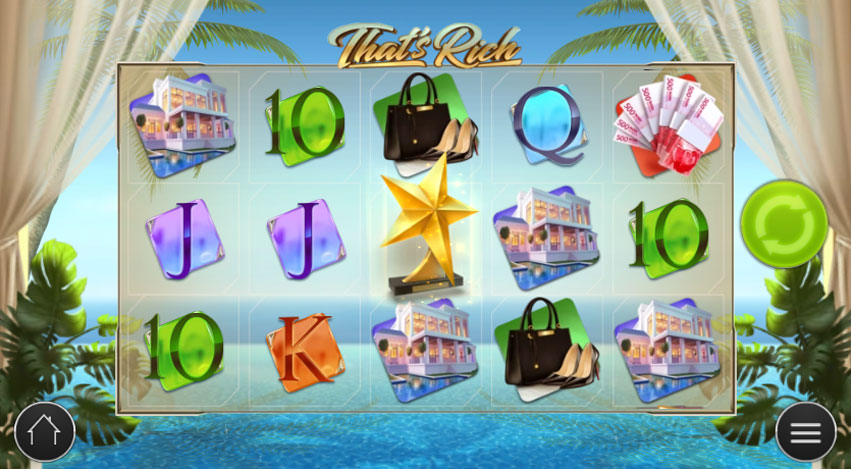 Summer Vibes Accumul8
Light and Wonder created the summer-themed online slot machine Summer Vibes Accumul8. It has a fun ambience, and you can take advantage of an unconventional payout structure that doesn't care about paylines. The 2,400x jackpot is definitely hot enough to suit the summer vibes.  As previously mentioned, the 65 configuration has no paylines. Your objective is to locate a group of 8+ matching symbols anywhere on the playing surface. Visually, Summer Vibes Accumul8 capitalises on the sweltering summer, and its humorous edge certainly suits the lighthearted nature of the season.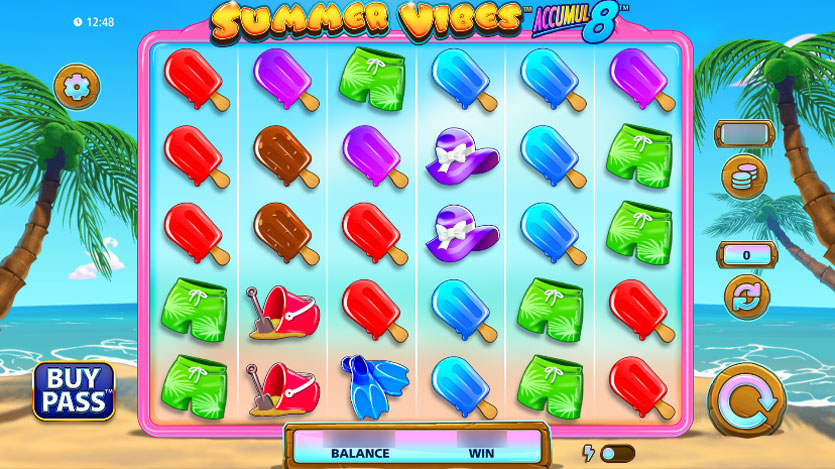 Endless Summer
It's best to keep things simple in the summer, and Merkur's Endless Summer does just that. You may play on an astounding 10 paylines on its five spinning reels. Sun-filled vacations might be expensive enough as it is, but you don't have to blow your budget.
Since Endless Summer may be totally customised, you can rapidly modify the difficulty level to one that matches your own preferences and financial situation.  The jackpot may be as high as an amazing 9,000, so everything is up for grabs!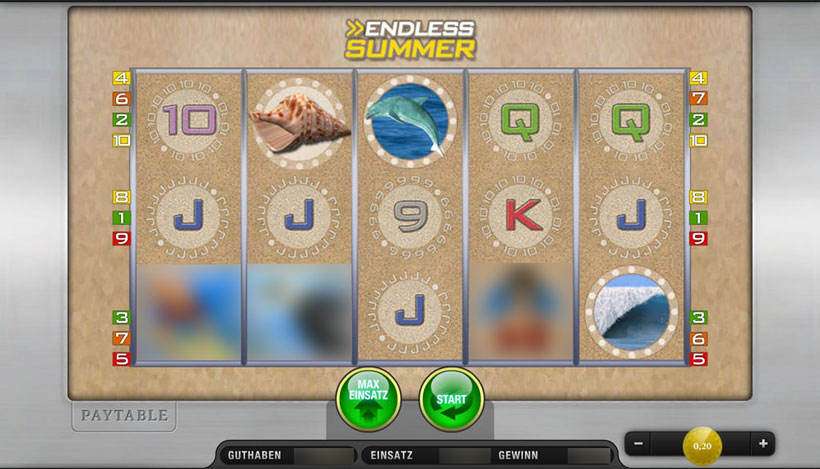 Play Great High Volatility Summer Slot Games at Spin Genie
Here at Spin Genie, you can play all of these great Summer slot games and more! Sign up and play today, but be sure to always gamble responsibly and when the fun stops, stop.