Play'n Go's GEMiX slot game is quite a treat as a cascading video slot game. Join characters such as a wizard, a princess, and a miner with a pickaxe on this fairy tale style adventure. Learn more about this highly playable game with its cluster pays system in this GEMiX slot review!
GEMiX Slot Overview
Themed and designed with a fairy tale style, the GEMiX slot UK really exudes Play'n Go's slot game magic especially with its cluster pays system. It sports a 7 reel by 7 row slot game layout wherein the reels are filled with 49 sweet looking symbols. 
Symbols 
Let's talk about the symbols you can encounter while you play GEMiX slot. The GEMiX casino slot has a total of 11 symbols with 3 different world Wild symbols, 4 high paying symbols, and 4 low paying symbols. There are three types of GEMiX slot bonus Wild symbols. The game's Falling Wild is represented by a lantern powered by a candle. The Spreading Wild is a big purple lollipop. Lastly, the game's Sticky Wild is a book with a gem adorning the cover.
The GEMiX online slot's other symbols are represented by symbols resembling hard yet sweet looking gems. The high paying symbols are the star, heart, moon, and orange flower. On the other hand, the low paying symbols are the green pentagon, a round purple square, a round cyan triangle, and a round blue rectangle.
RTP
The GEMiX slot machine sports a medium volatility. You should keep an eye out for its varying RTP, however. The default RTP is 96.83% but you may also find games with a 94.79% or less elsewhere. Bets can range from 0.10 to 100 per spin.
How To Play GEMiX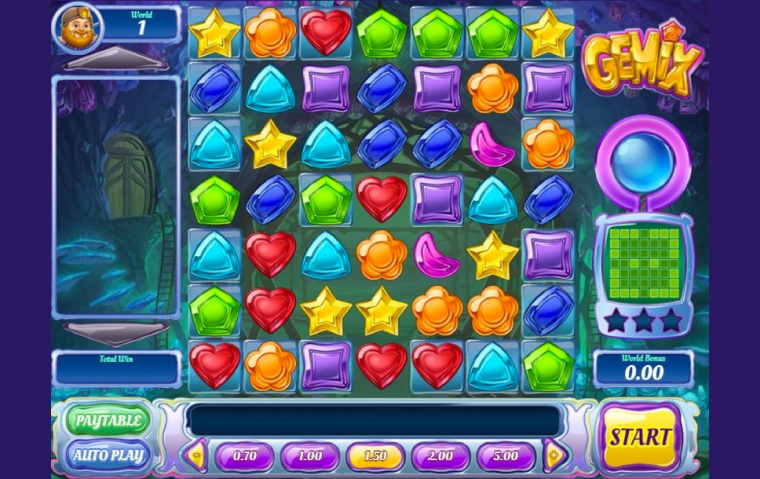 In this part of the GEMiX slot machine review, let's talk about the game's mechanics. Aside from its colourful design and sweet-looking symbols, the GEMiX mobile slot can be played like most slot games. After deciding on your bet, which can range from 0.10 to 100 per spin, you're ready to start spinning the reels on your way for a chance to experience the GEMiX online slot's cluster pays system. As clusters in the game are hit, the number of symbols used is then used to charge the crystal charge meter. Once fully charged, one of the game's Crystal Charge Effects features is triggered when no more cascades are being hit.
GEMiX Slot Game Features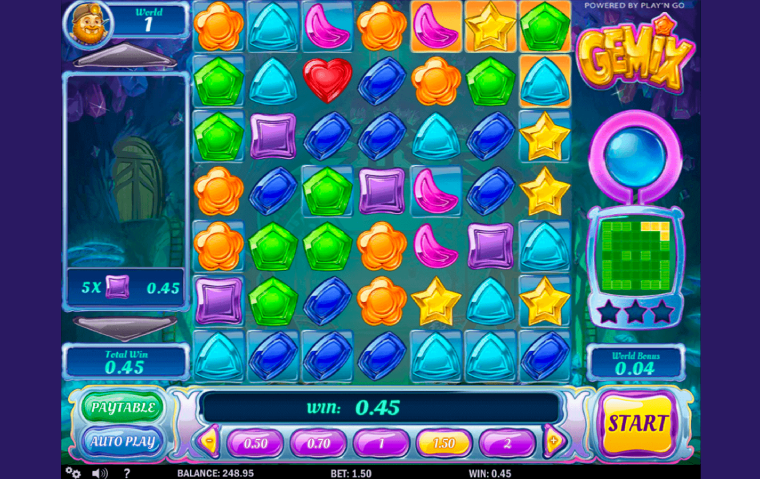 Chain Lightning
Two corner symbols opposite to each other will shoot out an electrical arc which will hit symbols which will be transformed into one of the corner symbols.
Light Beam
Here, light rays shoot out vertically and horizontally from a symbol on the game's grid. All symbols in the affected column and row will be transformed to other symbols.
Crystal Warp
A symbol on the grid is selected and all matching symbols will be warped to other symbols.
Nova Blast
A symbol is selected and will then explode. Adjacent symbols will be removed from the game due to this explosion which will retract afterwards and create a core of symbols consisting of the same symbol.
GEMiX Slot on Spin Genie
They say playing this game is reminiscent of popular match-three games. Based on this GEMiX online slot review, it does sound like it! Why not visit the Spin Genie website to experience it for yourself? Come on over and experience the GEMiX magic when you log in to the Spin Genie website!