You can receive an in-depth look at the top slot games available online, such as the Fruit Warp slot machine, here at SpinGenie. Become proficient in gameplay, themes, symbols, winning lines, and how much you can bag home when you get a lucky combination. This Fruit Warp slot machine review will show you the particulars of the game. Read on to find out more. 
Fruit Warp Slot Overview
Fruit Warp is a catalysed variation of a conventional fruit machine, and Thunderkick has twisted it into something completely different. Fruit symbols float through the air and you win if three to nine of the same symbols appear on the screen at the same time. In the Fruit Warp slot game, there are no paylines. You can bet up to 100  on each spin.
If you are wondering, this is a highly volatile game. Thunderkick does not disappoint with its high volatility, which shows that it has a lot of potential. You can win up to 11,000 times your stake in this game, and the RTP is a respectable 97 percent.
It is no surprise Fruit Warp is still going strong with stats like these. The most exotic fruits are the highest paying symbols in this game, but even the lower paying symbols pay out generously. Because this game has no paylines, you can win by matching three to nine symbols anywhere on the screen in the same spin. To know more about the game, continue reading this Fruit Warp online slot review.
Symbols 
Another thing that we want to look at in this Fruit Warp slot review are the symbols. Fruit Warp casino slot has a fiasco of color that provides pleasant images just perfect for the symbols of the game. Lower-value cherries, plums, and strawberries are among the symbols on the reels, which are set against a gleaming green backdrop. The oranges, bananas, grapes, starfruits, and kiwanos are next.
The Dragon Fruit is the most giving icon. Striking nine of them will yield to 216 credits with just 1 bet of credit. The Papaya can bestow 45 credits after hitting nine of them with just 1 bet of credit. Next on the list is the Carambola. Obtaining 9 of Carambola after a spin will give 42 credits with just 1 bet of credit.  Other satisfying icons are the Grape and the Banana that can produce 36 and 30 credits respectively with just 1 bet of credit. 
RTP
The RTP of Fruit Warp slot uk is a very giving 97 percent which is highly volatile.
How To Play Fruit Warp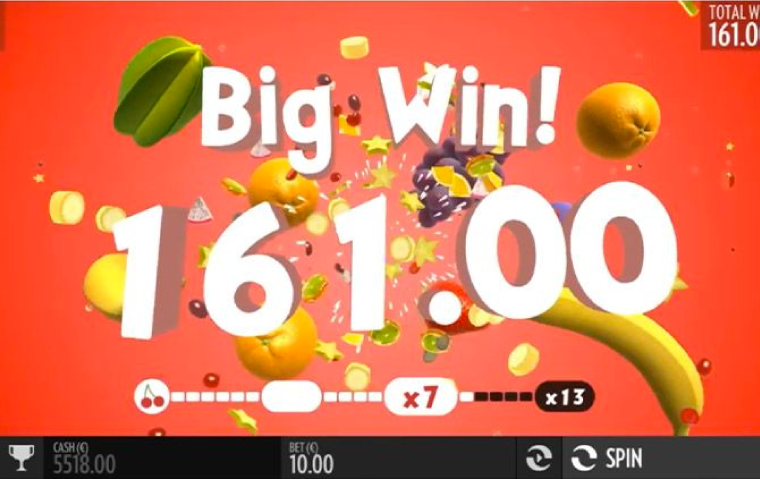 Regardless of how bizarre Fruit Warp online slot appear, the game mechanics are the same. All that is required for a gaming enthusiast to enjoy the novel game is to follow the four steps below:
Always look at the paytable and study how to win.

From 0.1 to 100 credits, you can place your bet.

Use the 'Spin' button to jiggle the fruits.

On the screen, wait for a winning combination to occur.
Fruit Warp Slot Game Features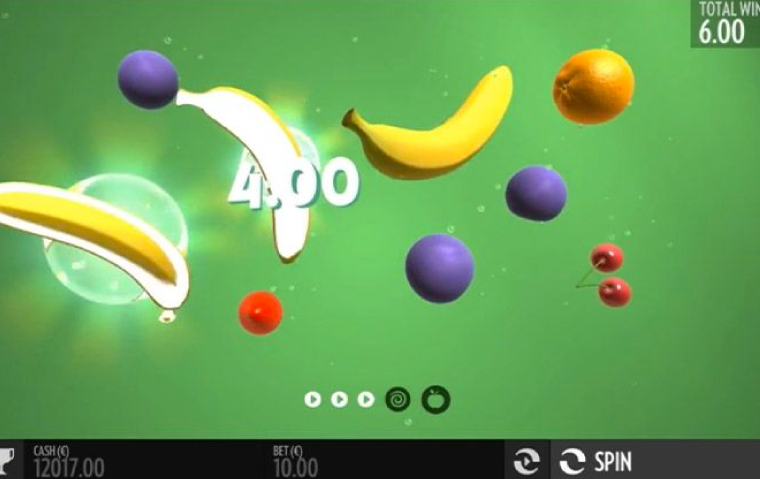 Fruit Warp slot is the only game of its kind, as it lacks a Scatter, Wild symbol, or Fruit Warp slot bonus, unlike the rest of its fruit-themed peers. Let's look at it more closely.
The Portal has been re-spun. If you land four symbols of the same type, you'll have a great chance to re-spin a few icons. If a player lands two different fruit varieties with four of each, both groups will freeze and only one icon will spin again.

Extra Mode Possibility. When four similar-looking fruits appear on the screen at the same time, this feature activates and re-spins the remaining symbols which allow players to win a 'Fruit Mode.' However, a fifth fruit must appear after a re-spin for this function to work.

Fruit Mode is a game mode where you can only consume fruits. It is a thrilling feature that starts when a player gets five similar-looking symbols on the screen at the same time. During this round, players can obtain one re-spin if at least one of the game icons matches a specified Fruit Mode kind. The Warp Meter begins to level up, which contains multipliers, additional lives, and steps. The mode finishes when the meter reaches its full capacity. A gambler can win up to 3x multiplier rewards at the end of the game, which are awarded at the end of the game.
Fruit Warp Slot on Spin Genie
Play Fruit Warp on Spin Genie for an exciting game experience and a harvest of huge prizes through the slot's game features. Fruit Warp mobile slot is also available on many Android and iOS devices. Make sure to check more slot games and reviews on SpinGenie's website.