Things are getting hot in here with our Blazing Star online slot review. Merkur's Blazing Star is one of their most popular slot machines. Over the years, the business has created over 150 slot games, and with over 50 years of experience, they have a track record of creating slot games that players like returning to. Of course, in this article we're not looking at Merkurs entire repertoire, so let's keep things moving and get into the Blazing Star slot machine review. 
Blazing Star Slot Overview
Blazing Star is a popular online slot with five reels and three rows of gameplay. There are five paylines available, all of which are fixed but don't think that means you can't win big. With five paylines, the game has a more classic slot game feel, which many people enjoy.
The Blazing Star casino slot is presented in a simple but appealing manner. Merkur has gone out of their way to put the player's focus on the action on the reels, thus the retro aesthetic is subtle and basic. Although the game is presented in a basic manner, it has a modern vibe to it. There is a black backdrop that highlights the vivid colours of the reels.
The slot transports you to the very centre of the Solar System, where things may get pretty heated, with all kinds of fruits placed against the sun. The Blazing Star slot machine, with its 5 reels and 5 fixed pay lines, offers a fast-paced and uncomplicated gameplay with no special symbols or additional features. Instead, if you're lucky enough to align matching symbols on any of the pay lines, you might win big. The biggest prize is 1,000 times your wager, and it is won by scoring five scorching sun symbols on a pay line.
Symbols 
Anyone who has ever played on an old-style fruit machine will recognise the symbols utilised in the Blazing Star slot online. Lemons, plums, melons, cherries, and oranges are represented by icons, which all contribute to the nostalgia theme, and the clear and sharp images are pleasing to the eye. You'll also notice a Blazing Star symbol, which might help you increase your chances of winning.
Watermelons (5x – 1,000), grapes (5x – 1,000), and the Blazing Star Sun Symbol (5x – 5000) are the game's high-paying symbols, while cherries (5X – 200), lemons (5X – 250), oranges (5X – 250), and plums (5X – 250) are the Blazing Star online slot's low-paying symbols.
RTP
Unlike a lot of retro slots out there, the Blazing Star slot UK doesn't disappoint when it comes to its RTP sitting at a generous 96.31%; well above the current average. As a medium volatility slot machine, the game was designed with mass appeal in mind, so when you play the Blazing Star slot machine you shouldn't find things too difficult even if you've not played many slots before. 
How To Play Blazing Star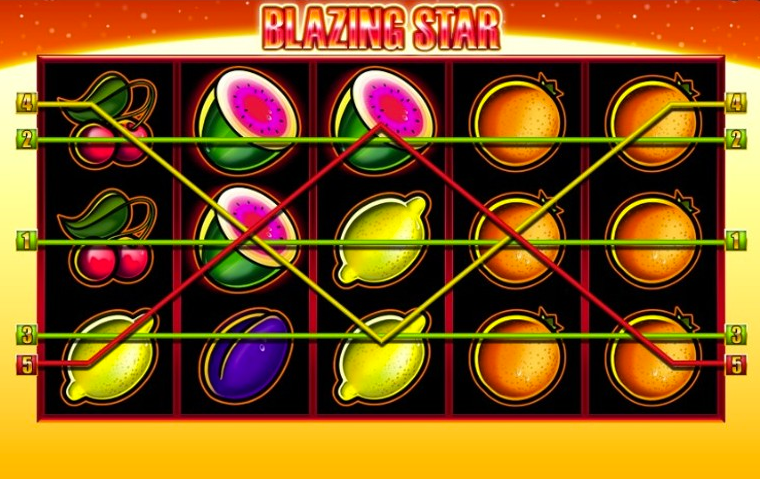 To play the Blazing Star slot, simply load the game at SpinGenie. This can be done on any device and can be played on the go via the Blazing Star mobile slot. Once loaded, you must first set your wager before pressing the Spin button. Make sure to use the bet selector to adapt the stake to your budget. You can bet anywhere from £0.05 and £100 every spin, making the game accessible to a wide range of gamers. Once happy with your wager, click the spin button. If you land three or more matching symbols on a paying line starting from the leftmost position, the slot machine will payout. Only cherries pay for two of a kind symbols.
Blazing Star Slot Game Features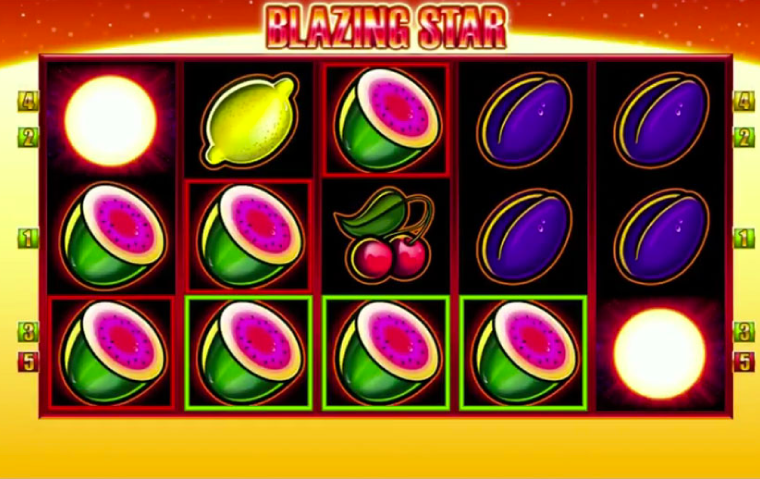 Like most retro slots, the Blazing Star slot bonus features are pretty limited and rely on gamble features. This can be seen as a positive or negative, depending on what you're looking for from your slot experience. On the plus side, the limited features keep the focus on the joy of spinning the reels, but on the downside, if you're used to modern slots with tons of features, you might be in for a bit of a shock!
If you choose to gamble on cards, you will have the opportunity to increase your profits by playing a simple card game. A typical deck of cards is shown with the top card flipped face up. It's up to you to guess whether the next card will be a red or black suit. You can guess again if you get it correctly, but if you get it wrong, you lose your money. If you don't want to risk all of your winnings, use the 'collect half' button to stake only half of your payment.
If you don't want to wager with cards, you can attempt the ladder gamble. In this situation, you'll be handed a ladder with multiples of winning money that doubles as you progress up the ladder.
You can bet at each step, increasing your profits but risk losing everything you have. You can accept your winnings at any time or bank half of your profits before continuing with the rest of the game, much like with the card gamble option.
Play the Blazing Star Slot on Spin Genie
If you've enjoyed our Blazing Star slot review and want to give the game a try for yourself then sign up and play today at Spin Genie.