We're focussing on a girl's best friend, Diamonds, in today's 20 Diamonds slot machine review. Prepare to immerse yourself in the gameplay of the 20 Diamonds casino slot from EGT as you begin to amass a collection of priceless stones. The game's 20 fixed paylines are based on a five-reel, three-row grid and have an RTP of 95.79%. Along the road, you'll come across emeralds, rubies, sapphires, and amethyst along with Wilds and Scatters that also leave behind impressive money awards. So, if all the sparkling gems have got your attention, keep on reading our 20 Diamonds slot review to find out more.
20 Diamonds Slot Overview
EGT created the video slot machine 20 Diamonds. The action is quick, the game is rather straightforward, and there aren't many extra features. The simple game 20 Diamonds is sure to grab your interest if you enjoy playing them.
The Gems theme was chosen by EGT's designers for this slot. The slot machine's aesthetic details are excellent, with contemporary animations and well-detailed symbols. Bright colours were also used by the designers to give the slot a luxurious look.
The gameplay in 20 Diamonds is incredibly quick and fun. Slot machine 20 Diamonds has 20 paylines, 5 reels, and 3 rows. The amount you can wager per spin ranges from $0.01 to $12, and you can change the game's paylines from 1 to 20.
Symbols 
The heart-shaped ruby, egg-shaped yellow citrine, and triangular emerald are the symbols with the lowest payouts. The square-cut amethyst and the oval sapphire follow. Given the name of the game, it should come as no surprise that the diamond itself is the jewel with the biggest payout.
The largest prizes, nevertheless, are made by the final two symbols on the reels. Since the Lucky Number 7 is the game's Wild sign and not the Scatter, it can be used in place of any other symbol. When three or more of The Wild appear on a payline, it pays out lavishly. The highest cash wins are offered by the game's Scatter symbol, a jewel-encrusted star; if you land five of a type, you'll get a 500x multiplier on your bet.
RTP
The 20 Diamonds online slot has a theoretical RTP of  96.7% which is pretty impressive. It's clear the 20 Diamonds slot online has been designed with mass appeal in mind because it has a low volatility, making it accessible to players of all skill levels. 
How To Play 20 Diamonds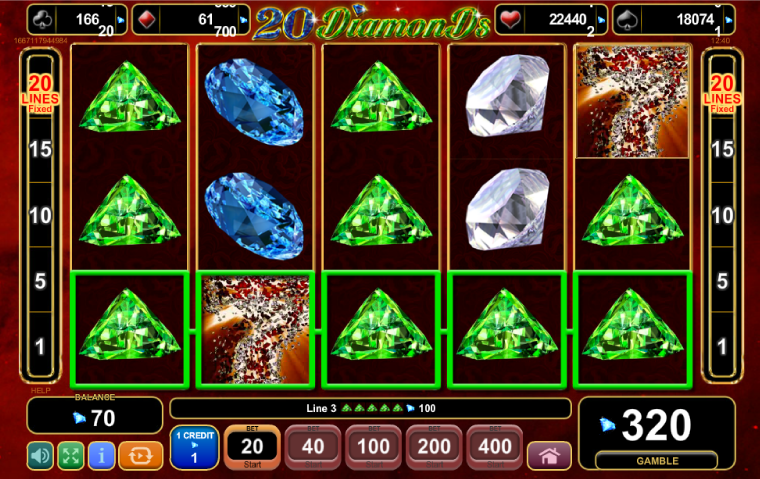 Learning to play the 20 Diamonds slot machine is pretty easy, but there are a few things you need to know before spinning the reels. When it comes to the player's control panel, EGT slots games typically seem a little bit different from other slot titles. If you're an experienced player, learning the controls won't take you more than a minute or two, but if you're a beginner, you'll probably need some assistance.
The game has 20 fixed paylines, which is the first thing to know about it. This means that you cannot change them, for example, by selecting fewer paylines to accommodate a smaller budget, but on the other hand, it also means that you have one less thing to concentrate on. 
Among slot producers, the EGT system for wagering appears to be somewhat unusual. As your choice of bet will also start the reels spinning, you'll notice that there isn't a Spin button. It's crucial to consider all of your alternatives before deciding. You can place bets by selecting one of the numbered buttons at the bottom of the screen. By choosing a different quantity of coins, you can alter these figures. To do this, click on the blue button located immediately to the left of the betting range. You can decide whether to play with one coin, two coins, or three coins. Your decision at this point changes the figures visible on the screen, allowing you to choose a wager size that fits your financial constraints.
When you push your selected bet, the reels will begin to turn. The reels will stop automatically, displaying a variety of symbols and emphasising any wins you've made; you don't need to do anything else. If you do manage to win, there is a helpful Gamble feature that may be accessible by a button just below the Bet Win box; however, this is entirely optional.
20 Diamonds Slot Game Features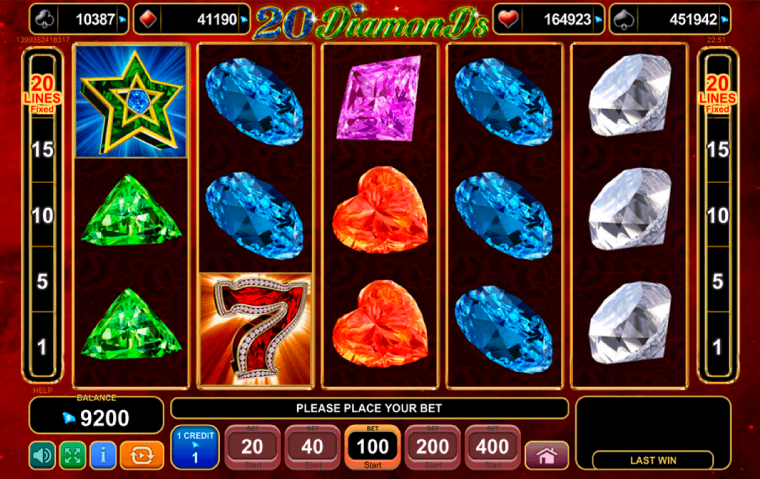 It must be acknowledged that EGT games typically don't offer many supplementary features. For instance, there won't be any free spins because the scatter only awards cash rewards, not bonus rounds. But that's not as difficult as you may think when there are such alluring financial prizes up for grabs.
Every win is followed by the Gamble function, which players can enjoy. There is also the Jackpot Cards game, which can happen randomly to any player of an EGT game at any time, as is the case with the majority of EGT games. Lastly, the 20 Diamonds game can be played as a mobile slot, which is pretty convenient considering how straightforward the gameplay is.
Play the 20 Diamonds Slot on Spin Genie
The 20 Diamonds slot proves that not all that glitters is gold. If you've enjoyed our 20 Diamonds slot review, and want to give this title a try for yourself, then sign up and play today at Spin Genie.